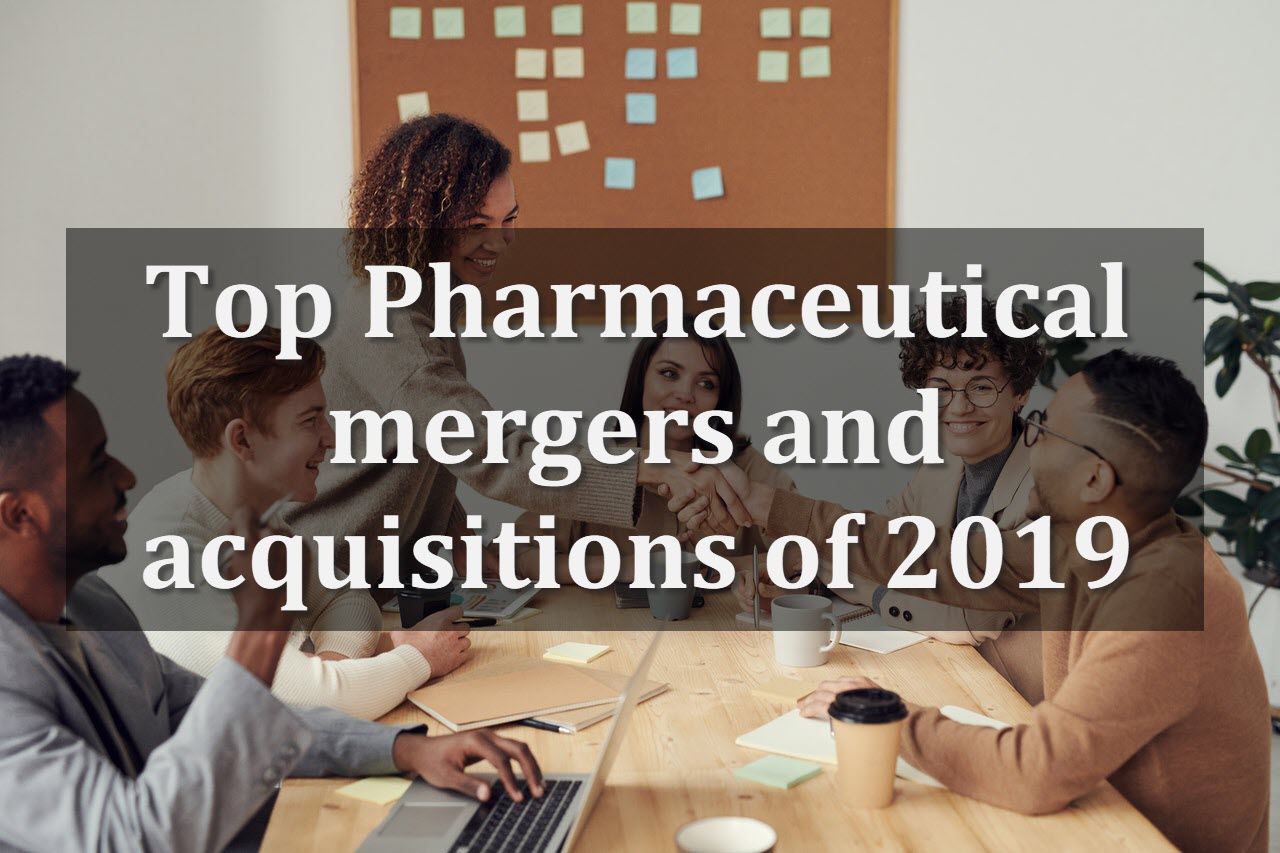 Mergers and acquisitions (M&As) are perpetual part of big pharmaceutical industries and we have witnessed many such mergers and acquisitions. The financial crisis and resulting uncertainty in the global economies has made it difficult for companies to predict future performance of their own or their target's or to forecast synergies and other transaction benefits with the same level of confidence seen in the past. As a result, acquirors and targets have developed transaction structures that are aimed at bridging gaps in their respective assessments of valuation and risk.
This article is focusing on top Pharmaceutical M&As of the year 2019.
1. Bristol-Myers Squibb (BMS) acquired Celgene - $74 Bn
Bristol-Myers Squibb acquired Celgene in a cash and stock transaction with an equity value of approximately $74 billion. Under the terms of the agreement, Celgene shareholders will receive 1.0 Bristol-Myers Squibb share and $50.00 in cash for each share of Celgene. Celgene shareholders will also receive one tradeable Contingent Value Right (CVR) for each share of Celgene, which will entitle the holder to receive a payment for the achievement of future regulatory milestones.
It was announced in January 2019 and took around 11 months for completion of complete transaction. Celgene Corporation, headquartered in Summit, New Jersey, was an integrated global biopharmaceutical company engaged primarily in the discovery, development and commercialization of innovative therapies for the treatment of cancer and inflammatory diseases through next-generation solutions in protein homeostasis, immuno-oncology, epigenetics, immunology and neuro-inflammation.
"Together with Celgene, we are creating an innovative biopharma leader, with leading franchises and a deep and broad pipeline that will drive sustainable growth and deliver new options for patients across a range of serious diseases," said Giovanni Caforio, M.D., Chairman and Chief Executive Officer of Bristol-Myers Squibb.
2. AbbVie to acquire Allergan – $63 Bn
AbbVie to acquire Allergan in transformative move for both companies said by AbbVie. Both companies have entered into a definitive transaction agreement under which AbbVie will acquire Allergan in a cash and stock transaction for a transaction equity value of approximately $63 billion, based on the closing price of AbbVie's common stock of $78.45 on June 25, 2019.
In october 2019, Allergan shareholders have voted to approve the proposed acquisition of Allergan by AbbVie. More than 99 percent of the votes cast at both a special court-ordered meeting of shareholders and at an extraordinary general meeting of shareholders.
Allergan plc headquartered in Dublin, Ireland, is a global pharmaceutical leader focused on developing, manufacturing and commercializing branded pharmaceutical, device, biologic, surgical and regenerative medicine products for patients around the world.
The transaction is expected to close in early 2020.
3. Takeda Pharmaceutical acquired Shire – $58.6 Bn
Majority of shareholders voted in favor of Japanese drug major Takeda Pharmaceutical's £46 billion ($58.6 billion) acquisition of Ireland-headquartered rare diseases specialist Shire.
After acquisition, Takeda has an attractive, expanded geographic footprint and leading position in Japan and the U.S., bringing its highly-innovative medicines to approximately 80 countries/regions with dedicated employees worldwide. Takeda's R&D efforts are focused on its four therapeutic areas of Oncology, Gastroenterology, Neuroscience and Rare Diseases, with targeted R&D investment also committed to Plasma-Derived Therapies (PDT) and Vaccines.
Christophe Weber, President and Chief Executive Officer of Takeda said, "This marks a significant moment in Takeda's history and is an exciting step forward as we accelerate our transformation journey to deliver highly-innovative medicines to patients around the world with expanded scale and geographical footprint."
4.Danaher acquired  Biopharma Business of General Electric Company - $21.4 Bn
Danaher Corporation had entered into a definitive agreement with General Electric Company and acquired the Biopharma business of GE Life Sciences ("GE Biopharma") for a cash purchase price of approximately $21.4 billion.
GE Biopharma is a leading provider of instruments, consumables, and software that support the research, discovery, process development and manufacturing workflows of biopharmaceutical drugs.
Danaher's President and CEO, Thomas P. Joyce, Jr., said, "GE Biopharma is renowned for providing best-in-class bioprocessing technologies and solutions. This acquisition will bring a talented and passionate team as well as a highly innovative, industry-leading product suite to our Life Sciences portfolio, providing an excellent complement to our current biologics workflow solutions."
5. Amgen acquired rights to Otezla® – $13.4 Bn
Celgene needed to sell off Otezla after the US anti-trust authority the FTC concluded in June that having the oral medicine in the same portfolio as BMS pipeline tyrosine kinase 2 (TYK2) inhibitor would give too big a share of the market.
Otezla is the leader in the market segment for treating psoriasis in patients who have progressed from topical treatments, and who want to try an oral treatment before having to progress to a biologic, such as Humira. Otezla is approved in more than 50 markets outside the U.S., including the European Union and Japan, and has patent exclusivity through at least 2028 in the U.S.
"The acquisition of Otezla offers a unique opportunity for Amgen to provide patients an innovative oral therapy for psoriasis and psoriatic arthritis that fits squarely within our portfolio and complements our Enbrel® and AMGEVITA® brands," said Robert A. Bradway, chairman and chief executive officer at Amgen.
6. Mylan joined with Upjohn, a division of Pfizer -  $12 Bn
Mylan combined with Upjohn, Pfizer's off-patent branded and generic established medicines business, creating a new global pharmaceutical company, named as Viatris
Upjohn brings trusted, iconic brands, such as Lipitor (atorvastatin calcium), Celebrex (celecoxib) and Viagra (sildenafil), and proven commercialization capabilities, including leadership positions in China and other emerging markets.
The new company is expected to have pro forma 2020 revenues of $19 to $20 billion. Proforma 2020 adjusted EBITDA is anticipated to be in the range of $7.5 to $8.0 billion, including phased synergies of approximately $1 billion annually to be realized by 2023. Pro forma free cash flow for 2020 is expected to be more than $4 billion.
Robert J. Coury, Mylan Chairman, said, "this announcement builds upon many of those meaningful conversations and represents a transformative move for Mylan. The new company, which combines the unique assets of Mylan with the iconic brands of Pfizer's Upjohn business, will not only accelerate our mission to serve the world's changing health needs, but also further unlock the true value of our platform while delivering attractive returns to shareholders for many years to come."
7. Pfizer purchased Array Biopharma – $11.4 Bn
Pfizer acquired Array Biopharma, a commercial stage biopharmaceutical company focused on the discovery, development and commercialization of targeted small molecule medicines to treat cancer and other diseases of high unmet need. Pfizer agreed to acquire Array for $48 per share in cash, for a total enterprise value of approximately $11.4 billion.
Array's portfolio included the approved combined use of BRAFTOVI® (encorafenib) and MEKTOVI® (binimetinib) for the treatment of BRAFV600E or BRAFV600K mutant unresectable or metastatic melanoma. The combination therapy has significant potential for long-term growth via expansion into additional areas of unmet need and is currently being investigated in over 30 clinical trials across several solid tumor indications, including the Phase 3 BEACON trial in BRAF-mutant metastatic colorectal cancer (mCRC).
Mikael Dolsten, Pfizer chief scientific officer and president, Worldwide Research, Development and Medical said "With Array's exceptional scientific talent and innovative pipeline, combined with Pfizer's leading research and development capabilities, we reinforce our commitment to advancing the most promising science, regardless of whether it is found inside or outside of our labs."
8. Novartis acquired The Medicines Company - $9.7 Bn
Novartis acquired The Medicines Company for USD 9.7 bn, adding inclisiran, a potentially transformational investigational cholesterol-lowering therapy to address leading global cause of death.
Over 50 million secondary prevention patients worldwide with atherosclerotic cardiovascular disease (ASCVD) or familial hypercholesterolemia (FH) on current standard of care do not achieve LDL cholesterol (LDL-C) goal and remain at increased risk of cardiovascular events. First-in-class siRNA biological mechanism enables unique twice-yearly, subcutaneous dosing regimen and seamless integration into routine healthcare professional visits, potentially improving adherence and patient outcomes
Novartis CEO Vas Narasimhan said:  "We are excited about entering into an agreement to acquire The Medicines Company as inclisiran is a potentially transformational medicine that reimagines the treatment of atherosclerotic heart disease and familial hypercholesterolemia. With tens of millions of patients at higher risk of cardiovascular events from high LDL-C, we believe that inclisiran could contribute significantly to improved patient outcomes and help healthcare systems address the leading global cause of death. The prospect of bringing inclisiran to patients also fits with our overall strategy to transform Novartis into a focused medicines company and adds an investigational therapy with the potential to be a significant driver of Novartis' growth in the medium to long term."
9. Eli Lilly acquired Loxo Oncology - $8 Bn
Lilly acquired Loxo Oncology in January 2019. Loxo Oncology is a biopharmaceutical company focused on the development and commercialization of highly selective medicines for patients with genomically defined cancers.
Acquisition broaden the scope of Lilly's oncology portfolio into precision medicines through the addition of a marketed therapy and a pipeline of highly selective potential medicines for patients with genomically defined cancers.
"Using tailored medicines to target key tumor dependencies offers an increasingly robust approach to cancer treatment," said Daniel Skovronsky, M.D., Ph.D., Lilly's chief scientific officer and president of Lilly Research Laboratories. "Loxo Oncology's portfolio of RET, BTK and TRK inhibitors targeted specifically to patients with mutations or fusions in these genes, in combination with advanced diagnostics that allow us to know exactly which patients may benefit, creates new opportunities to improve the lives of people with advanced cancer."
10. GlaxoSmithKline (GSK) acquired Tesaro - $5.1 Bn
GSK acquired TESARO, an oncology-focused company based in Waltham, Massachusetts, for an aggregate cash consideration of approximately $5.1 billion (£4.0 billion)
TESARO is a commercial-stage biopharmaceutical company, with a major marketed product, Zejula (niraparib), an oral poly ADP ribose polymerase (PARP) inhibitor currently approved for use in ovarian cancer. PARP inhibitors are transforming the treatment of ovarian cancer, notably demonstrating marked clinical benefit in patients with and without germline mutations in a BRCA gene (gBRCA). Zejula is currently approved in the US and Europe as a treatment for adult patients with recurrent ovarian cancer who are in response to platinum-based chemotherapy, regardless of BRCA mutation or biomarker status.
Emma Walmsley, Chief Executive Officer, GSK, said: "The acquisition of TESARO will strengthen our pharmaceuticals business by accelerating the build of our oncology pipeline and commercial footprint, along with providing access to new scientific capabilities. This combination will support our aim to deliver long-term sustainable growth and is consistent with our capital allocation priorities. We look forward to working with TESARO's talented team to bring valuable new medicines to patients."