NASAL DRUG DELIVERY SYSTEM: A COMPLETE REVIEW



About Authors:
Dharmendra Kumar*1, Sumedha Bansal1
1Department of Pharmaceutical Technology, Meerut Institute of Engineering and Technology,
Meerut, Uttar Pardesh, India, 250005
*rvnimiet@gmail.com
Abstract:
In present era, nasal drug delivery system has been considered as potential and favourable route of drug delivery because it provides patient compliance, easy to administration, bypass first pass metabolism, excellent penetration, low dose required, rapid absorption and gives desirable effects. So many times nasal drug delivery has been considered as alternative of parenteral route. The purpose of this review, to provide a complete information about nasal drug delivery system such as advantage, limitations, anatomy of nose, mechanism of drug absorption, factors affecting of nasal drug delivery, absorption improvement aspects, novel drug formulations, types of nasal drug delivery system with uses of nasal drug delivery in various disease. So we have expectation, that researches and others cited person get benefitted from this review.
Reference Id: PHARMATUTOR-ART-1593

Intoroduction:
Generally nose is the important part of body for inhalation process. But when it is used as the route of drug delivery attained the great attraction for various drugs. Because nose provides faster and higher level of drug absorption with possibility of self-administration [1].
In recentmany of drugs are used via nasal route but many have various disadvantage such as poor contact of formulation with nasal mucosa, fast clearance and solid dosage formulations also be difficult via nasal route [2].
Researchers have also attempted delivery of drugs to the CNS via nasal route cross the blood brain barrier allowing the direct drug delivery in the bio phase of central nervous system active compound. NDDS also be administration route for vaccines[3-6].

Hydrophobic and low molecular drugs can easily penetrate through nasal mucosa with less degradation. Fast absorption can be achieved due to large absorption surface area and high vascularisation. In emergency nasal route can be used as alternative route of parenteral[7-8].
Advantage of nasal drug delivery system
S. NO.

ADVANTAGES

FACTORS

1.

Improving patient compliance[9]

Needle free (painless)

Trained person not required

2.

Good penetration[10]

in case of lipophilic drugs

in case of low molecular weight




3.

rapid absorption and onset of action

Due to relative large surface area

High vascularisation

4.

Avoidance of the harsh environment

less chemical and enzymatic degradation

5.

low dose required

Free from first pass metabolism

6.

Direct delivery of drug to central nervous system[11]

via olfactory region, thus bypass the blood brain barrier
Limitations of nasal drug delivery system.
| | | |
| --- | --- | --- |
| S.ON. | LIMITATIONS | FACTORS |
| 1. | Risk of local side effect and irreversible damage of cilia on nasal mucosa [12] | due to constituents added to dosage forms |
| 2. | Disrupt and even dissolve the nasal membrane[12] | Due to high concentration of absorption enhancers |
| 3. | Reduce the capacity of nasal absorption[12] | Due to nasal atrophic rhinitis and severe vasomotor rhinitis |
| 4. | Low bioavailability[12] | due to enzymatic degradation and metabolism at mucosal surface. |
Anatomy of nose:
Breathing and olfaction are the major function of human nose[13]. But it also functioned as filtration and humidify of inhaled air before reaching in lowest airways. Nasal cavity has mucus layer and hairs, those helpful in filtration of particles trapped in inhaled air. Additionally metabolism of endogenous substances, mucociliary clearance also a function of nose[14-17].

An nasal cavity has about a 20 ml capacity with a large surface area (about 180 cm2) for the drug absorption afforded by the microvillus present along the pseudo-stratified columnar epithelia cells of the nasal mucosa. Nasal cavity is divided by septum into two equal parts[18].

PH of mucosal secretions:-
In children – 5.0 to 6.7[19-20]
In adult - 5.5 to 6.5[19-20]

Human nasal cavity have three functional regions called vestibular, olfactory ,and respiratoryareas.the vestibular area provides as a baffle system, and functioned as filter of airborne particle, it has Keratinized and squamous epithelial cells with nasal hairs, it has poor permeability of drug particles. Olfactory epithelium is helpful to metabolizing drugs,it has sustentacular cells, olfactory receptor and basal cells. Drugs can be direct access to CNS from olfactory region. Respiratory region also an important in nasal drug delivery system and provided optimum drug absorption. Respiratory region contains columnar ciliated cells, columnar non ciliated cells, goblet cells and basal cells[21-24].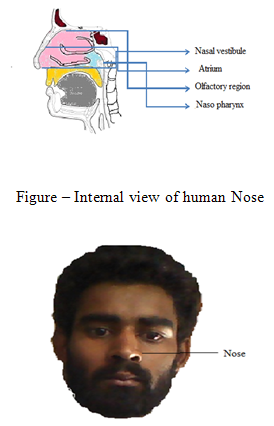 Figure:- External view of Human Nose

(A).Nasal vestibule:-
- It is the anterior part of nasal cavity.
-Surface area is 0.6cm2[24].
-Nasal portion is covered by a stratified squamous keratinized epithelial with sebaceous gland.
-Drug absorption is very difficult in this region but it afforded high resistance against toxic environment [25].

(B). Atrium-
- The area between nasal vestibule and respiratory region is called Atrium.
- The anterior part consists – stratified squamous
- The posterior part consists- pseudostratified columnar cells.
(C). Respiratory region.
- It is the largest part of nasal cavity and also known as conchae.
- Humidification and temperature is the function of it
- Drug delivery is very good in this region
-It consist pseudo stratified columnar epithelial, globet cells, basal cells, mucous and serous glands.
- Microvilli are important to enhance the respiratory surface area.

(D). Olfactory region.
- It located in the roof of the nasal cavity.
-It has neuroepithelium
-Neuroepithelium is the cavity part of the CNS is directly exposed the external environment [26].
-It has pseudostratified.

NOW YOU CAN ALSO PUBLISH YOUR ARTICLE ONLINE.
SUBMIT YOUR ARTICLE/PROJECT AT articles@pharmatutor.org
Subscribe to Pharmatutor Alerts by Email
FIND OUT MORE ARTICLES AT OUR DATABASE
Pages