ISOLATION, EXTRACTION, PURIFICATION AND CHARACTERIZATION OF ALKALINE PROTEASE FROM NEUROSPORA CRASSA AND ENZYME ASSAY
IV. PURIFICATION OF PROTEASE: Following are the methods of purification.
a. Ammonium Sulphate Precipitation: This method is for protein purification by altering the solubility of protein (NH4)2SO4 precipitation is a simple and effective means of fractionating protein. it is based on the fact that at high salt concentration the natural tendency of protein not to aggregate is overcome, since the surface charges are neutralized Charge neutralized means that protein will tend to find together, from large complexes and hence are easy to precipitate out by mild centrifugation Since each protein will start to aggregate at a characteristic salt concentration, than approach provides a simple way of enriching for particular protein in a mixture and is used
Salting out Increase in the salt concentration implies that there is less and less water available to solubilize protein finally, protein starts to precipitate when there are not sufficient water molecules to interacts with protein molecule, then phenomenon of protein precipitation in the presence of excess salt is known as salting out
Salting In At Low concentration, the presence of salt stabilizer the various charged groups on a protein molecule, then attracting protein into the solution and enhancing the solubility of protein, then phenomenon commonly known as salting in
Fractionation: The precipitated proteins is collected and categorized to the concentration of salt solution at which it is formed. This partial collection of the separated protein pellet called Fractionation
Procedure: Protease are elute at 66% of ammonium sulfate concentration, so that we have taken 44 grams of ammonium sulfate for 100 ml of crude enzyme and then ammonium sulfate slowly added on magnetic stirrer for uniform distribution. After the addition of ammonium sulfate the crude enzyme was centrifuged at 12000 rpm for 10 minutes to collect the pellet. The pellet is collected in to the phosphate buffer pH 8.0 buffer.b. Dialysis: dialysis is the process of separating molecules in solution by the difference in their rates of diffusion through a semi permeable membrane, such as dialysis tubing.Dialysis is a common laboratory technique, and operates on the same principle as medical dialysis. Typically a solution of several types of molecules is placed into a semi permeable dialysis bag, such as a cellulose membrane with pores, and the bag is sealed. The sealed dialysis bag is placed in a container of a different solution, or pure water. Molecules small enough to pass through the tubing (often water, salts and other small molecules) tend to move into or out of the dialysis bag, in the direction of decreasing concentration. Larger molecules (often proteins, DNA, or polysaccharides) that have dimensions significantly greater than the pore diameter are retained inside the dialysis bag. One common reason for using this technique would be to remove the salt from a protein solution. The technique will not distinguish between proteins effectively.

Preparation of dialysis tube. Boil the tubing on a stir plate (preferably in the hood) in a 4L volume of 2% (w/v) sodium bicarbonate and 1mM EDTA pH 8.0.Rise the tubing in distilled water thoroughly.Boil for 10 minutes in 1mM EDTA (pH 8.0). Allow tubing to cool then store it in freezer at 4oC with tubing submerged.Before use wash out tubing with distilled water
Dialysis of Proteins After a protein has been ammonium sulfate precipitate and taken back up in buffer at a much greater protein concentration than before precipitation, the solution will contain a lot of residual ammonium sulfate which was bound to the protein. One way to remove this excess salt is to dialyze the protein against a buffer low in salt concentration.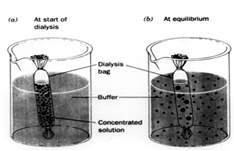 This graphic illustrates the dialysis process. First, the concentrated protein solution is placed in dialysis bag with small holes which allow water and salt to pass out of the bag while protein is retained. Next the dialysis bag is placed in a large volume of buffer and stirred for many hours (16 to 24 hours), which allow the solution inside the bag to equilibrate with the solution outside the bag with respect to salt concentration. When this process of equilibration is repeated several times (replacing the external solution with low salt solution each time), the protein solution in the bag will reach a low salt concentration:

The graphic illustrates the complete dialysis process, except for it suggests you do this with distilled water. Really you want to do this process with buffer to prevent the protein from denaturing due to the fact that distilled or de ionized water is too low in salt and may have an undesirable pH for your protein, which may cause it to denature.
In fact, dialysis is a good way to exchange the buffer the protein is in at the same time you get rid of excess salt. After ammonium sulfate precipitation contains a mixture of buffers as well as excess salt. So we use the buffer we want for the next step in the purification, which is ion-exchange chromatography, as the external solution during dialysis. After the 3 step dialysis process where the protein solution is dialyzed against the starting buffer for the ion-exchange chromatography step, not only will the salt be removed but the protein will now be in the buffer needed for the next step and ready to go. Sometimes, proteins will precipitate during the dialysis process and you will need to centrifuge the solution after dialysis to remove any particles which would interfere with the next step - such as ion-exchange chromatography where particles would clog the column and prevent the chromatography step from working.
In addition, you may lose enzyme activity during dialysis. So it is a good idea to keep some of your protein solution as a sample before it is put in the dialysis bag so that it can be assayed for enzyme activity before and after dialysis.
Result: The dialyzed enzyme was collected in to the beaker and stored in refrigerator.

c. Ion Exchange chromatography. This form of chromatography relies on the attraction between oppositely charged particles. Many biological materials, for e.g. Amino acids and proteins have ionizable groups and the fact that they may carry a net positive or negative charge can be utilized in separating mixture of such a compounds. The net charge executed by these compounds is dependent on the pKa and on the pH of the solution in accordance with the Henderson Hassel Balch equation.

Ion exchange separations are carried out mainly in columns packed with an ion-exchanger. There are two types of ion exchanger, namely, Cation and Anion Exchangers.Cation exchangers possess negatively charged groups and these will attract positively charged cations. These exchangers are also called acidic ion exchange materials because their negative charges result from the ionization of acidic groups. Carboxy methyl cellulose is a cat ion exchanger; here CM-cellulose is most applicable for the separation of proteins which are positively charged at around pH 4-5.Anion exchangers have positively charged groups that will attract negatively charged anions. The term basic ion exchange material is also used to describe this exchanger, as positive charges generally results from the association of the protons with basic groups.

The most frequently used are Diethylaminoethyl (DEAE)-cellulose which is anion exchanger. The DEAE group, -CH2H5NH(C2H5)2,is highly positive charge at pH 6-8, so DEAE- cellulose is most useful for the chromatography of protein which are negatively charged in this range.Elution of the proteins from the columns may be brought about by changes in either salt concentration of salt (e.g. NaCl) increases; protein is displaced from DEAE by Cl- ions and from CMC-cellulose by the cat ion Na+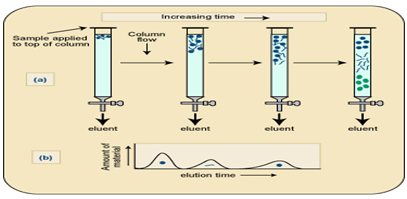 Buffer preparation: 1. Add 2.78gms in 100ml sodium phosphate solution and it was taken as X-solution. 2. Then add 0.2M dibasic sodium phosphate 5.365mg in 100ml water and it was taken as Y-solution. 3.From solution X take 94.5 ml and from solution Y we took 4.5ml in a conical flask and it was makeup to 200ml.
Preparation of chemicals: Phosphate buffer, NaCl
Sl.No

TEST TUBE

BUFFER in ml

NACL in ml

Distilled water in ml

OD At 660nm

1

25mm




   0.25ml

0.125

4.625

0.10

2

50mm

0.25

4.5

0.55

3

75mm

0.375

4.375

0.05

4

100mm

0.5

4.15

0.08

5

125mm

0.625

4.125

0.15

6

150mm

0.75

4.0

0.12

7

175mm

0.875

3.875

0.10

8

200mm

1

3.75

0.08

9

225mm

1.125

3.5

0.00

10

250mm

1.25

3.25

0.00
Procedure: First add phosphate buffer to clean the column, then add the protein sample, Then add the serial sample test tubes, Then take out the purified protein sample.

Result: The purified protein sample is collected at 50 mM concentrated NaCl.

V. PROTEASE ASSAY AFTER PURIFICATION:
Aromatic amino acids absorb (due to their benzene rings) resonance at 280nm. The absorbance is a measure of liberation of tyrosine. The activity of protease liberates tyrosine after proteolytic cleavage. In order to ensure free hydrolysis and thereby facilitate proteolytic cleavage, the substrate and the test solution are subjected to digestion by TCA.
Reagents: 0.5%BSA solution,50mM Tris HCl (pH 8.0), 10%trichloroacetic acid.
Procedure:
To 0.5 ml of 0.5% of BSA solution made up in 50mM tris HCl, adds 0.1ml of enzyme solution and 0.75ml of 10%trichloro acetic acid and incubated at 370C for 20 min. After incubation, add 0.5ml of 0.5%BSA solution to the blank and 0.75ml of 10% trichloro acetic acid to the test and left at 37oC for 20 min. Centrifuged at 10,000rpm for 20 min to separate the supernatant. The absorbance of the blank and test was read at 280nm and increase in the absorbance at this wavelength indicates the enzyme activity.

VI. ESTIMATION STANDARD PROTIEN BY LOWRY'S METHOD:
S.No

Vol.

of std.(BSA)

Vol. of

D/W

Concentration of BSA in µg/ml

Vol. of Alkaline copper sulphate reagent

Incubation at room

temperature

Vol of

 F-c Reagent

Boiling at 100 c in water bath

O.D values at 660nm

Blank

0.0ml

1ml

00

5ml

10min

0.5

10min

0.00

1.

0.2ml

0.8ml

20

5ml

10min

0.5

10min

0.30

2.

0.4ml

0.6ml

40

5ml

10min

0.5

10min

0.60

3.

0.6ml

0.4ml

60

5ml

10min

0.5

10min

0.90

4.

0.8ml

0.2ml

80

5ml

10min

0.5

10min

1.20

5.

1.0ml

0.0ml

100

5ml

10min

0.5

10min

1.50
Procedure:1. Take a series of test tubes and label them as 1 to 5. 2.Then add different concentrations of standard 0.2 to 1.00 to the test tubes. 3.Then add 5 ml of alkaline copper sulphate. 4.Incubate the test tubes for 10 minutes at room temperature. 5.Then add 0.5ml of FC reagent to all the test tubes.6. Then keep the test tubes in hot water bath at 100 c for 10 minutes.
7.Maintain the tube, blank as same as, instead of standard add distilled water to adjust the calorimeter to zero. 8. Then cool the test tubes and add 1 ml ethanol all the test tubes. 9. Then take O.D values by using calorimeter at 660nms 10. Then plot the graph between concentration Vs O.D values.

NOW YOU CAN ALSO PUBLISH YOUR ARTICLE ONLINE.
SUBMIT YOUR ARTICLE/PROJECT AT articles@pharmatutor.org
Subscribe to Pharmatutor Alerts by Email
FIND OUT MORE ARTICLES AT OUR DATABASE
Pages