HIV / AIDS EVOLUTION AND CONSIDERATIONS
About Authors:
Nishant kumar singh
Research Fellow,
ICRI (Ahm) and Cranfield University
* nishantsingh.shree@gmail.com
ABSTRACT:
Over 3 decades HIV/AIDS have been a major globally accepted challenge, from endemic to a catastrophic pandemic & explodes globally. Estimates says 33.3 million HIV +ve and 2.6 million newly HIV infected people are in 2009. Since the beginning of epidemic, nearly 30 million people have died from AIDS related cause[1].  From chimpanzees to human[2] and then human to human (migration[3], MSM, HS, IDU, MTC etc) and ultimately it transformed into pandemic. After 30 years we have advanced our treatment & Medicare knowledge of HIV and AIDS. Our scientist has developed several successful targets and drugs based on them, a highly effective therapy HAART currently in use (managing viral load & cell count for better patient survival rate) showing good results. Still HIV/AIDS is incurable, WHY? It shows the need of critical thinking from the very 1st initial step i.e. TARGET. HIV itself is the target; biotech and Pharmaceutical Company must consider nanotechnology & homologous approach for CCR5. Though it seems that we have control over it but if this goes out same way, than one day just due to the HIV typical characteristic of mutation and recombination the worst Catastrophic sub Saharan-Africa epidemic will become Pandemic.[i]
REFERENCE ID: PHARMATUTOR-ART-1463
INTRODUCTION
HIV/AIDS is a catastrophic illness and still a major challenge of 21st century. AIDS history is short, during 1970s "period of silence" no one was aware of deadly illness. But data suggests that current pandemic had started in late 1970s. By the time of 1980, it had already spread to continents like Europe, Australia, South America, North America and Africa. And same account for approx 100000 to 300000 infected persons[4].It was 1st reported in 1981 and at 1992 FDA receives 1st IND Submission for treatment of HIV/AIDS. Year 2009 statistics reports suggest for 33.3 million HIV+ve people who are living with HIV infection and each year around 2.6 million new cases of HIV infection whereas 1.8 million people died because of AIDS[5].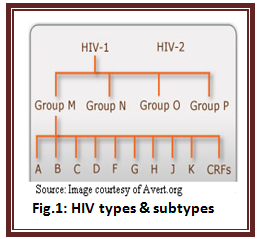 HIV/AIDS has a profound impact on HUMAN KIND by influencing social capital, population structure & national economic growth and so called as catastrophic pandemic. The impact of HIV/AIDS will go devastating until and unless the need for novel anti-HIV agent is met because HIV has a typical characteristic of mutation & recombination. Cameroonian lady was discovered with a new strain of HIV-1 in the year 2009, which was very similar to SIV (gorilla) and is classified as group P type of HIV-1[8]. Group M is itself known to have at least 9 clades (A, B, C, D, F, G, H, J and K) and all HIV-1 subtypes differs genetically[9].At present phylogenic tree shows a large number of various different natures of HIV subtypes and the same had created the need for broad classification of HIV subtypes as shown in the fig.1. This requires the need for critical evaluation of the whole knowledge on HIV/AIDS.
EPIDEMIC INCIDENCE
HIV/AIDS incidence rate is decreasing in all the cases weather it is the case of newer infection in children's (MTCT) or adult (MSM, HS, IDU, low down etc) or is the case of HIV/AIDS related mortality or is the cost of treatment. The reason for same is advancement of the knowledge which leads to safer sex, AR drugs discovery, and new regimens for HAART and increased number of people receiving HIV treatment. The only case where a hike can be seen is cumulative number of HIV infection which is increasing year by year and need to be focus for betterment.
It can be calculated by the following equation:  OR

The incedence of HIV/AIDS occurs mainly due to OIs and it raises with increasing age of the patient[22]. OIs such as TB(38%), BP(14%),PCP(11%),and KS(6%) in 128 patients(100%) are the vital player in HIV/AIDS morbidity or mortility incidence outcome[23]. Chemotherapy has a significant impact on  mortality reduction as zidovudine reduced the incidence of AIDS about 62% in patient who took it than in those who did not(P = 0.02)[22].NHL among PWA boost up the incidence and public health burden too.Infant increased mortality in countries with high adult HIV prevelance example Zimbabwe(61%) are building up the  HIVepidemic incidence burden[24].  According to latest 2010 WHO treatment guidelines, Only 36% of low-income and middle-income countries HIV infected people are receiving AR drugs [25].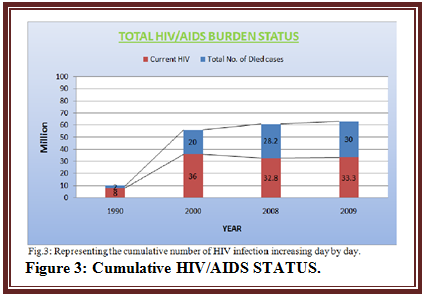 GLOBAL TRENDS OF HIV/AIDS & 2010 FACT SHEET (UNAIDS REPORT):
 Fig.4:Representing incidence for AIDS & infectious disease[1].
An increase of 25 million HIV +ve people since from 1990 illustrates the huge impact of HIV on human kind which had already resulted in 30 million mortality incidence over last 3 decades; it means 1 million deaths each year. Though overall cumulative burden is slow but is increasing per year.
NOW YOU CAN ALSO PUBLISH YOUR ARTICLE ONLINE.
SUBMIT YOUR ARTICLE/PROJECT AT articles@pharmatutor.org
Subscribe to PharmaTutor Alerts by Email
FIND OUT MORE ARTICLES AT OUR DATABASE
Pages