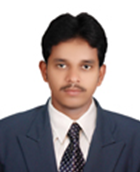 About Authors:
S.Pradeep kumar, D.Prathibha, Dr.N.L.Gowrishankar, R.Parthibarajan, L.Matsyagiri
Department of Pharmaceutics, 
Swami Vivekananda Institute of Pharmaceutical Sciences,
Vangapally (V), Yadagirigutta (M), Nalgonda,
Andhra Pradesh, India.
ABSTRACT
The goal of the present investigation was to formulate and evaluate fast dissolving tablets (FDT) of Rosiglitazone maleate. To improve patient compliance, mouth dissolving tablets have emerged as an alternative to conventional dosage forms. Rosiglitazone and Sulfonylurea are given in combination for treatment of type 2Diabetes Mellitus for long term therapy. During this therapy, it is observed that there is uncontrolled increase of blood glucose level, andthe drug undergoes hepatic metabolism. Therefore, mouth dissolving tablets of Rosiglitazone were prepared to overcome this unusual problem and to make use of the inherent advantages of the novel drug delivery system.The tablets were prepared by using direct compression method using Superdisintegrants. Rosiglitazone mouth dissolving tablets containing Cross povidone & Cross carmellose sodium in the ratio 1:1 showed maximum drug release. Formulations were subjected to stability studies. Formulations are stable for 28 days at 40 oC / 75 % RH with insignificant change in the hardness, disintegration time and in vitro drug release pattern.
Reference Id: PHARMATUTOR-ART-1195
INTRODUCTION
Diabetes  is  one  of  the  major  causes  of  death  and  disability  in  the   world. World Health Organization estimate for the number of peoplewith diabetes worldwide, in 2000, is 171 million which is likely to be  at  least  366  million of people  by  2030  (Ritu  et  al.,  2009)Non-insulin dependent (Type 2) diabetes mellitus is a heterogeneous disorder characterized by an underlying insufficiency of insulin. This insufficiency results from defective insulin utilize on and can be corrected by administration of one or more of the currently availableoralhypoglycemic agents (Howida et al., 2010).
The oral route of administration still continue to be the most preferred route due to its manifold advantages including ease of ingestion, pain avoidance, versatility and most importantly patient compliance. The most popular dosage forms are tablets and capsules. Geriatric patients may have difficulty in swallowing and chewing the tablets resulting in patient non compliance and ineffective therapy. To overcome these problems mouth dissolving tablets are good option. Since, they disintegrate and dissolve rapidly in saliva without need for drinking water1. The development of a fast dissolving tablet also provides an opportunity for a line extension in the market place. Recent development in technology have presented viable dosage forms alternative for patients who may have difficulty in swallowing tablets or liquids, traditional tablets and capsules administered with glass of water may be inconvenient for some patients2. A constant focus on Novel Drug Delivery systems that offer greater patient compliance, effective dosages and minimal chances of side effects has led to the development of Mouth Dissolving Tablets3. Mouth dissolving tablets are gaining more demand and popularity from last few years because pharmaceutical industry has become increasingly aware of the need that elderly be considered as a separate and unique medicare population. Though geriatric patients constitute a minor proportion of the population, its growth rate is high and hence will have significant impact on development of drug delivery system4.Disintegrants have major role in disintegration and dissolution of mouth dissolving tablets made by direct compression.
Rosiglitazone is an anti-diabetic drug in the thiazolidinedione class of drugs. Like other thiazolidinediones, the mechanism of action5of Rosiglitazone is by activation of the intracellular receptor class of the peroxisome proliferator activated receptors (PPARs), specifically PPARγ. Rosiglitazone is a selective ligand of PPARγ, and has no PPARα-binding action.The PPARγ agonists are developed to increase insulin sensitivity and simultaneously prevent dibetic cardiovascular complications. Rosiglitazone was developed for treatment of Type II diabetes with secondary cardiovascular complications. Rosiglitazone and Sulfonylurea is given in combination for treatment of type 2 Diabetes Mellitus for long term therapy. During this therapy it is some time observed that there is uncontrolled increase of blood glucose level. To overcome this unusual problem mouth dissolving tablets of Rosiglitazone is preferred. The aim of this study is to formulate and evaluate Rosiglitazone mouth dissolving tablet.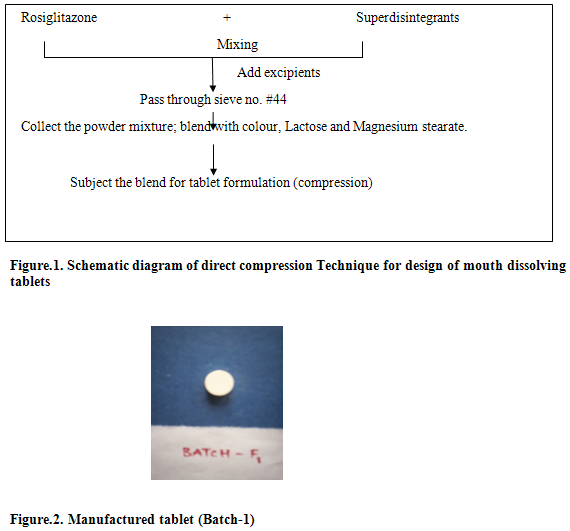 SALIENT FEATURES OS FAST DISSOLVING TABLETS 6:
a) Ease of administration to patient who refuses to swallow tablets, such as pediatric, geriatric and psychiatric patients.
b) No need of water to swallow the dosage form, which is highly convenient feature for patients who are traveling and do not have immediate access to water.
c) Rapid dissolution and absorption of drug, which will produce quick onset of action.
d) Some drugs are absorbed from the mouth, pharynx and esophagus as the saliva passes down into the stomach; in such cases bioavailability of drugs is increased.
e) Pregastric absorption can result in improved bioavailability and as a result of reduced dosage; improve clinical performance through a reduction of unwanted effects.
MATERIALS AND METHODS:
Rosiglitazone Maleate was received as a gift sample from Sun Pharma Ltd, Mumbai. Sodium Starch Glycolate, Croscarmellose Sodium & Crosspovidone were received as a gift sample from Hetero pharma, Hyderabad. Microcrystalline Cellulose, Magnesium Stearate were received as a gift sample from Aristo pharma, Hyderabad. Lactose, Aspartame & Purified Talc was received as a gift sample from Aurobindo Pharmaceuticals, Hyderabad. All other materials were used of Pharma grade.
1. Preparation of Rosiglitazone maleate Mouth Dissolving Tablets8:
Rosiglitazone maleate mouth dissolving tablet was prepared by direct compression technique using varying concentration of superdisintegrants.Rapidly disintegrating tablets were prepared using superdisintegrants addition. Different ratio of microcrystalline cellulose and sodium starch glycolate were used. The ratio giving the best disintegration time along with optimum hardness was chosen and tablets prepared by direct compression. The final formulae for preparation of RDT are given in table-2.All ingredientsexept magnesium stearate were blended in a mortar uniformly. Mix the drug and other components thoroughly.Then the mixture is passed through sieve No. # 44.The magnesium stearate was added and further mixed for 2-3 minutes.The mixture is blended with color, lubricating agent (magnesium stearate) and filler.  The mixture of drug and excepients was compressed using Aarsontablet punching machine using 5mm standard concave punch.
2. Evaluation of mouth dissolving Rosiglitazone maleate tablet9:
[A]Shape of Tablets:
The compressed tablets were examined under the magnifying lens for the shape of the tablet.
[B]Tablet Dimensions:
Thickness and diameter were measured using a Vernier Callipers
[C]Hardness10:
}The hardness of the tablets was determined using Monsanto hardness tester.
[D]Friability Test:
The friability of tablets was determined using Roche friabilator. 20 tablets were initially weighed (w0 ) and transferred into friabilator, operated at 25rpm for 4 minutes. The tablets were weighed again (w). The % friability was then calculated by Percentage of Friability = 100 (1-w/w0)
NOW YOU CAN ALSO PUBLISH YOUR ARTICLE ONLINE.
SUBMIT YOUR ARTICLE/PROJECT AT articles@pharmatutor.org
Subscribe to Pharmatutor Alerts by Email
FIND OUT MORE ARTICLES AT OUR DATABASE
[E]Weight Variation Test:
Twenty tablets were selected at random and the average weight was determined. Not more than two of the individual weights deviate from the average weight by more than the percentage deviation shown in table and none deviates by more than twice the percentage.
[F]Wetting time 12:
The method was applied to measure tablet-wetting time. A piece of tissue paper folded twice was placed in a small petridish (i.d. = 6.5 cm) containing 10 ml of water, a tablet was put on the paper, and the time for complete wetting was measured. Three trials from each batch were performed and standard deviation was also determined. The method was reported by Yunxia Bi.
[G]Water absorption ratio13:
A piece of tissue paper folded twice was placed in a small petri dish containing 6 ml of water. A tablet was put on the tissue paper and allowed to completely wet. The wetted tablet was then weighted. Water absorption ratio, R was determined using following equation.
R = 100 x Wa –Wb/Wa
Where, Wa = Weight of tablet after water absorption
Wb = Weight of tablet before water absorption.
[H] In-vitro disintegration time:
The process of breakdown of a tablet into smaller particles is called as disintegration. The in-vitro disintegration time of a tablet was determined using disintegration apparatus as per I.P. specifications.
Method:
Place one tablet in each of the 6 tubes of the basket and run the apparatus using pH 6.8 (simulated saliva fluid) maintained at 37°±1°C as the immersion liquid. The assembly should be raised and lowered between 100 cycles per minute. The time in seconds taken for complete disintegration of the tablet with no palpable mass remaining in the apparatus was measured and recorded.
[I] Mouth feel:
Mouth feel of tablet is very important and is a major selection criterion for a patient. To know the mouth feel of the tablets, the same human volunteers held the disintegrated particles in the mouth for 30 seconds and the taste sensation felt was recorded.
[J] In-vitro dissolution studies14:
In vitro release studies were carried out using tablet USP XXIII dissolution test apparatus. Two objectives in the development of in-vitro dissolution tests was to show that,
i)    Release of the drug from the tablet is as close as possible upto 100% and
ii)  Rate of drug release is uniform from batch to batch and is the same as the release rate from those proven to be bioavailable and clinically effective.
The various parameters related to dissolution which are evaluated as follows
             1. Drug release
             2. Cumulative percentage drug release
             3. Cumulative percentage drug retained
[K] FTIR spectroscopy15:
Drug-excipients interactions, initial tablets and accelerated condition tablets were assessed by FTIR spectroscopy. About 2mg of sample was mixed thoroughly with 200 mg potassium bromide IR powder and compacted under vacuum at a pressure of about 12 psi for 3 minutes. The resultant disc was mounted in a suitable holder in Perkin Elmer IR spectrophotometer and the IR spectrum was recorded from 4000 per cm to 450 per cm. The resultant spectra were compared for any spectral changes.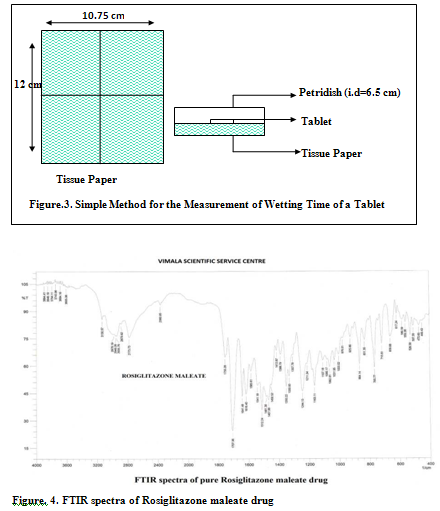 RESULTS AND DISCUSSION:
1.0 Pre formulation Studies: FTIR Study15, 16:
The characteristic functional groups of the pure Rosiglitazone and physical mixtures of Rosiglitazone maleate and polymers showed the peaks at the following wave number region.
TABLE 1
Composition of Mouth Dissolving Tablets of Rosiglitazone
Ingredients (mg)

F1

F2

F3

F4

F5

F6

F7

F8   

F9

F10

Rosiglitazone

4

4

4

4

4

4

4

4

4

4

Sodium starch glycolate

 

3

 

-

2

-

2

1

-

1

1

Cross povidone

-

3

-

2

2

-

1

1

-

1

Cross carmellose sodium

-

-

3

-

2

2

1

1

1

-

Microcrystalline cellulose

70.5 

70.5

 70.5

69.5

69.5

69.5

70.5

71.5

71.5

71.5

Aspartame

0.5

0.5

0.5

0.5

0.5

0.5

0.5

0.5

0.5

0.5

Mg Stearate

1

1

1

1

1

1

1

1

1

1

Lactose.D.C.

20

20

20

20

20

20

20

20

20

20

Talc

1

1

1

1

1

1

1

1

1

1

Total (mg)

100

100

100

100

100

100

100

100

100

100
Table No.2: Standard calibration curve of Rosiglitazone maleate in pH 6.8
Flask      No.

Volume of Stock-II  (ml)

Volume made

up to (ml)

Concentration

    (µg/ml)

Absorbance

 at 317 nm

1

0.2

10

2

0.130

2

0.4

10

4

0.121

3

0.6

10

6

0.290

4

0.8

10

8

0.377

5

1.0

10

10

0.501

6

1.2

10

12

0.574

7

1.4

10

14

0.744

8

1.6

10

16

0.820

9

1.8

10

18

0.850

10

2.0

10

20

1.020
Aromatic C=C stretching vibration 1641.48 cm-1 ; Carboxylic acid C=O stretching vibration 1211.34 cm-1, 1107.18 cm-1, 1031.95 cm-1, 1003.02 cm-1; Aromatic tertiary amine C-N stretching vibration 1244.13 cm-1 1163.11 cm-1, 1062.81 cm-1; Ketonic C=O stretching vibration 1707.06 cm-1, 1641.48 cm-1. There was no appearance or disappearance of any characteristics peaks. This shows that there is no chemical interaction between the drug and the polymers used in the tablets. The FTIR spectra were in figure 4&5.
1.2 Determination of absorption maximum of Rosiglitazone maleate:
From the UV spectrophotometric analysis, it was conclude that the drug Rosiglitazone maleate showed a λmaxat 317 nm. Therefore the observed λmaxwas used for further work to analyze the test samples. The absorption maximum is given in figure 6.
1.3 Standard graph of Rosiglitazone maleate inphosphate bufferpH 6.8:
The concentration of Rosiglitazone maleate and the corresponding absorbances were given in the table and the plot of concentration verses absorbance was shown in fig.6. The solution obeyed Beer-Lambert's law over a concentration Range of 2µg/ml -20µg /ml with a regression co-efficient of 0.995. This standard curve was used further to estimate Rosiglitazone maleate in the in vitro studies.
Similarly, the standard graphs of Rosiglitazone maleate in phosphate buffer pH (Fig.7) and water were generated.
1.4. Micromeritic properties:
The flow properties of power blend were listed in the table 3.
Table. 3. Flow properties of powder blend of Rosiglitazone maleate
Sl No.

Formulation Code

Angle of repose

(?)

Loose bulk density

(gm/cm3)

Tapped bulk density

(gm/cm3)              

Carr's Index

(%)

Hausner's ratio

1

F1

11º97´

0.476

0.555

10.8

1.16

2

F2

15º9´

0.476

0.540

12.10

1.29

3

F3

13º53´

0.487

0.555

11.75

1.13

4

F4

12º82´

0.465

0.526

13.50

1.28

5

F5

15º82´

0.476

0.526

12.5

1.26

6

F6

17º9´

0.487

0.555

13.0

1.16

7

F7

14º99´

0.476

0.540

11.36

1.10

8

F8

14º24´

0.465

0.540

16.23

1.24

9

F9

9º54´

0.476

0.588

14.48

1.17

10

F10

14º86 ´

0.476

0.555

8.69

1.09
Flow properties of batches were evaluated by measuring the angle of repose and compressibility index. In the evaluation of flowability of dry solid ,the substances shows excellent flowability of performance, when the angle of repose have the value less than 1509? while when compressibility index has value below 16.23%, no aid is needed for enhancing the flowability of power. Thus, angle of repose and compressibility index are indicates of good flowability of power blend, showing no need for addition of glidants to enhance flowability. The better flow properties of power blend indicate that the mixture of power produced were non-aggregated.
The improved micromeritic properties of powder blend when compared to that of the pure drug alone suggest that they can be easily handled and compressed the tablets.
2.0. Post formulation evaluation:
The content uniformity was performed for all the ten formulations. Five trials from each formulation were analyzed spectrophotometrically. The mean value and standard deviation of all the formulations were calculated. The drug content of the tablets was found between 3.85 mg to 3.98 mg of Rosiglitazone. The cumulative percentage drug released by each tablet in the in vitro release studies were based on the mean content of the drug present in the respective tablet. Wetting is closely related to inner structure of tablets. All formulations showed quick wetting. This may be due to ability of swelling and also capacity of absorption of water. All superdisintegrants have high water absorption capacity and cause swelling. This parameter also duplicates disintegration time in oral cavity as tablet is kept motionless on tongue. The internal structure of tablets that is pore size distribution, water penetration into tablets and swelling of disintegration substance suggested mechanism of disintegration. All formulations showed disintegration time less than 60 seconds. Formulation F1, F2, F4, F5 & F6 showed fast disintegration compared to formulation F3, F7, F8, F9& F10. Evaluation of post formulations uniformity of thickness, hardness, friability, weight variations are tabulated in Table 4.
NOW YOU CAN ALSO PUBLISH YOUR ARTICLE ONLINE.
SUBMIT YOUR ARTICLE/PROJECT AT articles@pharmatutor.org
Subscribe to Pharmatutor Alerts by Email
FIND OUT MORE ARTICLES AT OUR DATABASE
Table No.4: Evaluation of tablets from F1-F10 prepared by direct compression
Formulation Code

Uniformity of Thickness(mm)

Hardness (kg/cm3) n=10

Friability %

n=10

Weight Variation

(mg)n=

F1

2.55

3.0

0.33

99

F2

2.15

3.5

0.39

100

F3

2.53

3.5

0.51

98

F4

2.44

4.0

0.33

97

F5

2.44

4.0

0.47

99

F6

2.55

4.0

0.31

100

F7

2.46

4.0

0.56

99

 F8

2.50

4.0

0.61

99

F9

2.55

4.0

0.45

100

F10

2.53

4.0

0.54

100
2.1. Wetting Time:
This experiment mimics the action of saliva in contact with the tablet to illustrate the water uptake and subsequent wetting of tablet. Wetting time is closely related to the inner structure of the tablet. The results of wetting time are shown in table no. 16, which showed that wetting process was very rapid in almost all formulations. This may be due to ability of swelling and also capacity of water absorption and cause swelling.
2.2. Invitro dissolution studies:
All the ten formulations were subjected for in vitro dissolution studies using tablet dissolution tester USP XXIII. The samples were withdrawn at different time intervals and analyzed at 240 nm. Cumulative drug release and cumulative % drug retained were calculated on the basis of mean amount of Rosiglitazone present in respective tablet. The results obtained in the in vitro drug release for the formulations F1 to F10 are tabulated in Table 5.
Table No.5: Cumulative % drug Released of Rosiglitazone from Formulation F1 to F10
| | | | | | | | | | | |
| --- | --- | --- | --- | --- | --- | --- | --- | --- | --- | --- |
| Time (min) | F1 | F2 | F3 | F4 | F5 | F6 | F7 | F8    | F9 | F10 |
| 1 | 55.053 | 30.053 | 25.944 | 55.044 | 50.061 | 44.44 | 48.446 | 46.078 | 40.53 | 39.050 |
| 2 | 58.944 | 50.063 | 45.228 | 58.846 | 58.553 | 55.09 | 54.334 | 52.334 | 51.885 | 44.53 |
| 3 | 80.888 | 70.554 | 53.899 | 89.339 | 62.444 | 67.46 | 70.066 | 69.778 | 68.775 | 56.885 |
| 4 | 87.050 | 82.077 | 71.331 | 90.050 | 86.03 | 81.84 | 78.860 | 77.566 | 71.580 | 65.775 |
| 5 | 89.377 | 87.522 |  79.46 | 95.888 | 93.837 | 92.5 | 80.070 | 79.533 | 75.580 | 71.580 |
| 6 | 90.554 | 88.886 | 88.078 | 99.043 | 99.023 | 98.96 | 87.443 | 82.77 | 80.456 | 75.456 |
| 7 | 94.443 | 91.221 | 89.880 |    - |    - |    - | 95.667 | 84.883 | 82.077 | 82.077 |
| 8 |    98.589 | 98.001 | 90.447 |    - |    - |    - |    - | 93.533 | 87.580 | 86.501 |
| 9 |    - | 98.522 |  92.46 |    - |    - |    - |    - |     - | 90.456 | 89.580 |
| 10 |    - |    - | 93.078 |    - |    - |    - |    - |    - | 93.256 | 92.456 |
| 11 |    - |    - | 94.880 |    - |    - |    - |    - |    - |     - | 92.992 |
| 12 |    - |    - | 95.447 |    - |    - |    - |    - |    - |     - | 93.859 |
Formulation F1, F2, F3 F4, F5, F6, F7, F8, F9 and F10 prepared by direct compression method was found to release98.58%, 98.52 %, 95.44 %, 99.04 %, 99.02% ,98.96% , 95.66% ,93.53%, 93.25 and 93.85 % respectively, at end of 12 minutes. This rapid dissolution might be due to fast breakdown of particles of superdisintegrants and porous structure of the tablet. In all formulations the drug release was nearer to 100 % within 12 minutes. F4, F5 and F6 showed good drug release than other formulations. The formulations F4, F5 were selected for stability studies on the basis of their high cumulative % drug release and also results of in vitro disintegration time, wetting time.  The stability studies were carried out at 25 oC / 60 % RH and 40oC / 75 % RH for all the selected formulations up to 15 days. For every 3days time interval the tablets were analyzed for drug content uniformity, hardness, in vitro disintegration time, friability and wetting time up to 15 days. These formulations showed not much variation in any parameter. From these results it was concluded that, formulations F4 & F5 are stable and retained their original properties.
CONCLUSION:
Mouth dissolving tablets of Rosiglitazone maleate is a PPARγ agonists, type 2 anti diabetic agent can be efficiently and successfully formulated using novel co processed superdisintegration by direct compression. Preformulation studies of Rosiglitazone maleate were performed, IR spectral revealed that the polymer and excipients used were compatible with the model drug (Rosiglitazone). Precompressable parameters like angle of repose, bulk density, tapped density, carr's index gave good results. Formulated Rosiglitazone fast dissolving tablets gave satisfactory results for various parameters such as hardness; friability indicated good mechanical strength of the all formulations. The formulated tablets showed compliance for various physiochemical parameters viz. tablet dimensions,weight variation, content uniformity and disintegration.Percentage of weight variations and drug content uniformity were found to be within the range (I.P) of all formulations.The in vitro studiesrevealed that formulation F4& F5 showed maximum drugrelease and drug content. The water absorption ratio revealed that formulation F4& F5 showed best wetting time results. On the basis of drug release disintegration and wetting studies it can be concluded that the formulation F4& F5 is the optimum formulations.
In summary, present work states that the formulation of the Rosiglitazone maleate gives satisfactory results and by the use of the novel coprocessed superdisintegrants we achieved the Rosiglitazone maleate mouth dissolving tablets. This study clearly demonstrated that one could develop mouth dissolving tablets easily with novel coprocessed superdisinegrants by using direct compression method.
REFERENCES
1.    Indurwade NH., Rajyaguru TH., Nakhat PD, Novelapproach-fast dissolving tablets. Indian drugs, 39(8):405-7, (2002).
2.    Robin HB, Meghan FW. Fast dissolving tablets. US. Pharmacist (online) 2002 SeP (cited2006dec25)(1screen). Available from: http://www.uspharmacist.com/old format.asp?url=newlook/files/feat/fastdissolving.htm.http://www.drugdelivery technology .com/cgibin/articles.
3.    Chien Y.W. Novel drug delivery systems. New York – Marcel Dekker Inc., 2nd ed. 1992; vol-50: 139
4.    Ms. Parul B. Patel Fast Dissolving Drug Delivery Systems: An Update, Pharmainfo.net.  07/02/2006 Vol. 4 Issue 42006
5.    Goodman and Gilman's- The Pharmacological basis of Therapeutics, by- Laurence L. Brunton, John S. Lazo, Keith L. Parker, 11th Edition: 1639-1640.
6.    B.S. Venkateswarlu, R. Margret Chandira, Talele Ajay, Debjit Bhowmik, Chiranjib, B. Jayakar , K. P. Sampath Kumar, Formulation Development and evaluation of Fast Dissolving Tablets of Carvedilol, J. Chem. Pharm. Res., 2010, 2(1): 196-210
7.    G Arjun et.al, formulation and evaluation of mouth dissolving tablets of Rosiglitazone, National Journal of Pharma and Bio Sciences V1(1)2010
8.    Aulton, M.E., Pharmaceutics: The Science of Dosage Form Design, 3rd Edn, Edinburgh London: Melbourne and New York, 1988, 224.
9.    Swarbrick, J., Drug Delivery to the Oral Cavity: Molecules to Market, 2005, Taylor & Francis Group, LLC, 295, 315.
10.    Banker GS, Anderson NR, and Tablets in: Lachman L.Lieberman HA, Kanig JL, and editor.
11.    The theory and practice of industrial pharmacy.3rd edition 1986, 293-335. Chawla G, Gupta .P, Koradia. V, Bansal a.k, Pharmtech (serial online) 2003, JULY: 27(7).50-68.
12.    D.M Patel and M.M. Patel; Optimization of Fast Dissolving Etoricoxib Tablets Prepared by Sublimation technique, Indian Journal Of Pharmaceutical Sciences, 2008; 70(1): 71-76.
13.    Sunada H, Bi Y. Preparation, evaluation and optimization of rapidly disintegrating tablets. Powder Technology. 2002; 122: 188–198. doi:10.1016/S0032-5910(01)00415-6
14.    In vitro Dissolution The united States Pharmacopoeia, United States Pharmacy convention. Asian edition, 2000; 1941-46.
15.    Robert M. Silverstein, Francis X. Webster. Infrared Spectrometry. In: Robert M. Silverstein.Editors. Spectrometric Identification of Organic Compounds. 6th Ed. John Wiley and Sons. Inc. New York. Pg. 71 – 143
16.    John R. Dyer. Infrared Spectroscopy. In: John R. Dyer. Editors. Applications of Absorption Spectroscopy of Organic Compounds. Eastern Economy Edition. Prentice – Hall of India. New Delhi. Pg. 22 – 57.
17.    Anjali gopal1, Vivek kumar sharma2 and Subrahmanya sarma ganti1, Rosiglitazone-A journey that never completed Vol-3, Suppl 2, 2010.
18.    Indain Pharmacopia 2007, vol-3, page no: 1674-1675.
19.    Srinavas S.A., Gadad A.P. Dandagi P.M., Mastiholimath V.S and Patil M.B, Formulation and Evaluation of Ondansetron Hydrochloride Directly Compressed Mouth Disintegrating Tablets, Indian Drugs, 2006; 43(1), 35-38.
NOW YOU CAN ALSO PUBLISH YOUR ARTICLE ONLINE.
SUBMIT YOUR ARTICLE/PROJECT AT articles@pharmatutor.org
Subscribe to Pharmatutor Alerts by Email
FIND OUT MORE ARTICLES AT OUR DATABASE