COLOURING AGENTS USED IN FOOD PRODUCTS


Abstract
Food colourants have been much important in food product manufacturing. Food and color additives are strictly studied, regulated and monitored. Federal regulations require evidence that each substance is safe at its intended level of use before it may be added to foods. Furthermore, all additives are subject to ongoing safety review as scientific understanding and methods of testing continue to improve. A color additive is any dye, pigment or substance which when added or applied to a food, drug or cosmetic, or to the human body, is capable (alone or through reactions with other substances) of imparting color. FDA is responsible for regulating all color additives to ensure that foods containing color additives are safe to eat, contain only approved ingredients and are accurately labeled. Certified colors are synthetically produced (or human made) and used widely because they impart an intense, uniform color, are less expensive, and blend more easily to create a variety of hues. Color is added to food for one or more of the following reasons:
(1) to replace color lost during processing,
(2) to enhance color already present,
(3) to minimize batch-tobatch variations, and
(4) to color otherwise uncolored food.
Introduction                                                
A colouring is any substance that is added to change formulation colour. One of the most obvious ways to influence the way a product looks is to add colouring agents. These range from "natural" and artificial colours to washes that enhance browning.
Food colours fall into two main categories: artificial and natural, respectively. From a regulatory standpoint, natural colours cannot legally be termed natural colours on a food label unless they are used to colour the same type of product. For example, beet juice is really only a natural colour if it is used to colour beets. If it colours cherry juice, it is technically considered to be artificially coloured and the beet juice is deemed a colour additive.
Colourings
A growing number of natural food colourings are being commercially produced, partly due to consumer concerns surrounding synthetic colourings. Some examples include:
Caramel colouring, made from caramelized sugar, used in cola products and also in cosmetics.

Annatto, a reddish-orange dye made from the seed of the Achiote.

A green dye made from chlorella algae.

Cochineal, a red dye derived from the cochineal insect, Dactylopius coccus.

Betanin extracted from beets.

Turmeric

Saffron

Paprika

Elderberry
To ensure reproducibility, the coloured components of these substances are often provided in highly purified form, and for increased stability and convenience, they can be formulated in suitable carrier materials (solid and liquid).
Artificial colouring
The colours below are known as "Primary Colours", when they are mixed to produce other colours, those colours are then known as "Secondary Colours".
*Brilliant Blue, E133 (Blue shade)
* Indigotine, E132 (Dark Blue shade)
* Fast Green, E143 (Bluish green shade)
* Allura Red AC, E129 (Red shade)
* Erythrosine, E127 (Pink shade)
* Tartrazine, E102 (Yellow shade)
* Sunset Yellow, E110 (Orange shade)
Dyes and Lakes
Colour additives are available for use in food as either "dyes" or "lakes".
Dyes dissolve in water, but are not soluble in oil. Dyes are manufactured as powders, granules, liquids or other special purpose forms. They can be used in beverages, dry mixes, baked Goods, confectionry, dairy products, pet foods and a variety of other products.
Lakes are the combination of dyes and insoluble material. Lakes tint by dispersion. Lakes are not oil soluble, but are oil dispersible. Lakes are more stable than dyes and are ideal for colouring products containing fats and oils or items lacking sufficient moisture to dissolve dyes. Typical uses include coated tablets, cake and donut mixes, hard candies and chewing gum.
Artificial colours consist of water soluble synthetic dyes or the aluminum salts of these dyes, called "Lakes." These seven synthetic dyes and their salts are deemed acceptable by most Food authorities for use in food. Blending the seven produces a wide spectrum of colour, including purple, black, brown, and variations of the primary colours.
Dyes display colours when dissolved in the aqueous phase of a food product. However, their solubility varies with temperature and often with the solute. Although at typical usage levels this will not ordinarily affect the finished product, it could make a difference when colour solutions are prepared. If the temperature of the solute changes, all the dye may not be in solution, and this could affect the colour of the finished product.
The Lakes are insoluble in most solvents and instead colour by dispersion. They are used in low moisture, often high-fat applications, but are not fat soluble. They may bleed color slightly in water, but in most applications they minimize colour bleed into adjoining areas. The shades produced depend on the method of production and to some extent on particle size. Lakes are more resistant than dyes to fading when exposed to high heat and light.Dyes go into solution and function on a molecular level. Lakes are different because the particles are dispersed. Particle size, particle shape and how well the particles are dispersed in the finished product all influence the outcome. In some cases, simply increasing the shear during dispersion may intensify the colour.
ARTIFICIAL COLOURANTS-
Colouring agent

description

Colour

odour

Stability to light

oxidation

pH

density

Solubility




Erythrosine




Solid,fine powder

Red

Odorless

Poor

Fair

8-10

0.80

Propylene glycol>water>glycerine>alcohol

Sunset Yellow

Solid,fine powder

Reddish

Orange

Odorless

Good

Fair

6-8

0.80

Glycerine>water>propylene glycol>alcohol

tartrazine

Solid,fine powder

Light orange

Odorless

Good

Fair

6-8

0.70

Glycerine>water>propylene glycol>alcohol

Ponceau

Solid,fine powder

Red

Odorless

Good

Fair

6-8

0.80

Water>propylene glycol>glycerine>alcohol

Allura  red

Solid,fine powder

Deep red

Odorless

Very Good

Fair

6-8

0.80

Water>glycerine>propylene glycol>alcohol

amaranth

Solid,fine powder

Rediish brown

Odorless

Good

Poor

6-8

0.80

Water=glyceine>propylene glycol>alcohol

Indigo carmine

Solid,fine powder

Bluish brown

Odorless

Very poor

poor

6-7

0.80

Water>glycerine>propylene glycol>alcohol

Brilliant blue

Solid,fine powder

Bluish violet

Odorless

Good

poor

6-7

0.80

Propyleneglycol>water>glycerine>alcohol

Quinoline yellow

Obtained from coal tar

Yellow  to orange powder

Tar like odor

Fair

Forms quinolinic acid

8-9

0.20-0.70

water>glycerol>methoxy ethanol
NATURAL COLOURANTS-
Colouring agent

Description

Colour

Odour

Stability to light

Oxidation

pH

Density

Solubility

Paprika

Clear dark red oily liquid,

Dark

red

Odorless

stable

poor

4.6

0.935-0.945

Soluble in fats and oil

Annatto

Crystalline powder

Bright Yellow To Orange red

Peculiar odour

Fades in

Strong&

Direct

 light




Degrades By oxidation

5.5

0.6

Soluble in alcohol, ether,oils

Caramel

Thick liquid

Dark brown

Pleasent

stable

stable

2-10

0.6-0.7

Soluble in water ,dilute alcohol.

Insoluble in benzene, chloroform, ether

Carotene

Powder, crystals

Red to Brown




stable

stable

2-14




Soluble in carbon disulphide, benzene, chloroform.

Sparingly soluble in methanol and ethanol.

Insoluble in water,acid,alkali.

Curcumin

Crystal form

Orange yellow

Odorless

Degradation

Occurs with ferrous oxide

8-9

Low density

Alcohol>Acetic acid

Riboflavin

Fine powder in needle form

Whitish yellow

Slightly

Odorless




Light resistant

Dark at

 240 degree

4.5-7

high

Ethanol>water>cyclohexane

Carmine

Powder form

Bright red

Odorless

Stable

Oxidation changes blue to purple colour




11.4-13

True bulk

 density

Soluble in ethanol.

Insoluble in water.

Curcumin

Crystal form

Orange yellow

Odorless

Degradation

Occurs with ferrous oxide

8-9

Low density

Alcohol>Acetic acid
PERMITTED    ARTIFICIALLY   PREPARED COLOURING AGENTS: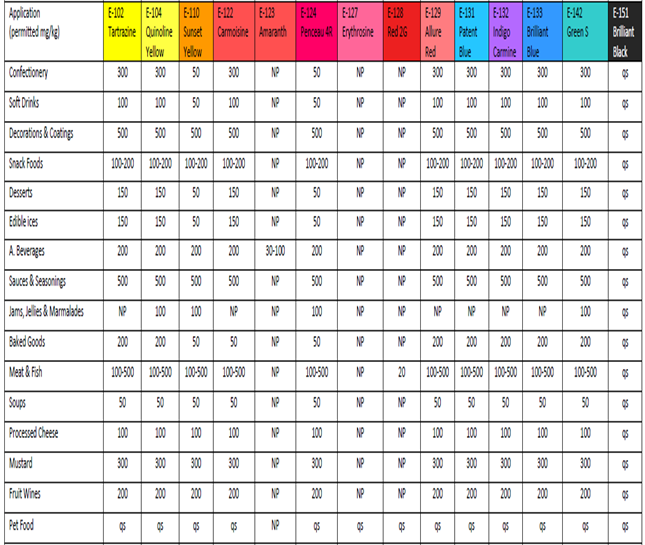 PERMITTED NATURALLY PREPARED COLOURING AGENTS :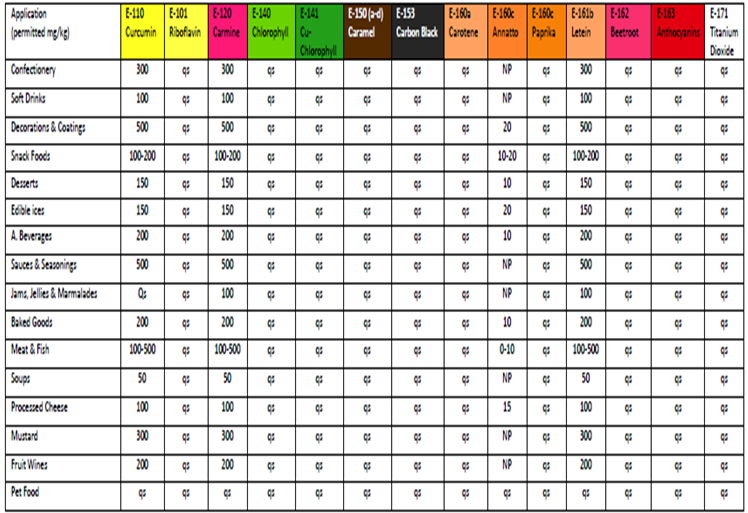 ARTICLE BY,
Ass. Prof.  MS Rathore, Richa Sood
CT Institute Of Pharmaceutical Sciences, Jalandhar.

NOW YOU CAN ALSO PUBLISH YOUR ARTICLE ONLINE.
SUBMIT YOUR ARTICLE/PROJECT AT articles@pharmatutor.org
Subscribe to Pharmatutor Job Alerts by Email
FIND OUT MORE ARTICLES AT OUR DATABASE