You are herePharmacognosy
Pharmacognosy
---
APPLICATION INVITED FOR CONTRACTUAL ENGAGEMENT OF FOLLOWING POSTS FOR STATE PHARMACOPOEIAL LABORATORY AND PHARMACY FOR INDIAN MEDICINE (SPLPIM), KALYANI, NADIA, FOR A PERIOD OF ONE YEAR.

Applications in the prescribed proform a given below are invited from the eligible candidates for contractual ongagomont to tho following posts at SPLPIM, Kalyani,Nadia.
Post: Deputy Manager, Scientific Officer, Machine Operator, Scientific Assistant (8- Posts)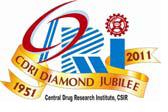 CSIR-Central Drug Research Institute, Lucknow is a premier R&D Institute under the aegis of the Council of Scientific and Industrial Research (CSIR), New Delhi which is an autonomous body under Department of Scientific and Industrial Research, Government of India.
Saraswathi Vidya Bhavan's College of Pharmacy is affiliated to the University of Mumbai and Approved by All India Council for Technical Education (AICTE). The College offering Bachelor of Pharmacy and Bachelor of Pharmacy course.
APPLICATIONS ARE INVITED FOR THE FOLLOWING FULL TIME POSTS FOR ACADEMIC YEAR 2012-13.
Post: Professor, Associate Professor, Assistant Professor

Punjabi University, Patiala, has kept up its spree of winning the highest "A" grade on a four-point scale amongst over 350 universities in the country. The status is awarded by the National Assessment and Accreditation Council (NAAC), which is an autonomous institution of the University Grants Commission, for a period of five years.
Baba Farid University of Health Sciences was established under an Act passed by the Legislature of the State of Punjab in July, 1998. The mission of the University is to create an intellectual, academic and physical environment, conducive to free flow of ideas and exchange of information between various faculties of the University and between this University and other Universities of Health Sciences in the country and abroad,thereby opening a window to the world for the health professionals, health planners, health managers, biomedical and social scientists and educators in health sciences of the country.

Manav Bharti University established in 2009 under the H.P. Private University (Establishment & Regulation) Act, is owned by Manav Bharti Charitable Trust with the aim to advance and disseminate the knowledge and maintain highest standard of learning through teaching, research, extension education programme and conceptual aspects relevant to the need of the state. It is located in the rural backdrop of Himachal Pradesh and is equidistant (65 Km) from both Chandigarh and Shimla, 35 Km away from Kalka Railway Station, 6 Km away from NH 22 on Kumarhatti-Sultanpur Road (State Highway 6) at Laddo in District Solan. Serene and lush green picturesque surrounding makes the campus truly environment friendly, eloquent hustle free knowledge center.
Assam University came into existence through Assam (Central) University Act, 1989 (Act. No. XIII). It was established in 1994,since then the University is steadily becoming an excellent centre of learning. The campus, situated in Dargakona, about 20 kms from Silchar, is set amid sprawling hillocks, a typical landscape in the North East.
SAL Institute of Pharmacy (SALIP) situated in SAL Education campus was established in June-2009 under the aegis of Adarsh Foundation with a view of educating and training young talented students of Gujarat at the field of Pharmacy. It is a self-financed institute approved by All India Council for Technical Education (AICTE), New Delhi, the Government of Gujarat and afileted by Gujarat Technological University.
Sinhgad Institute Of Pharmaceutical Sciences is affiliated to University of Pune and approved by All India Council for Technical Education, Pharmacy Council of India, Director of Technical Education, Mumbai, Maharashtra State. It offers undergraduate and postgraduate courses in Pharmacy.

Post: Professor, Associate Professor, Assistant Professor
Institute of Bioresearches and Sustainable Development (IBSD), Imphal, a research institute under Department of Biotechnology, Govt. of India, invites applications from the suitable candidates for the following positions for its extramural research project funded by Department of Biotechnology, Govt. of India.