Pharmacology
---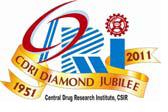 CSIR-Central Drug Research Institute, Lucknow is a premier R&D Institute under the aegis of Council of Scientific and Industrial Research (CSIR), New Delhi which is an autonomous body under Department of Scientific and Industrial Research, Government of India. The institute is engaged in the development of new drugs and diagnostics in various therapeutic areas like malaria, tuberculosis, filarial, leishmania, cancer, thrombosis, hypertension, dementia, diabetes, lipid disorders, gastric ulcer, osteoporosis, prostatic hyperplasia, etc.
Walk-in-interview for engagement of Project Staff under different Projects to be held on 02-07-2014 (For Position Code No. 001 & 002 Life Sciences) and 03-07-2014 (For Position Code No. 003 to 005 Pharma Group & Computer Science) as per the details given below:
This is a college established in 2004 offering B.Pharmacy, M.Pharmacy-in Four Specialisations: Pharmaceutics, Pharmacology, Pharmaceutical analysis & Quality assurance, Pharm Chemistry. Located in Vissannapeta, near Nuzvid of Krishna District.
Post: Professors - 4 posts

The Vallabhbhai Patel Chest Institute (VPCI) is a unique postgraduate medical institution devoted to the study of chest diseases. It is a University of Delhi maintained institution and is funded entirely by the Ministry of Health and Family Welfare, Government of India. The institute is ideally located in the heart of the main campus of the University of Delhi, providing the requisite academic environment. The Institute fulfills the national need for providing relief to large number of patients in the community suffering from chest diseases. It has eminently discharged its role and has earned a unique place in the field of Chest Medicine.The main objectives of VPCI have been to conduct research on basic and clinical aspects of chest medicine, to train post graduates in Pulmonary Medicine and allied subjects, to develop new diagnostic technology and disseminate scientific knowledge related to Chest Medicine to other institutions in the country and to provide specialized clinical and investigative services to patients.
Post: Senior Research Fellow, Lab Attendant

A walk-in interview will be held on 07-07-2014, Monday at 11.00 AM in the Departrnent of Pharmacology& Toxicology, College of Veterinary Science, Khanapara, Guwahati-22 to fill up one (1) post of Junior Research Fellow (JRF) for an "Pharmacological study and molecular characterisation of some endangered plants of NE India with reference to their adaptogenic activity", Department of Pharmacology and Toxicology, CVSc, AAU, Khanapara.
Post: Junior Research Fellow (JRF)
Guru Nanak Dev University was established at Amritsar on November 24, 1969 to mark the 500th birth anniversary of Sri Guru Nanak Dev Ji. It is both a residential and an affiliating university. In conceiving the future course of the University, the objectives enshrined in the Guru Nanak Dev University Act 1969, emphasised that the new University would make provision for imparting education and promoting research in the humanities, learned professions, sciences, especially of applied nature and technology

B R Nahata College of Pharmacy; It is our belief that value-based learning leading to total development of personality and expertise of the students and the faculty, will be our long lasting contribution to the overall growth of our Nation and Society.
In case you are an aspirant of making career in Pharmacy profession we are pleased to abreast you of the emergent issues in the profession as well as the endeavors of BRNCP in sculpturing the profession and its seekers.
BRNCP has glorious standing of one decade and has unmatched infrastructure, faculty and placement profile.

Post: Assistant Professor
From the corridors of a local polytechnic college in Nallapadu to the imposing buildings in Nagarjuna nagar, the road was very long. Sacrifice, service and commitment marked the growth of Acharya Nagarjuna University.
Acharya Nagarjuna University, an affiliating University established in 1976, started with only 10 post-graduate courses in the University College. Since then, it has achieved tremendous progress through quantitative expansion and qualitative improvements on various academic fronts. This has been possible by the efforts of its dedicated faculty, an efficient team of supporting staff and high quality student input. The Acharya Nagarjuna University at present offers post-graduate education in 47 courses (39 on the University campus, 4 at University PG Campus at Nuzvid and 5 at University PG Campus at Ongole) besides Post-graduate courses in affiliated colleges.
Post: Assistant Professors

Baba Farid University of Health Sciences was established under an Act passed by the Legislature of the State of Punjab in July, 1998. The mission of the University is to create an intellectual, academic and physical environment, conducive to free flow of ideas and exchange of information between various faculties of the University and between this University and other Universities of Health Sciences in the country and abroad,thereby opening a window to the world for the health professionals, health planners, health managers, biomedical and social scientists and educators in health sciences of the country.
Applications are invited on or before 30.6.2014 from the eligible candidates for filling up the following vacant posts on Regular/Adhoc/Contract basis in the University/ constituent college of the University:
Modern Institute of Pharmaceutical Sciences was established in the year 2007 under the banner of Shri Prabhat Chandra Kharia Research and Education Society in the memory of Late "Shri Prabhat Chandraji Kharia". The institute providing world class educations in pharmaceutical sector.We are dedicated to provide students with the skills, knowledge and attitudes that will allow its graduates to succeed as pharmacist's and entrepreneurs. We maintain a vital, state-of-the art research enterprise, which provides its students and faculty with opportunities to create, interpret, apply and disseminate knowledge. We are committed to provide the highest levels of industrial training, project experience and expert instruction to help our students meet intellectual, ethical and career challenges. At our institutes, we are developing and training students to meet today's challenges and prepare them for tomorrow's opportunities. It is our belief that value-based learning leading to total development of personality and expertise of the students and the faculty, will be our long lasting contribution to the overall growth of our Nation and Society.
Post: Assistant Professor
West Bengal University of Animal & Fishery Sciences was established on 2nd January, 1995 vide West Bengal University of Animal & Fishery Sciences Act - 1995 to impart education, training and to conduct research in veterinary and animal sciences, dairy sciences and fishery sciences and also to cater the needs of the farming community of the State of West Bengal. During this period the University has been recognized as one of the leading institutions of the country to uplift the socio-economical status of farmers. The hallmark of the University has been the development of human resources to meet the requirements of the society and to promote the socio-economic development of the region.The University has been engaged in commendable task of improving the research infrastructure to develop cutting edge technologies for improved management of animal and fishery resources, disease problems, nutrients, water resources and environment. Significant achievement has been made to improve the research activities with the funds made available from State and Central Governments and non-government organizations.
The following research fellows under two Research Projects will be filled up on contractual basis as per conditions mentioned below: