REVIEW OF A REAL VERSATILE MOLECULE
About Authors:
C.P.Meher
Asst. Professor
Maheshwara Institute of  Pharmacy,
Chitkul, Patancheru, Medak, A.P
chaitanyameher84@gmail.com
ABSTRACT
Pyrazole, a 5-membered heterocyclic diazole alkaloid composed of three carbon atoms and two nitrogen atoms in adjacent positions, is a prevalent scaffold in drug discovery programs. The aim of this review is to provide an overview of diverse pharmacological activities of pyrazole moiety.This review highlighted recent reports of antimicrobial, anticancer, ACE inhibitory, antiviral as well as anti-inflammatory activities of pyrazole. The purpose of this review was to collate literature work reported by researchers on pyrazole for their varoius pharmacological activities and also reported recent efforts made on this moiety.

Reference Id: PHARMATUTOR-ART-1559

INTRODUCTION
The term Pyrazole was given by Ludwig Knorr in 1883. Pyrazole is the organic compound with the formula C3H3N2H. Pyrazole  refers to the class of simple aromatic ring organic compounds of the heterocyclic series. It is a heterocycle characterized by a 5-membered ring of three carbon atoms and two adjacent nitrogen centres. Pyrazoles are also the class of compounds that have the ring C3N2 with adjacent nitrogen centres. Notable drug that is a pyrazole is Celebrex. Derivatives of pyrazole are used for their analgesic, anti-inflammatory, antipyretic, antiarrhythmic, tranquilizing, muscle relaxing, psychoanaleptic, anticonvulsant, monoamineoxidase inhibiting, antidiabetic and antibacterial activities. The pyrazole ring is present as the core in a variety of leading nonsteroidal anti-inflammatory drugs (NSAIDs) and antihypertensive drugs. They have also found use as bifunctional ligands for metal catalysis, and in various building blocks for pharmaceutical and agricultural research. Being so composed and having pharmacological effects on humans, they are classified as alkaloids, although they are rare in nature. In 1959, the first natural pyrazole, 1-pyrazolyl-alanine, was isolated from seeds of watermelons .Pyrazole derivatives have a long history of application in agrochemicals and pharmaceutical industry as herbicides and active pharmaceuticals. The recent success of pyrazole COX-2 inhibitor has further highlighted the importance of these heterocyclic rings in medicinal chemistry. A systematic investigation of this class of heterocyclic lead revealed that pyrazole containing pharmacoactive agents play important role in medicinal chemistry. The prevalence of pyrazole cores in biologically active molecules has stimulated the need for elegant and efficient ways to make these heterocyclic lead. Pyrazoles have been the recent target of numerous methodologies, mostly due to their prevalence as scaffolds in drug discovery programs and synthesis in particular of bioactive compounds and reactions in different media. The pyrazole ring is present as the core in a variety of leading drugs such as Celebrex, Viagra or Rimonabant. They have also found use as bifunctional ligands for metal catalysis, and in various building blocks for pharmaceutical and agricultural research. The pyrazole compounds are not known to occur in nature; they are usually prepared by the reaction of hydrazines with 1,3-diketones. Many synthetic pyrazole compounds are of importance as dyes and medicinals. Among them are: antipyrine, used as an analgesic and febrifuge; tartrazine, most commonly used as a yellow dye for food; phenylbutazone (Butazolidin), an anti-inflammatory drug used in treatment of arthritis; and a series of dyes used as sensitizing agents in colour photography. Some properties of pyrazole nucleus are given in table-1.

Table-1
Pyrazoles are stable compounds with relatively high boiling points. It is a colorless compound with a peculiarly penetrating sweetish smell. The introduction of substituents in the 3-, 4-, and 5-positions causes an increase in the boiling point, which is expected with increased molecular weight, but the boiling point falls sharply with substitution in the 1-position. Similarly, 1-substituted pyrazoles melt at temperatures significantly lower than the corresponding compounds with free N-H groups. Both of these anomalies are due to the particularly strong association of pyrazoles unsubstituted in position 1, as proved by cryoscopic determination, spectral studies, dipole moment measurement, and infrared spectroscopy. Different biological activity possess by the pyrazole derivative are given below in table-2
Table-2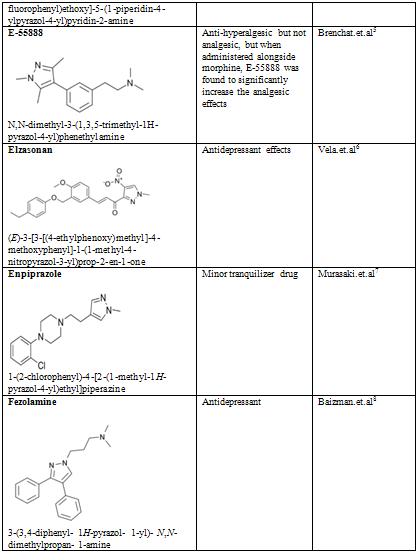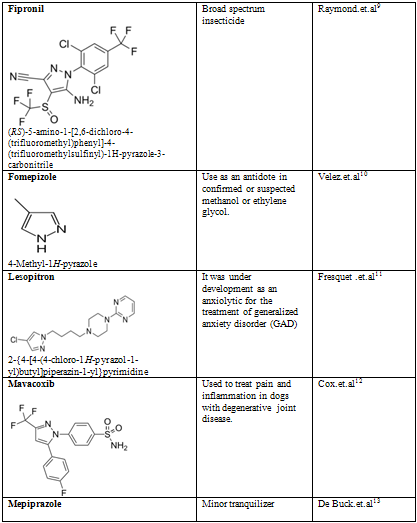 NOW YOU CAN ALSO PUBLISH YOUR ARTICLE ONLINE.
SUBMIT YOUR ARTICLE/PROJECT AT articles@pharmatutor.org
Subscribe to Pharmatutor Alerts by Email
FIND OUT MORE ARTICLES AT OUR DATABASE
Pages