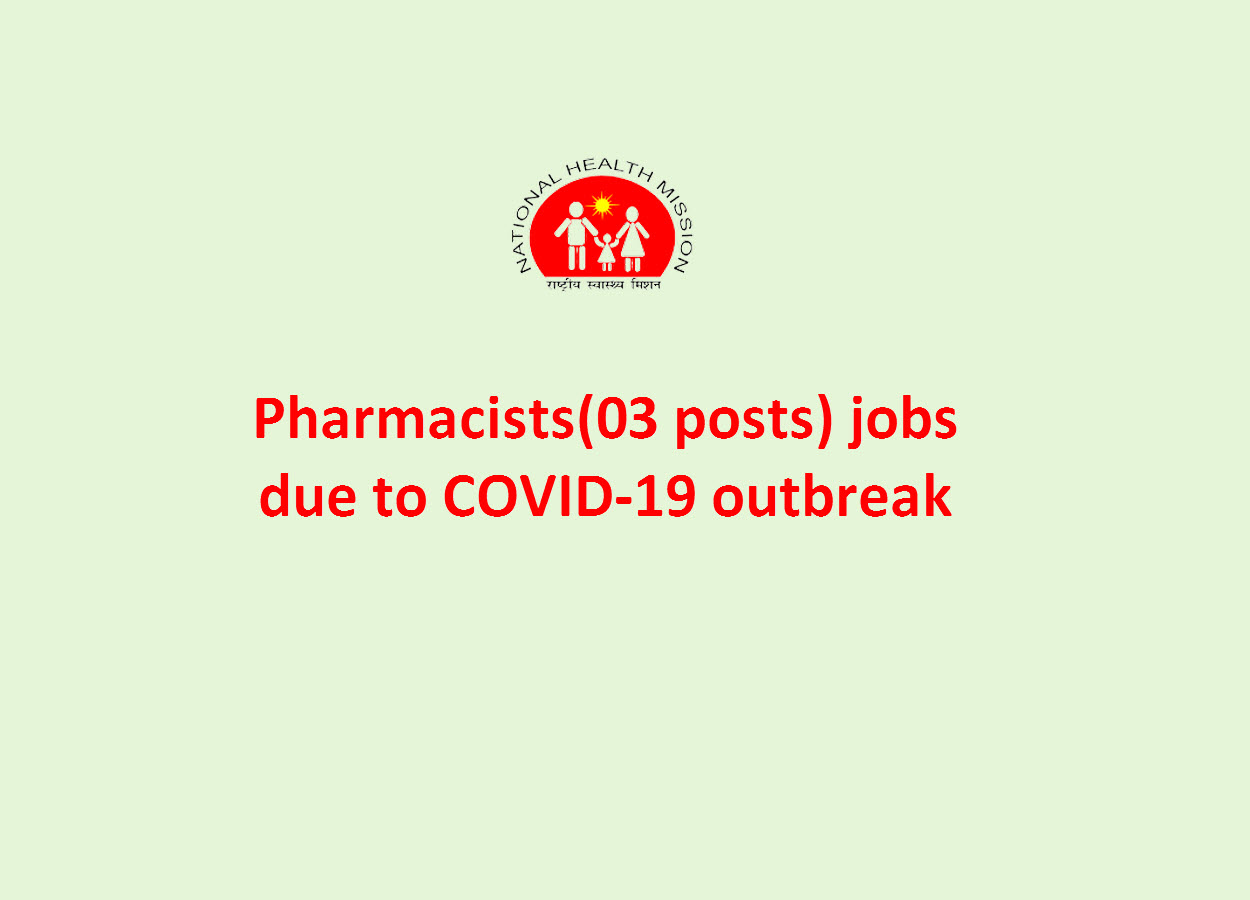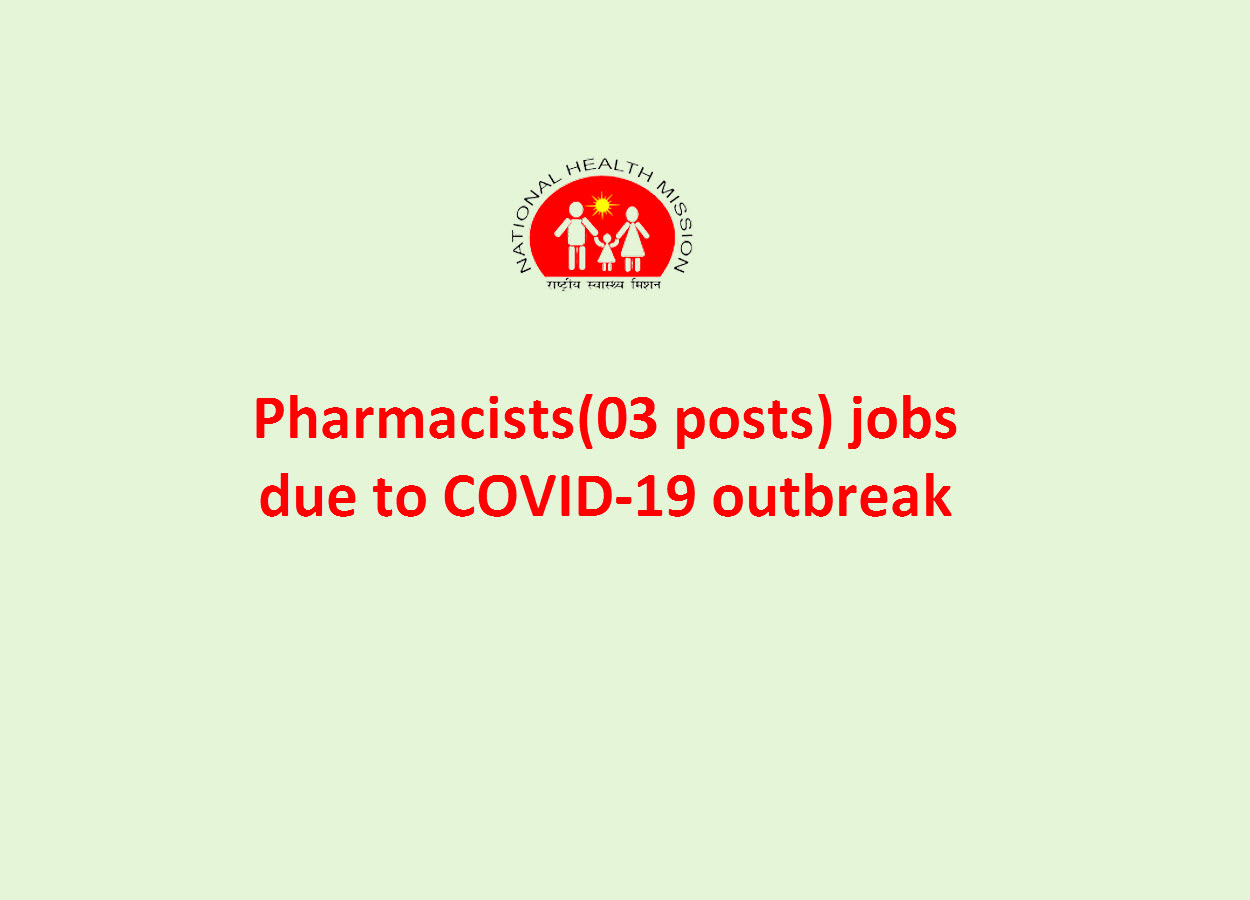 Chandrapur City Corporation, Department of Health, Chandrapur will handle the outbreak-like situation in view of Corona virus (COVID-19) outbreak as well as under Epidemic Act 1897 rights as shown in the table below.
Post : Pharmacist
No of Posts : 03
Qualification :
B.Pharm or D.Pharm
Salary : Rs 17,000/- fix per month
General terms and conditions:
1.  Ready to do able left in Chandrapur city and diabetes / high blood pressure / heart disease etc.  Preference will be given to non-retired employees, nurses who have completed their bids.  Retired employee should submit the full name of the retired employee, full address, mobile number, e-mail ID, date of birth, name of the post from which he retired from government service and name of organization, date of retirement, proof of retirement from government service.  It should be clearly mentioned.  Also, the full details of the service rendered by the nurses who have completed the bond should be mentioned.  As these employees are experienced, their list can be prepared and their health services can be availed immediately.
2.  All the candidates should be present at Corona Room, Chandrapur City Corporation, Gandhi Chowk, Chandrapur at their own cost along with Xerox copy along with complete information and complete original documents in the prescribed form.
3. All the candidates will be required to apply in the attached application form.  
4.  It will be mandatory to attach 1) proof of age, 2) degree / diploma certificate, 3) final year marks, 4) registration certificate of the same council for the respective posts along with the application.  5) Documentation should be submitted only for the certificate of experience done in public / semi-government institutions.  If the candidates are selected, they will be appointed temporarily for Cobid-19.
5. The honorarium mentioned before the post is a combined honorarium and no other good will be payable.
6. The highest ranked candidate will be appointed on merit.
7. It will be mandatory to fill the contract on Rs.100 stamp paper.  
8. Merit list will be prepared according to the educational qualifications of the candidates, while preparing the merit list, the marks obtained in Qualifying Exam - Higher Educational Qualification - Case / Semi-Governmental Office experience will be combined to prepare the merit list.   
9. The applicant should be physically and mentally fit for the relevant post and no criminal complaint should be filed against the applicant.
10. Their appointment will be for the duration of Covid-19 and if the Saab is reduced or Covid-19 treatment room is closed, the appointment will be terminated automatically.  1 month prior notice will not be given for this. 
11. This office has all the power to change the number of vacancies in the place of appointment and the power to change the selection process at any time is reserved by the Chairman Selection Committee Municipal Corporation Chandrapur.
12. Candidates will not be able to make any claim regarding re-appointment, inclusion in government regular service or service protection by the government.  
13. The applicant will not be able to claim relocation as per their convenience during the contract period.  Candidates who have been discharged will be required to serve at their respective headquarters.
14. Applicants should enter their current mobile number and e-mail ID on their application.  Care should also be taken to ensure that it remains in good condition till the recruitment process is completed.  
15. According to the decision of the General Administration Department, Mantralaya Mumbai dated April 25, 2016, the last day for application will be minimum age of 18 years and maximum 38 years for open category and 43 years for backward class.  Also, the age limit for retirement / retirement of retired officers / employees is 15 years and it will be mandatory for candidates aged 10 or above to attach the certificate of physical fitness obtained from the District Surgeon with the application.
16. Candidates who will be called during the recruitment process will have to attend at their own cost.  Also, there will be no honorarium or travel year for this attendance.  
17. If the candidate is found to have submitted incorrect information during the recruitment process, withheld any information, used new pressure or resorted to improper means, his candidature will be canceled without any prior notice.  
18. Small Family Affidavit Form - A It is not necessary to accompany the application in this question,
19. Certificate obtained by the candidate from the competent authority of domicile and nationality.
20. All the powers of recruitment process, increase or decrease of posts, cancellation of recruitment process, change in terms and conditions and removal of posts as required etc.
Interview Venue: Corona Room, 2nd Floor, Gandhi Chowk, Municipal Chandrapur
Date and Time of Interview : 14/09/2020 at 11:00 AM
See All  Government Jobs   B.Pharm Alerts   M.Pharm Alerts   M.Sc Alerts
See All   Other Jobs  in our Database