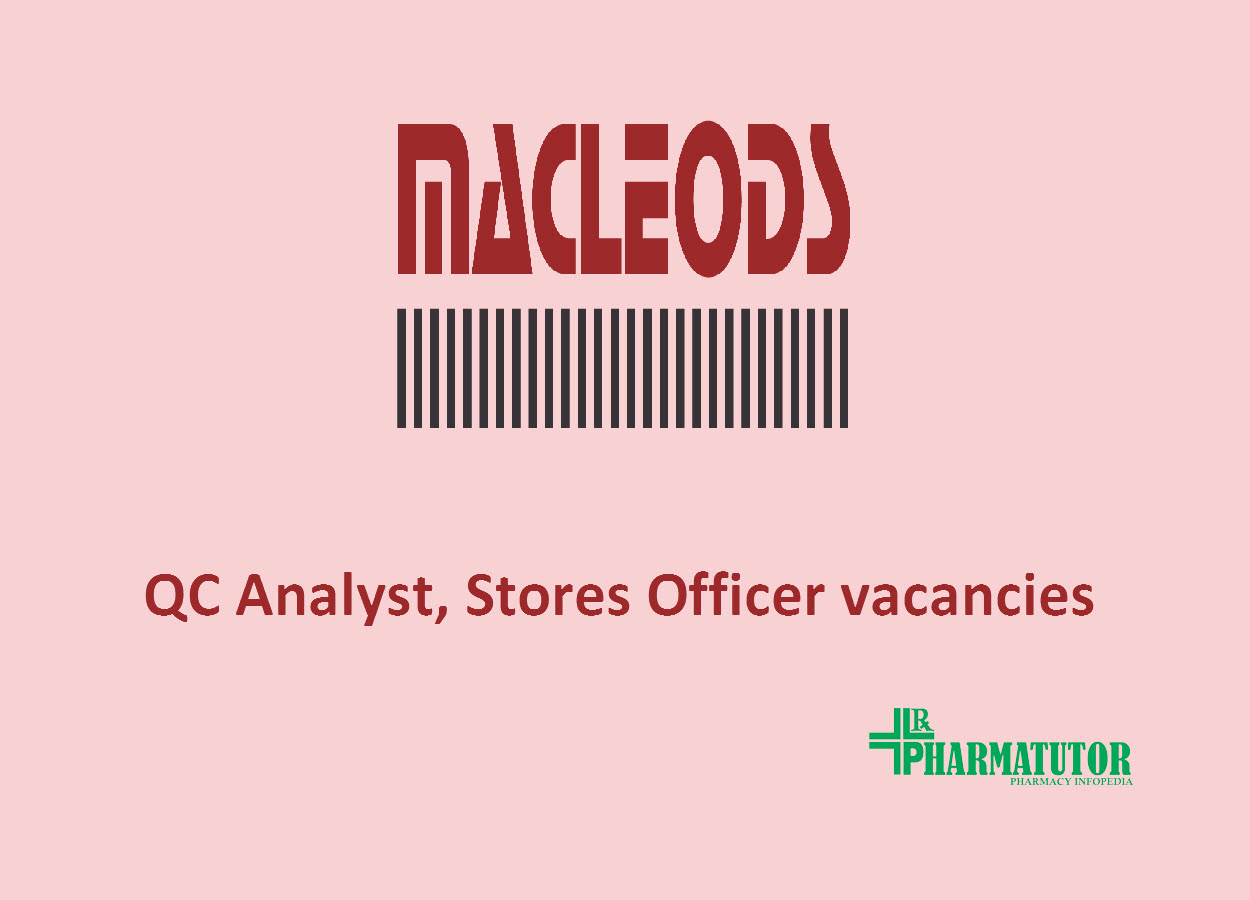 Macleods with its experience spanning more than two decades has emerged as a force to reckon with in global pharmaceutical market. With an asset of more than 10,000 professionally qualified employees across the globe, Macleods a multiple location organization, is based out of Mumbai, India.
QC Analyst
Experience : 3-6 years
Qualification : M.Pharm /M.Sc/ B.Pharm
Location : Daman
Job Description -
- Analysis of in-process, intermediates & finished products like Tablet & Capsule
- Documentation for finished products.
- Preparation of Standard Testing Procedure and Specifications.
- Calibration of Instrument.
- Sampling of raw material.
- Documentation of raw-material.
- Operating & calibrating almost all instruments of quality control lab ( HPLC, UPLC, Ion Chromatography, UV, IR, Analytical Balances, TLC, Autotitrator, Melting Point Apparatus, Polarimeter, Hardness, Friability, Bulk Density & Tap Density, ERH Meter, Sieve Shaker, pH meter, Conductivity meter, Dissolution, Disintegration test Apparatus
Stores Officer
Role : Stores Officer
Experience : 2 – 8 Years
Location : Daman
Job Role:
- Receiving raw material and packing Material.
- Dispensing of raw material & packing material.
- Updating the Monthly Raw material and Packaging Material stock.
- Updating the daily records & log books.
- Maintaining the reconciliation of Raw material.
- Calibration & verification of balance.
- Periodic requalification
- Responsible for the overall functioning of RM store.
- Preparation and implementation of SOP.
Interested candidates can share profile on henalm@macleodspharma.com
See All   M.Pharm Alerts   B.Sc Alerts   B.Pharm Alerts   Patna Alerts
See All   Other Jobs  in our Database