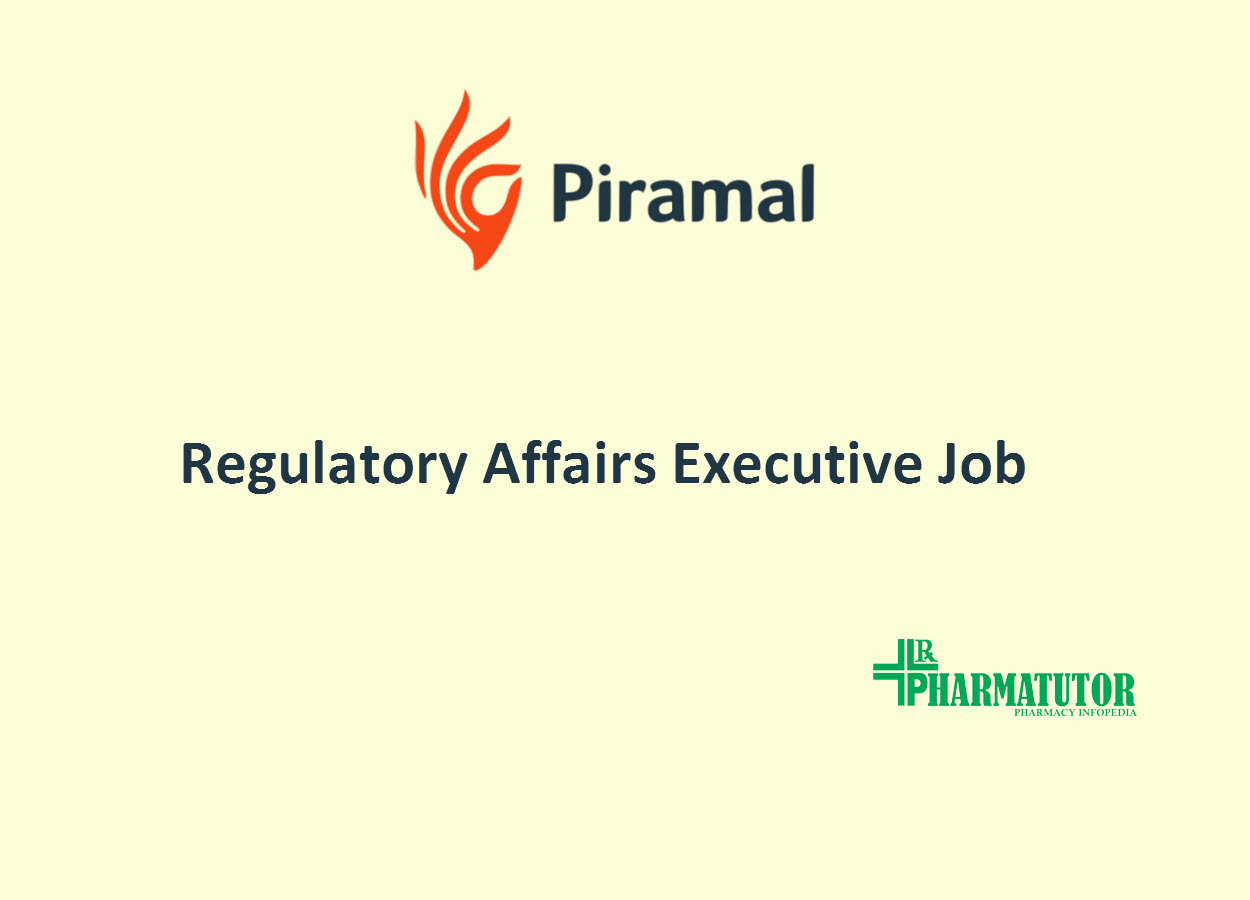 Piramal Healthcare Limited A major force in the pharmaceuticals and healthcare segment, Piramal Healthcare Limited, incorporating Healthcare Solutions & Pharma Solutions, has an unequivocal vision – to become the most admired pharmaceutical company, with leadership in market share and profits.
Post : Executive Regulatory Affairs
Job Description
Purpose of Job
The role is responsible for the assigned portfolio of Piramal Critical Care products in applicable region(s).  With oversight from Regulatory management the Regulatory Affairs Executive will represent the department on cross-functional teams to ensure PCC and its partners are aware of all regulatory requirements and meet pre-defined submission timelines.
Key Roles/Responsibilities :
• Work closely with RA management to ensure regulatory strategies are executed and submissions are sent to Health Authorities within required timeframes
• Along with direct management supervision represent regulatory affairs on internal/external cross functional teams to ensure projects remain on time
• Compile and submit appropriate supplemental filings/variations/renewals to support drug product manufacturing, product life cycles etc.
• Responsible for addressing queries received from regulatory agencies, internal and external stake holders within predefined timelines.
• Assist team with labeling updates as required to ensure timelines remain on target.
• Responsible for requests for complimentary elements (CPPs, declarations, License applications etc.)
• Responsible for overall document management and regulatory data consolidation for all products into information software
• Along with direct management supervision assist in change controls for assessment, completing assigned action for RA.
• Responsible for uploading the submission copies and other updated quality data in sharepoint.
• Responsible for approval of export orders for ROW regions. 
• Responsible to update himself/herself with the relevant current National and ICH guideline's along with global regulatory requirements.
Candidate Profile
• BA/BS/BPharm degree in a science or related field.
• Good Manufacturing Practice (GMP) knowledge required.
• 2 to 5 years' experience in a pharmaceutical environment with 1 to 2 years of regulatory affairs experience preferred supporting ROW region.
Additional Information
Experience : 2-5 years
Qualification : BA/BS/BPharm
Location : Mumbai
Industry Type : Pharma/ Healthcare/ Clinical research
Functional Area : Regulatory Affairs
End Date : 20th August, 2020
See All   B.Pharm Alerts   M.Pharm Alerts   M.Sc Alerts  Hyderabad Alerts
See All   Other Jobs  in our Database