Require Senior General Manager at Syngene International Ltd | M.Pharm or MSc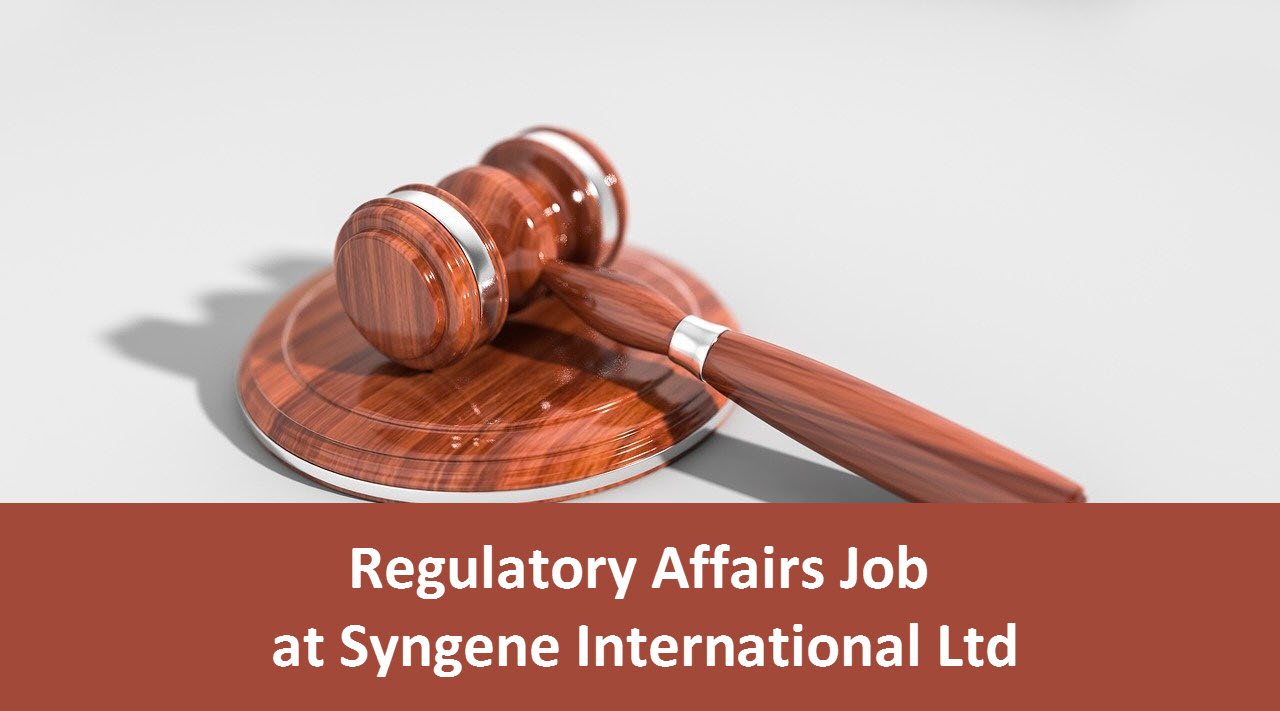 Syngene International Ltd. is an innovation-focused global discovery, development and manufacturing organization providing integrated scientific services to the pharmaceutical, biotechnology, nutrition, animal health, consumer goods and specialty chemical industries around the world. Syngene' s clientele includes world leaders such as Bristol-Myers Squibb, Baxter, Amgen, GSK, Merck KGaA and Herbalife. Its innovative culture is driven by the passion of its 4240- strong team of scientists who work with clients from around the world to solve their scientific problems, improve R&D productivity, speed up time to market and lower the cost of innovation.
Post : Senior General Manager - Regulatory Affairs
 Job Purpose : 
• To ensure the filing of required regulatory documents on time as per regulatory norms.
• Take active participation from initiation of the projects and provide Regulatory strategy inputs to the team and the clients.
•  Liaise with Regulatory agencies, partners, customers, agents as appropriate.
• Take the lead for the execution of regulatory submission documents for the project and be the leader of any Regulatory discussion with the agencies or clients.
• Review dossiers, regulatory documents, response to deficiencies as per the business needs.
Key Responsibilities:
• Head Regulatory Affairs shall be responsible for supporting all regulatory activities associated with product development, new registrations and lifecycle management as per requests from clients
• Development and scale-up as well as the production of small molecules, advanced intermediates and NCEs for molecules in the early and late phase, as well as for commercial supplies.
• Pre-formulation studies, toxicology formulation, formulation development, analytical development and manufacturing of clinical batches under cGMP environment.
• Biologics/ Large Molecule Development and commercialization for microbial and mammalian productions including manufacturing from cell line and process development through large scale production and supply of animal studies, clinical trial and commercial material.
• Review of plant and R&D documentation such as development reports, BMR, BPR, Specifications, method validation, process validation etc. Provide responses to regulatory agencies regarding product information or issues. Train staff in regulatory policies or procedures. Develop and maintain standard operating procedures or local working practices.
• Interface with Clients, key business and cross-functional stakeholders to ensure review of the proposal for submission, review of infrastructure, process, resources, IT and systems for on-time delivery of the project, submission planning, creation of submission documentation, submission requirements, product/facility change management, process support.
• Actively participate in CMC IND, ANDA content development as per project schedule. Analyze any changes in the requirements and implement changes in the database
• Accountable for the relationship with the US Food and Drug Administration, EMA, PMDA, MHRA, Drug control of India and other relevant regulatory bodies or govt agencies for regulatory submissions or sourcing purpose. To act as primary contact with US FDA and EMA and other regulatory agencies for activities related to product development or compliance.
• Create Syngene' s global regulatory strategies including risk strategies and execute submissions for development or sustaining projects and participate or lead regulatory forums with clients as per requirement.
•  Ensure appropriate standards and content requirements are met for regulatory submissions
• Lead strategy development and actively participate for responding to Health authority queries, audits/inspections.
• Maintain all regulatory filings, Product Marketing authorization renewals to ensure continuous validity. Maintain, and update product dossiers as required to meet changes in internal systems, changes in regulatory guidelines. Should maintain all hard and soft copies and database inappropriate template/ format as deemed necessary for all submissions.
• Responsible for review of the impact of any changes to the client agreements and ensure the clients are appropriately informed about the changes and update the agreement accordingly if required.
• Should be constantly updated on any regulatory changes as relevant to the Syngene clients.
• Engage with Clients representatives to ensure regulatory activities are in alignment with the relevant regulatory requirements
• Possess the knowledge and exposure to the environment, health, and safety (EHS) practices
• Follow environment, health, and safety (EHS) requirements always in the workplace ensuring individual and lab/plant safety
• Ensure environment, health, and safety (EHS) measures are imparted via training and adhered within the team
Candidate Profile
• Postgraduate Degree : M. Pharm or M.Sc.
• Advanced Degree / PhD will be an advantage
• Experience in a healthcare environment is a must with functional/specific competencies
• Knowledge of regulations and ability to communicate and apply
• Should have rich experience interacting with FDA, EMA, MHRA, ANVISA, TGA, PMDA, DCI or other Govt agencies/ Authorities.
• Good written and verbal communication, presentation, and facilitation and negotiation skills.
• Ability to identify compliance risks and escalate when necessary
• Proficient in using electronic systems and tools as deemed necessary for regulatory purposes.
• Technical knowledge in API, Biologics and Finished dosage form, as well as knowledge on non-clinical, clinical and BA/BE studies with Labeling requirements, would be an advantage.
• Minimum of 15 years' experience in regulatory affairs handling multiple geographies
• The incumbent requires to be pleasant with a sense of responsibility and commitment to the job and maintain the utmost confidentiality of all business matters pertaining to the BU head's office
Additional Information
Job ID : 14023
Qualification : M. Pharm or MSc
Location : Bengaluru, Karnataka
Industry Type : Pharma / Healthcare / Clinical research
Functional Area : Quality Assurance
End Date : 20th September, 2020
See All    Bangalore Alerts   B.Pharm Alerts   M.Pharm Alerts  Mohali Alerts
See All   Other Jobs in our Database
Subscribe to Pharmatutor Job Alerts by Email