Multiple Job Openings at VCARE Biolabs | M.Sc, M.Pharm, B.Pharm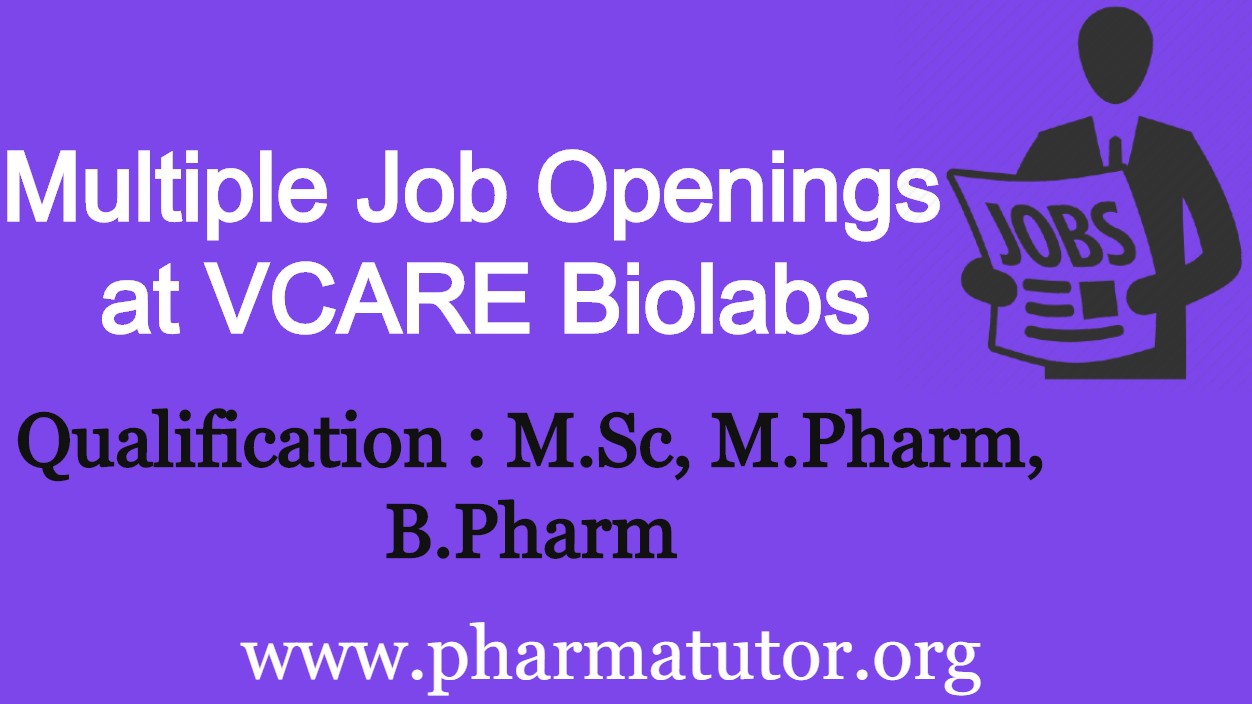 VCARE Biolabs, a rapid growing Contract Research and Development Organization established with focus on integrity, quality, safety, customer satisfaction, and principles. We provide end to end solutions to Bio-pharma, Vaccine and Pharmaceutical industries by delivering products of highest quality with global standards.
Analytical Research & Development
Qualification : M.Sc, B.Pharmacy, M. Pharmacy
Experience : (0-6 yrs) Experience in method development, validation, routine analysis, documentation, regulatory support. Exposure in handling instruments like HPLC, UV, IR etc.
Downstream : Purification (0-6 yrs)
Qualification : M.Sc,B.Pharmacy, M. Pharmacy
* Protein purification, Chromatography, AKTA process, TFF and Ultra filtration. The person should have knowledge of cGMP Practices.
* Hands on experience in Microbial/Cell culture process development for Biosimilars.
* Single use Chromatography and protein purification operation and process development at large scale.
* Regulatory compliance documentation.
* Technology transfer
Molecular Biologist (0-6 yrs)
Qualification : M.Sc, B.Pharmacy,  M.Pharmacy
- Experience in cloning, plasmid isolation, PCR, Expression studies ;
- Platforms : E.coli, Yeast, mammalian cell culture.
Formulation R&D (0-6 yrs)
Qualification : M.Sc, B.Pharmacy, M.Pharmacy
Should have experience in development of tablets, injections, oncology and non-oncology products.
Upstream : Fermentation (0-6 yrs)
Qualification : M.Sc, B.Pharmacy, M. Pharmacy
- Expert in handling of SC ADA associated fermenters, TFF system and mobile/product storage vessels
- Able to trouble shoot the equipment's such as fermentor and TFF system
- Experience with media preparation activities
- Knowledge in QMS Activities
- The individual needs to communicate within the organization and be able to work within a team as well as independently.
Regulatory Affairs (0-6 yrs)
Qualification: M.Sc, B.Pharmacy, M. Pharmacy
• To review the Document requirements for Registration and check availability of documents as per Registration request
• Provide Request to relevant departments for required documents and take timely follow ups to accomplish documentation within timelines.
• Collection of Regulatory registration related documents from relevant departments, review and their compilation for preparation of final dossier.
• Prepare Registration dossiers to meet the timelines and dispatch the documents to relevant countries as and when required by customers after confirmation
• Work on the queries raised by customer/ Regulatory authorities of country of registration for the submitted documents and resolve with necessary documentation as and when required.
• Review and analyze scientific and medical documentation, research and locate information on regulatory requirements of similar products.
Address : Plot No.1A, Plot 1563 & 1564, Srinitha Nilayam, Pragathi Nagar, Opp. JNTUH, Kukatpally, Hyderabad - 90, Telangana, INDIA
Candidates who are interested can share their resumes at info@vcarebiolabs.in
See All   Hyderabad Alerts   B.Pharm Alerts   M.Pharm Alerts
See All   Other Jobs in our Database
Subscribe to Pharmatutor Job Alerts by Email