UV - Spectrophotometric and RP - HPLC Method Developement for Simultaneous Determination of Paracetamol and Etodolac in Pharmaceutical Dosage Form
About Authors: Manoj Kumar Jadia1*, Dr. U. L. Narayan2
1. Department of Pharmaceutical Chemistry,
Indira Gandhi institute of Pharmaceautical Sciences,
IRC village, Bhubaneswar, Odhisa, India
2. Principal, Department of Pharmaceutical Chemistry,
Indira Gandhi institute of Pharmaceautical Sciences,
IRC village, Bhubaneswar, Odhisa, India
Abstract
The two methods are described for the simultaneous determination of Paracetamol and Etodolac in binary mixture. The first method was based on UV-spectrophotometric determination of both of the drugs, using simultaneous equation method. It involves absorbance measurement at 256.0 nm (λmax of Paracetamol) and 226.0 nm (λmax of Etodolac) in methanol; linearity was obtained in the range of 5 – 25 μg.mL-1 for both the drugs. The second method was based on HPLC separation of the two drugs in reverse phase mode using Promosil C18 column. Linearity was obtained in the concentration range of 30-70μg.mL-1 for Paracetamol and 20-60 μg.mL-1 for Etodolac. The LOD and LOQ value of UV-Spectrophotometric determination was found to be 167.43 ng mL-1, 507.37 ng mL-1  and for HPLC determination was found to be 1653.12 ng mL-1, 5009.48 ng mL-1.Both these methods have beensuccessively applied to pharmaceutical formulation and were validated according to ICH guidelines.
Reference ID: PHARMATUTOR-ART-1090
1. Introduction:
Paracetamol chemically N- (4-hydroxyphenyl)-acetamide[1], is a widely used over-the-counter analgesic (pain reliever) and antipyretic (fever reducer). It is commonly used for the relief of headaches, other minor aches and pains, and is a major ingredient in numerous cold and flu remedies. In combination with opioid analgesics, paracetamol can also be used in the management of more severe pain such as post surgical pain and providing palliative care in advanced cancer patients.[2] The onset of analgesia is approximately 11 minutes after oral administration of paracetamol,[3] and its half-life is 1–4 hours. Its therapeutic effects are similar to salicylates, but it lacks anti-inflammatory, antiplatelet, and gastric ulcerative effects.[4]  It is the active metabolite of phenacetin, once popular as an analgesic and antipyretic in its own right, but unlike phenacetin and its combinations, paracetamol is not considered to be carcinogenic at therapeutic doses .[1] Paracetamol increases the risk of liver damage in chronic alcoholics. Increased risk of toxicity with other hepatotoxic drugs or drugs which induce microsomal enzymes e.g. barbiturates, carbamazepine, hydantoins, rifampicin and sulfinpyrazone.[5] side effects of recommended doses (up to 8 tablets/capsules a day in adults) are rare, but rashes or other allergic reactions may rarely occur; pancreatitis has been reported after prolonged use. In higher than recommended doses paracetamol causes liver damage, which may not be apparent for two days or more and can be fatal unless treated immediately with the antidote (methionine or acetylcysteine).[6] The chemical structure of Paracetamol is shown in Fig 1.[1] The recommended adult dose of paracetamol is two 500 mg tablets, with four hours between doses, and no more than eight tablets in 24 hours.[7]  Literature survey reveled that various analytical methods such as HPLC, GC-MS , LC-MS HPLC-Electrospray tendem mass spectrometry and HPTL have been reported for estimation of Paracetamol from its formulations and biological fluids.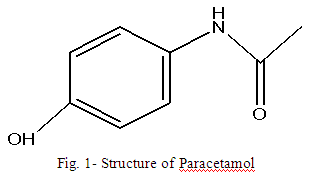 Etodolac chemically (RS)-2-(1,8-Diethyl-4,9-dihydro-3H-pyrano[3,4-b]indol-1-yl)acetic acid[8], is a Non-steroidal anti-inflammatory drug [10], Other members of this class include aspirin, ibuprofen (Motrin, Advil, Nuprin, etc.), naproxen (Aleve, Naprosyn), indomethacin (Indocin), nabumetone (Relafen) and numerous others.[8] These drugs are used for the management of mild to moderate pain, fever, and inflammation. They work by reducing the levels of prostaglandins, which are chemicals that are responsible for pain and the fever and tenderness that occur with inflammation. Etodolac blocks the enzyme that makes prostaglandins (cyclooxygenase), resulting in lower concentrations of prostaglandins. As a consequence, inflammation, pain and fever are reduced. The FDA approved etodolac in January 1991.[9] Etodolac is a non-steroidal anti-inflammatory drug (NSAID) with anti-inflammatory, analgesic and antipyretic properties. Its therapeutic effects are due to its ability to inhibit prostaglandin synthesis. It is indicated for relief of signs and symptoms of rheumatoid arthritis and osteoarthritis.[10] Additional studies in human indicated that Etodolac does not affect serum fat – soluble vitamins. The recommended dose of Etodolac for acute pain relief is 200 mg to 400 mg, taken every six to eight hours. Capsules: 200 and 300 mg; Tablets: 400 and 500 mg; Extended Release: 400, 500 and 600 mg. The maximum recommended daily dosage of etodolac is 1000 mg. However, some patients have been found to benefit from daily dosage of 1200 mg. Daily dosages of Etodolac exceeding 1200 mg have not been evaluated.[9]. Non-steroidal anti-inflammatory drug (NSAID) that selectively inhibits cyclooxygenase-2 (COX-2) (IC 50 values are 53 and >100 μ M for COX-2 and COX-1 respectively). Displays anti-inflammatory effects in both adjuvant arthritic and normal rats.[11] The structure of Etodolac is shown in Fig 2.[8] There are very few methods reported for estimation of Etodolac in pharmaceutical dosage form, which includes a validated RP –HPLC, spectrophotometric method.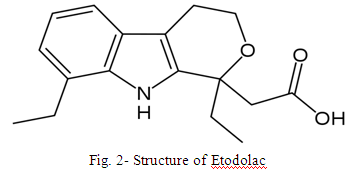 At present no HPLC and UV spectrophotometric methods are reported for the simultaneous estimation of Paracetamol and Etodolac in tablet formulation.
Therefore, it was thought worthwhile to develop simple, precise, accurate UVspectrophotometric and HPLC methods for simultaneous determination of Paracetamol and Etodolac in tablets.
2. Experimental:
2.1. Materials:
Pharmaceutical grade Paracetamol and Etodolac were kindly supplied by Burgeon Pharmaceauticals PVT LTD.Puducherry (INDIA), used without further purification and certified to contain 99.53 % (w/w) and 99.66% (w/w), respectively on dried basis. All chemicals are of HPLC grade and were purchased from Merck Ltd. And India Rankem Laboratories, India.
NOW YOU CAN ALSO PUBLISH YOUR ARTICLE ONLINE.
SUBMIT YOUR ARTICLE/PROJECT AT articles@pharmatutor.org
Subscribe to Pharmatutor Job Alerts by Email
Pages