INVOLVEMENT OF HEALTHCARE REGULATORY AFFAIR PROFESSIONAL IN OVERSEAS REGISTRATION PROCESS
About Authors:
ANUJ SINGH
VINAYAKA MISSION'S UNIVERSITY
Salem – 636308, Tamil Nadu
anuj.dra@gmail.com
ABSTRACT:-
Healthcare Regulatory Affair Professional with their experience and strong motivation to excel in the Regulatory field has an ability to motivate & give support and strengthen to teams members, involved in process of product registration. Professional has taught a self-starter with the proven ability to prioritize and manage projects in a busy, fast-paced, multitasking environment, along with their experience in establishing relationship with the decision makers & coordinator. The Pharmaceutical industries are among the most highly regulated industries in the country. As India is growing very rapidly in pharmaceutical sector, there is a need of regulatory affairs professionals to cater the current needs of industries for the global competition. Regulatory affairs professionals are the link between pharmaceutical industries and worldwide regulatory agencies. They are required to be well versed in the laws, regulations, guidelines and guidance of the regulatory agencies. There is a growing need to incorporate the current requirements of pharmaceutical industries in the standard curriculum of pharmacy colleges to prepare the students with the latest developments to serve the industries. The present article discusses the regulatory education and its need, learning resources, courses available, syllabus contents and job opportunities in regulatory affairs.
Reference Id: PHARMATUTOR-ART-1405
Guideline for Submitting Documentation for Packaging for Human Drugs and Biologics."
Toxicological data on these materials would be included under this type of DMF, if not otherwise available by cross reference to another document.
IV. C.1.d.Type IV Excipient, Colorant, Flavor, Essence, or Material Used in Their Preparation
Each additive should be identified and characterized by its method of manufacture, release specifications, and testing methods.
Toxicological data on these materials would be included under this type of DMF, if not otherwise available by cross reference to another document.
Usually, the official compendia and FDA regulations for color additives (21 CFR Parts 70 through 82), direct food additives (21 CFR Parts 170 through 173), indirect food additives (21 CFR Parts 174 through 178), and food substances (21 CFR Parts 181 through 186) may be used as sources for release tests, specifications, and safety. Guidelines suggested for a Type II DMF may be helpful for preparing a Type IV DMF. The DMF should include any other supporting information and data that are not available by cross reference to another document.
IV. C.1.e.Type V: FDA Accepted Reference Information
FDA discourages the use of Type V DMF's for miscellaneous information, duplicate information, or information that should be included in one of the other types of DMF's. If any holder wishes to submit information and supporting data in a DMF that is not covered by Types I through IV, a holder must first submit a letter of intent to the Drug Master File Staff (for address, see D.5.a. of this section). FDA will then contact the holder to discuss the proposed submission.
IV. C.2. General Information and Suggestions
IV. C.2.a. Environmental Assessment
Type II, Type III, and Type IV DMF's should contain a commitment by the firm that its facilities will be operated in compliance with applicable environmental laws. If a completed environmental assessment is needed, see 21 CFR Part 25.
IV. C.2.b. Stability
Stability study design, data, interpretation, and other information should be submitted, when applicable, as outlined in the "Guideline for Submitting Documentation for the Stability of Human Drugs and Biologics."
IV. D. Format, Assembly, and Delivery
IV. D.1.
An original and duplicate are to be submitted for all DMF submissions.
Drug Master File holders and their agents/representatives should retain a complete reference copy that is identical to, and maintained in the same chronological order as, their submissions to FDA.
IV. D.2.
The original and duplicate copies must be collated, fully assembled, and individually jacketed.
Each volume of a DMF should, in general, be no more than 2 inches thick. For multivolume submissions, number each volume. For example, for a 3 volume submission, the volumes would be numbered 1 of 3, 2 of 3, and 3 of 3.
IV. D.3.
U.S. standard paper size (8-1/2 by 11 inches) is preferred.
Paper length should not be less than 10 inches nor more than 12 inches. However, it may occasionally be necessary to use individual pages larger than standard paper size to present a floor plan, synthesis diagram, batch formula, or manufacturing instructions. Those pages should be folded and mounted to allow the page to be opened for review without disassembling the jacket and refolded without damage when the volume is shelved.
IV.D.4.
The agency's system for filing DMF's provides for assembly on the left side of the page. The left margin should be at least three fourths of an inch to assure that text is not obscured in the fastened area. The right margin should be at least one half of an inch. The submitter should punch holes 8 1/2 inches apart in each page. See the page measurements shown in the following figure: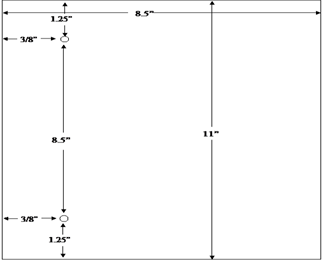 IV.D.5. Delivery to FDA
IV.D.5.a.
Drug Master File submissions and correspondence should be addressed as follows:
Drug Master File Staff
Food and Drug Administration
5901-B Ammendale Rd.
Beltsville, MD 20705-1266
IV.D.5.b. Delivery charges to the above address must be prepaid.
V. AUTHORIZATION TO REFER TO A DRUG MASTER FILE
V. A. Letter of Authorization to FDA
Before FDA can review DMF information in support of an application, the DMF holder must submit in duplicate to the DMF a letter of authorization permitting FDA to reference the DMF. If the holder cross references its own DMF, the holder should supply in a letter of authorization the information designated by items 3, 5, 6, 7, and 8 of this section. The holder does not need to send a transmittal letter with its letter of authorization.
The letter of authorization should include the following:
The date.

Name of DMF holder.

DMF number.

Name of person(s) authorized to incorporate information in the DMF by reference.

Specific product(s) covered by the DMF.

Submission date(s) of 5, above.

Section numbers and/or page numbers to be referenced.

Statement of commitment that the DMF is current and that the DMF holder will comply with the statements made in it.

Signature of authorizing official.

Typed name and title of official authorizing reference to the DMF.
V. B. Copy to Applicant, Sponsor, or Other Holder
The holder should also send a copy of the letter of authorization to the affected applicant, sponsor, or other holder who is authorized to incorporate by reference the specific information contained in the DMF. The applicant, sponsor, or other holder referencing a DMF is required to include a copy of the DMF holder's letter of authorization in the application.
NOW YOU CAN ALSO PUBLISH YOUR ARTICLE ONLINE.
SUBMIT YOUR ARTICLE/PROJECT AT articles@pharmatutor.org
Subscribe to PharmaTutor Alerts by Email
FIND OUT MORE ARTICLES AT OUR DATABASE
Pages