GC-MS ANALYSIS OF ACALYPHA INDICA LINN

About Author:
Manisha Singh
Sagar Institute of Pharmacy & Technology,
Gandhi nagar, Bhopal (M.P.)
manishamasih85@gmail.com
Abstract
Acalypha indica Linn. consists of dried herb of Acalypha indica Linn. belonging to familyEuphorbiaceae. Within the Euphorbiaceae family, Acalypha indica is one of the biggest and most diverse, with nearly 450 species. Two thirds of its species are found in America, 19 of them in Venezuala, they are mainly used as ornamental, but with the rising of traditional medicine, these species are given medical properties painkillers, laxatives, anti-inflammatory and many others.The GC-MS analysis of methanol and acetone (70 : 30) extract prepared from the whole plant of Acalypha indica linn. revealed the presence of different phytochemicals.
Reference Id: PHARMATUTOR-ART-1398
Introduction
Acalypha indica Linn.occurs in Nigeria and from Sudan east to Somailia and South through DR Congo and East Africa to Southern Africa including South Africa. It is also widespread in the Indian Ocean islands and occurs furthermore in India, South-East Asia and Oceania. It was introduced into the warmer parts of the New World. It is found throughout the plains of India as weed in gardens, in waste lands and along the roadsides. It is found in the hills of Orissa at altitudes upto 210 m. A part of the supply also comes from West Bengal, Andhra Pradesh, Tamil Nadu, and Kerala.
Phytochemically the plant has been reported to contain alkaloid 'acalypus' and 'acalyphine'.The leaves and twigs of Acalypha indica Linn. have been reported to contain acalyphamide, acalyphamide acetate, aurantiamide, aurantiamide acetate, succinamide, acalyphol acetate and 2-methyl antaquinone. Stigmasterol, β- sitosterol and its acetate have been isolated from the herb. Flavonoids, notably the kaempferol glycosides mauritianin, clitorin, nicotiflorin and biorobin, naringin, quercitrin, hesperitin have been isolated from the flowers and leaves. The other constituents are Alkaloid, Catachols, Flavonoids, Phenolic compounds, saponins and steroids. Volatile oil and fatty acids were also found.[1,2,3]


Acalyphamide

Acalyphin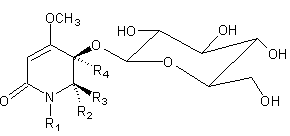 (-)-(5R,6S)-5-cyano-5-β-D-glucopyranosyloxy-6-hydroxy-4-methoxy-1-methyl-2(5,6-dihydro)-pyridone
Material and Methods
Sample collection
The whole plants of Acalypha indica Linn. was collected in the month of August from  Sri Chowdeshwari Nursery, Singanagra hara, Dommasandra to chandapura road, Anekal taluk, Bengaluru (K.A.). The plant material was dried under shade. The dried plant material was powdered with the help of mechanical grinder.
Authentification of plant material
Theplant authentificated by Dr. Zeaul Hasan, Department of Botany, Safia Science College, Bhopal. A voucher specimen No. 141/Bot/Safia/2010 of the plant was desposited in the herbarium of the pharmacognosy department, R.K.D.F. College of Pharmacy, Bhopal.
Plant sample extraction
The crushed plant material was extracted by the maceration process with the help of solvent methanol and acetone in the ratio of 70 : 30 and kept in an air tight container for 7 days. The extract was then filtered with the help of muslin cloth. The filtrate was concentrated on a heating mantle to obtain a concentrated product.
Chemicals
Methanol, Acetone, Ethyl acetate, silica gel, hexane of pure quality were used in the GC-MS analysis of Acalypha indica Linn. extract.
Clean –up procedures
The column was cleaned by rinsing with ethyl acetate solution. The clean-up column was filled with cotton in the bottom and activated silica Gel was soaked with ethyl acetate. The dried extract sample was then transferred into the column. The sample was allowed to flow through the column by the application of ethyl acetate solution on the column. The collected eluent were concentrated to 0.5 ml.
Instrumentation and Operating conditions
GC–MS was performed with Hewlett–Packard (HP) 6890/5973 equipment; conditions modified from a method published by Frankel et al. Compounds were separated on a 30 m × 0.25 mm capillary column coated with a 0.25 μm film of HP-5-MS (J&W Scientific, Folsom, CA, USA). Samples were injected with a split ratio of 50:1; helium was used as carrier gas at 1.0 mL min-1. The column temperature was maintained at 100°C for 1 min after injection then increased at 5° min-1 to 275°C. The chromatogram was run for 40 min.
NOW YOU CAN ALSO PUBLISH YOUR ARTICLE ONLINE.
SUBMIT YOUR ARTICLE/PROJECT AT articles@pharmatutor.org
Subscribe to PharmaTutor Alerts by Email
FIND OUT MORE ARTICLES AT OUR DATABASE
Pages