ANALYTICAL METHOD DEVELOPMENT AND VALIDATION OF CANDESARTAN CILEXETIL BY CHROMATOGRAPHIC TECHNIQUE (RP-HPLC).
About Authors:
Gunjan Kalyani*, Vishal S. Deshmukh, Pranita Kashyap, Ram D. Bawankar, Yogesh Vaishnav, Deepak Biswas
Shri Rawatpura Sarkar Institute of Pharmacy,
Behind power grid, Kumhari, Durg, Chhattisgarh
*kalyani.gunjan@yahoo.in
Abstract:
A simple, rapid and precise and accurate RP-HPLC method was developed for the estimation of candesartan. The method involves a simple technique using Irbesartan as internal standard. HPLC separation was achieved using C18 Intersil column (256 x 4.6 id) with an isocratic mobile phase composed of selected methanol: 10 mM Phosphate buffer [75:25 % v/v. pH 3.0] at a flow rate of 1.0 mL/min with UV detection was performed at 256 nm. The retention time of candesartan and internal standard was found to be 1.96 and 3.33 min respectively. The assay was validated for the parameters like accuracy, precision, robustness and system suitability parameters. The method was validated over a linear test concentration range of 80 - 120%. The recovery of the method was in between 99.0 - 101.0%. The proposed method was found to be accurate, precise, selective and rapid and it can be useful in the routine analysis for the determination of candesartan cilexetil in pharmaceutical dosage form.

REFERENCE ID: PHARMATUTOR-ART-1480
Introduction
Candesartan cilexetil (prodrug is a racemic mixture containing one chiral center at the cyclohexyloxy-carbonyloxy- ethyl ester group. Angiotensin II receptor blockers (ARBs) are a new class of therapeutic agents for hypertension. The ARBs have a more direct mechanism of action than other drugs affecting the angiotensin converting enzyme inhibitors[1]. Candesartan is a potent, highly selective ARB that is devoid of agonist activity. It is administered orally as Candesartan cilexetil, which is rapidly and completely hydrolyzed to Candesartan, the active moiety, during absorption from the gastrointestinal tract. Candesartan cilexitil is white to off white powder. It is soluble in dimethyl formamide, acetone, methanol, 0.1 N sodium hydroxide solution and insoluble in water[1].

Mechanism of action[1]:
Candesartan cilexetil is a prodrug that has little pharmacological activity until it is hydrolyzed to candesartan during absorption. Candesartan competes with angiotensin II for binding at the AT1 receptor subtype. The drug blocks the vasoconstrictor and aldosterone-secreting effects of angiotensin II by selectively blocking the binding of angiotensin II to the AT1 receptor in many tissues, such as vascular smooth muscle and the adrenal gland9. Candesartan, ARB, is used alone or with other antihypertensive agents to treat hypertension. The action is different from ACE inhibitors, which block the conversion of angiotensin I to angiotensin II, meaning that the production of angiotensin II is not completely inhibited, as the hormone can be formed via other enzymes. Also, unlike ACE inhibitors, candesartan and other ARBs do not interfere with response to bradykinins and substance P, which allows for the absence of adverse effects that are present in ACE inhibitors (e.g. dry cough). Various chromatographic methods have been published for the determination of candesartan in pharmaceutical dosage forms. Literature survey also revealed various HPLC methods are reported for the estimation of candesartan cilexetil using internal standards such as bumetanide, bromhexine etc. in human plasma. It would therefore be beneficial to provide accurate, precise and reliable methods for determination of candesartan using irbesartan as internal standard. The method involves a simple technique using irbesartan as internal standard. The present work describes analytical procedures for the quantitation of candesartan and irbesartan as internal standard in formulation using RP-HPLC.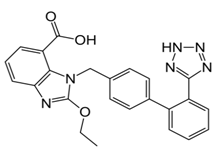 Fig 1. Structure of candesartan

Experimental
Chemicals
All reagents used were of HPLC and AR grade purchased from Loba Chemicals, Mumbai, India. Reference standard of candesartan cilexetil and internal standard Irbesartan were obtained from Dr. Reddy's Laboratories, Hyderabad, India. The candesartan tablets were procured from local market, brand name CANDESAR (4 mg), manufactured by RANBAXY Laboratories, India.

NOW YOU CAN ALSO PUBLISH YOUR ARTICLE ONLINE.
SUBMIT YOUR ARTICLE/PROJECT AT articles@pharmatutor.org
Subscribe to PharmaTutor Alerts by Email
FIND OUT MORE ARTICLES AT OUR DATABASE
Pages