You are hereLife Sciences
Life Sciences
---
The National Centre for Cell Science (NCCS) took birth as National Tissue Culture Facility in March 11, 1986 with a mandate of basic research, teaching & training, and as a national repository for cell lines/hybridomas etc. The centre is located in the midst of academically enriched environment of University of Pune campus, Pune.
The interview program for the following temporary project posts tenable at NCCS, Pune.
Clinical Development Services Agency (CDSA) mission is to create, develop, nurture world class clinical product development capacity in India
CDSA invites applications from high performing professionals with a desire to serve public health needs of the country for the below mentioned Project-based position:
Post: PROJECT ASSISTANT ( in Pregnancy- infant cohort)
Dr. B.R. Ambedkar Center for Biomedical Research (ACBR) is a unique center under the University of Delhi where a multispeciality group of scientists work as a cohesive team and participate in active teaching and research. The absence of formal departmental setup provides an excellent environment where each faculty is free to interact with each other and contribute to better teaching and research in the complementary areas.
Indian Institute of Science Education and Research (IISER) Pune is a premier autonomous Institution established by the Ministry of Human Resource Development, Government of India, for promotion of high quality science education and research in the country.
Post: Technical Assistant - Animal House
Applications are invited from young scientists with outstanding track records, below the age of 35 years, for the NII-Young Investigator Award, to undertake cutting-edge research in fundamental or translational research in immunological and related sciences, under the mentorship of a faculty member.

Post: Scientists

Institute of Cytology & Preventive Oncology (ICPO) which was initially established as Cytology Research Centre ( CRC ) by the Indian Council of Medical Research (ICMR) in 1979, came into the existence in 1989 when CRC was elevated to the level of Institute. ICPO was instituted with the main aim of promoting research in the field of cancers that are most prevalent in India with an emphasis on their early detection and prevention. The thrust areas of research include precancer and cancer of the uterine cervix and breast in women. Multidisciplinary studies involving epidemiological, behavioral, clinical, cytomorphological, cytogenetic, biochemical, virological, immunological and molecular biological aspects are being undertaken in order to understand the natural history, biological behaviour and mechanisms of carcinogenesis. ICPO has since made significant contributions in the field of cervical cancer research. The concept of clinical downstaging, visual inspection of cervix with selective cytology screening and development of novel diagnostic approaches for screening HPV and other cancer causing and cancer suppressor genes have been introduced for early detection of cervical cancer. Transcriptional control of viral gene expression and preparatory work on HPV vaccine, analysis of breast cancer susceptibility genes are some of the major research areas being undertaken. ICPO is also promoting human resource development through in-service training, workshops, Ph.D. and M.D. program and referral services in the field. The institute has evolved as a National Reference Centre for HPV and cervical cancer and provides specialized diagnostic referral services.

Institute of Nuclear Medicine and Allied Sciences (INMAS), Delhi under the aegis of Defence Research and Development Organisation (DRDO), is engaged in research and developmental work in radiation sciences, Neuro-Computing and Medical Image Processing. INMAS is looking for meritorious young researchers for pursuing research in the frontier areas at INMAS. The Institute invites applications from young and meritorious Indian nationals who are creative, have passion and desire to pursue R&D in frontier areas. INMAS possesses ambience of a research cum academic institute coupled with an advanced R&D infrastructure in a mission mode. It provides the best infrastructure, motivation and personality development prospects for talented students, dreaming of unparalleled success in their professional endeavors. INMAS provides state of the art research facilities for undertaking pioneering research with defence applications.
Post: Research Associate (RA) (Maximum Tenure- Two Years)
Eligible candidates are invited for Walk-in-Interview for filling up of the following contractual posts in the project entitled "A Phase II Open Label Randomized Clinical Trial to Evaluate the Anti Bacterial Activity, Safety, Tolerability and Pharmacokinetics of a Combination of PA-824, Moxifloxacin and Pyrazinamide, or PA-824 When Administered with the Category IV Regimen of RNTCP in Adult Males with Newly Diagnosed Multi-drug Resistant Pulmonary Tuberculosis" as per details given below:
Post: Junior Research Fellow (Clinical)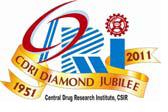 CSIR-Central Drug Research Institute, Lucknow is a premier R&D Institute under the aegis of Council of Scientific and Industrial Research (CSIR), New Delhi which is an autonomous body under Department of Scientific and Industrial Research, Government of India. The institute is engaged in the development of new drugs and diagnostics in various therapeutic areas like malaria, tuberculosis, filarial, leishmania, cancer, thrombosis, hypertension, dementia, diabetes, lipid disorders, gastric ulcer, osteoporosis, prostatic hyperplasia, etc.
Walk-in-interview for engagement of Project Staff under different Projects to be held on 18-09-2014 (For Position Code No. 001 to 009) and 19-09-2014 (For Position Code No. 010 to 016 ) as per the details given below:-
The Tata Memorial Hospital was initially commissioned by the Sir Dorabji Tata Trust on 28 February 1941 as a center with enduring value and a mission for concern for the Indian people.
In 1952 the Indian Cancer Research Centre was established as a pioneer research institute for basic research - later called the Cancer Research Institute (CRI). In 1957 the Ministry of Health took over the Tata Memorial Hospital. The transfer of the administrative control of the Tata Memorial Centre (Tata Memorial Hospital & Cancer Research Institute) to the Department of Atomic Energy in 1962 was the next major milestone. The Tata Memorial Hospital and Cancer Research Institute merged as the two arms of the Tata Memorial Centre (TMC) in 1966 as a classic example of private philanthropy augmented by Government support with a mandate for Service, Education & Research in Cancer.
Post: Research Fellow (Non- Medical)