SRF
---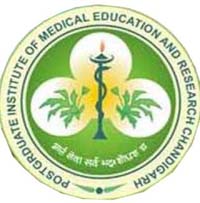 The PGIMER owes its inception to the vision of late Sardar Partap Singh Kairon, the then Chief Minister of Punjab and the distinguished medical educationists of the then combined state of Punjab, supported by the first Prime Minister of India Pt. Jawahar Lal Nehru who considered the institutions of scientific knowledge as temples of learning and the places of pilgrimage. The institute started in 1962 and Pt Jawahar Lal Nehru inaugurated the hospital now named "Nehru Hospital" on 7th July 1963. The Institute was originally under the Government of undivided Punjab. After the reorganization of the state, the administrative control of the institute passed on to the Union Territory of Chandigarh in November 1966. The Institute became an autonomous body under the Act of Parliament in 1967 functioning under the Ministry of Health and Family Welfare, Government of India.
Post: Junior Research Fellow, Senior Research Fellow

The Central Council for Research in Ayurvedic Sciences (CCRAS) is an autonomous body of the Department of AYUSH (Ayurveda, Yoga & Naturopathy, Unani, Siddha and Homeopathy), Ministry of Health & Family Welfare, Government of India.
Post: Senior Research Fellow
Thapar University (TU) was established on 8 October 1956 as an Engineering College named Thapar Institute of Engineering and Technology. It is a University established in 1985 vide Sec.3 of the UGC Act, 1956 under notification # F.9-12/84-U.3. Thapar University offers Post-graduate and undergraduate programs in Engineering, Science, Management and Social Sciences.
Post: Junior Research Fellow/ Senior Research Fellow/ Research Associate (One)

Dibrugarh University, the easternmost University of India was set up in 1965 under the provisions of the Dibrugarh University Act, 1965 enacted by the Assam Legislative Assembly. It is a teaching-cum-affiliating University with limited residential facilities. The University is situated at Rajabheta at a distance of about five kilometres to the south of the premier town of Dibrugarh in the eastern part of Assam as well as India. The University is located in a campus of 203 hectares out of which 74.3 hectares are under tea plantation.
Post: Junior Research Fellow (JRF)/ Senior Research Fellow (SRF)
From its campuses in Pilani, Goa, Hyderabad and Dubai, BITS Pilani offers formal education and re- search programmes in Physical Sciences, Engineering, Pharmacy, Social Sciences and Management. With a view to establish itself as one of India's top research-led universities and be amongst the leading technical universities in the world, BITS Pilani has embarked upon an aggressive plan to expand its PG and Ph.D. research programmes, while consolidating its UG programmes.
Applications are invited for a JRF/ SRF position in the Department of Chemistry at BITS Pilani KK Birla Goa Campus, Goa for a CSIR Funded Project entitled "Preparation of Magnetically Separable, Mesoporous TiO2 Catalysts and Study of their Catalytic Properties".
Post: Junior Research Fellow, Senior Research Fellow
Applications are invited for different project on or before 4th December, Wednesday up to 16.00 hrs, for the post of (1) Junior Research Fellow (Technologist) for GSK Project (2) Junior Research Fellow (for GSBTM-Project) (03) Senior Research Fellow (for ICMR-Project). Interested candidate may apply on plain paper addressed to the Director along with detailed Bio-data, attested copy of all educational and experience certificates by the Gazetted officer or self, one recent color passport size photographs etc. For further detailed kindly visit our website: cancerindia.org
The National Institute of Pharmaceutical Education and Research (NIPER) has been created as a centre of excellence for higher education, research and development in pharmaceutical sciences. NIPER, Rae Bareli at ITI campus, Rae Bareli under the mentoring Institute of Central Drug Research Institute, Lucknow invites eligible candidates for following positions on purely temporary basis on contract initially for a period of 1 year which can be extended further. The selected candidates shall have no claim for regularization against any regular post either in NIPER or CDRI.
The Institute of Life Sciences was conceived in the context of globalization, to foster research competence in India and to bridge the divide between academic research and the pharmaceutical & biotechnology industries. The institute was incorporated as a non-profit entity under Section 25 of the Indian companies act, facilitating operational autonomy. Construction of the ILS building comprising 44 labs and an administrative block and spanning -130,000 sq.ft. in area, began in 2004 and was completed in January 2007.
The National Centre for Cell Science (NCCS) took birth as National Tissue Culture Facility in March 11, 1986 with a mandate of basic research, teaching & training, and as a national repository for cell lines/hybridomas etc. The centre is located in the midst of academically enriched environment of University of Pune campus, Pune.
The interview program for the following temporary project posts tenable at NCCS. Pune.
The National Dairy Research Institute as country's premier Dairy Research institution has developed considerable expertise over the last five decades in different areas of Dairy Production, Processing, Management and Human Resource Development. Information generated at the Institute and the services offered have contributed to the growth of Dairy Industry as a whole and well-being of millions of milk producers and consumers of milk and milk products. Realizing the challenging need of global Dairy Trade, the Institute is continuously working to develop its R&D and HRD programmes to better serve the nation in terms of food security, employment generation, poverty alleviation and economic prosperity.