Faculty Jobs
---
The Uttar Pradesh Technical University, Lucknow (Uttar Pradesh, India) is an affiliation body that regulates and permits higher education in Engineering and related disciplines across the state of Uttar Pradesh.
As of October 2008, there were 466 colleges affiliated with the UPTU. Of these, eight are government-financed, and the remaining are private. As of July 2008, some 286 of these were operational, where with 66,024 students enrolled
Moradabad Educational Trust (Met) Group Of Institutions Faculty of Pharmacy Moradabad is an Affiliated College.
Post: Professor, Associate Professor, Assistant Professor
In pursuance of the recommendations of Knowledge Commission, Krishna University was established, vide Andhra Pradesh Act.No.4 of 1991, G.O' Ms. No.89 Higher Education (U.E.II) dated 25/06/2008 and G.O Ms. No.109, Higher Education (U.E.II) department dated 14/07/2008 at Machilipatnam, as the town is the head-quarters of Krishna District of Andhra Pradesh. On 23/04/08, The then Hon'ble Chief Minister Dr.Y Rajasekhara Reddy laid the foundation stone for the University. A Feasibility committee headed by Prof. K. Viyyanna Rao visited Machilipatnam for establishing the University.
Post: Associate Professor, Assistant Professor

The history of Jamia Hamdard begins with the establishment of a small Unani clinic in the year 1906 by Hakeem Hafiz Abdul Majeed, one of the well-known practitioners of Unani System of Medicine of his time. Hakeem Hafiz Abdul Majeed had a vision of making the practice of Unani Medicine into a scientific discipline so that Unani medicines could be dispensed in a more efficacious manner to patients. He gave the name "Hamdard" to his venture which means "sympathy for all and sharing of pain". His illustrious son, Hakeem Abdul Hameed, carried forward the philosophy and objectives of Hamdard in independent India. Even at the time of partition of India in 1947, Hakeem Abdul Hameed was dreaming of setting up a complex of educational institutions which would concentrate on highlighting the contribution of Islam and Islamic culture to Indian civilization and development of Unani medicines for curing diseases.
Applications on prescribed form are invited for filling up the following teaching positions in the Department of Pharmaceutical Chemistry, Faculty of Pharmacy in the university. Eligible candidates may apply on or before 04.08.2014.
Post: Associate Professor, Assistant Professor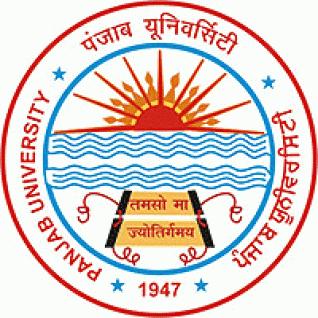 The University Institute of Pharmaceutical Sciences of the Panjab University is a premier institution of Pharmaceutical Education and Research in the country. The institute has covered a long and glorious journey of 76 years starting from Lahore in 1944 and finally settling to the present campus in Chandigarh at the foothills of Himachal. In its travelogue, the institute crossed multiple milestones and continue to head ahead towards the well-defined goals. The elevation of the status from department to the level of an institute i.e. University Institute of Pharmaceutical Sciences in 1994, and hosting of Indian Pharmaceutical Congress in the same year, two presidential honors of the Indian Pharmaceutical Congresses to its faculty members, a special recognition by the UGC by granting SAP in 1993 and COSIST in 1981 establishment of ICMR Advanced Centre for standardization of Drugs of Indian System of Medicine are some of the major hallmarks on the path treaded so far.
Applications are invited for the position of Guest Faculty in University Institute of Pharmaceutical Sciences in the following subjects for the period from August to December 2014 (Odd semesters).
Online Recruitment Applications (ORA) are invited from the desirous and eligible candidates for recruitment to various posts in various Departments of Himachal Pradesh Government up to 20th August, 2014 till 11:59 P.M.

Post: Lecturer, Assistant Manager

Eligible and int erested candidates are invited for Walk-in-Interview at the Administrative Building of the University for Appointment as Assistant Professor on Purely Temporary/Ad -hoc Basis for the Academic Session 2014-15 with an application on plain paper giving their bio-data and attested copies of Mark-sheets /Certificates/Degrees of academic qualifications and experiences along with originals for verification on the dates mentioned on the University website. Selected candidates shall be entitled to a consolidated salary Rs. 25000/- per month. For more detail s of eligibility criteria, number of positions and general instructions please log on to ggu.ac.in.
Post: Associate Professor

The Babasaheb Bhimrao Ambedkar University, Lucknow is one of the youngest central universities in the country. The jurisdiction of this residential University is over the entire state of Uttar Pradesh. The campus Vidya Vihar is located off Rae Bareli Road, about 10 kms south of the Charbagh Railway Station, Lucknow. The objects of the University IS to promote advanced knowledge by providing instructional and research facilities in such branches of learning as it may deem fit.
Online applications are invited from exceptionally qualified candidates for the following Teaching positions of the University in the following Schools/Departments/Centre. The University currently offering Graduate/Post Graduate and Doctoral programmes.
Post: Associate Professor – 2 (SC-1, ST-1), Assistant Professor -1 (UR)
The Central University of Rajasthan has been established by an Act of Parliament, the Central Universities Act 2009. The University started working temporarily from Jaipur and introduced two PG programmes in 2009-10, namely M.Sc./M.A. Statistics(Actuarial) and M.Sc. Tech Mathematics in collaboration with Malaviya National Institute of Technology(MNIT), Jaipur.
With effect from academic year 2012-13, the University has decided to launch six additional P.G. Programmes. These will be M.Pharm. (Specialization in Pharmaceutical Chemistry), M.A. in Public Policy, Law and Governance, M.A. in Social Work/ M.S.W., M.Com. M.Sc. in Biochemistry and Microbiology.
Post: Associate Professor, Assistant Professor

Himalayan Institute of Pharmacy & Research is affiliated to Uttarakhand Technical University. The institute offers Bachelor of Pharmacy course. The mission is to contribute to the understanding of the development of civilization by fostering the creation, preservation, and dissemination of knowledge concerning the history and related humanistic aspects of the pharmaceutical field.
Post: Professor, Associate Professor

The Kurukshetra University was established in 1956 as a unitary residential University and its foundation stone was laid by late Dr. Rajendra Prasad, the first President of India. Located in the holy city of Kurukshetra, land of the historical battle of 'Mahabharata' and the great message of Bhagwad Gita, its campus is situated on the western bank of Brahm Sarover (the holy tank) and extends over an area of over 400 acres. Starting with only the Department of Sanskrit, it has grown into a multi-faculty University as one of the premier centres for advanced study and research in the region.
Post: Assistant Professor