JRF
---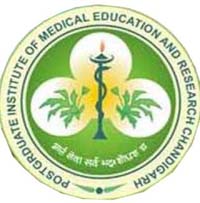 The PGIMER owes its inception to the vision of late Sardar Partap Singh Kairon, the then Chief Minister of Punjab and the distinguished medical educationists of the then combined state of Punjab, supported by the first Prime Minister of India Pt. Jawahar Lal Nehru who considered the institutions of scientific knowledge as temples of learning and the places of pilgrimage. The institute started in 1962 and Pt Jawahar Lal Nehru inaugurated the hospital now named "Nehru Hospital" on 7th July 1963. The Institute was originally under the Government of undivided Punjab. After the reorganization of the state, the administrative control of the institute passed on to the Union Territory of Chandigarh in November 1966. The Institute became an autonomous body under the Act of Parliament in 1967 functioning under the Ministry of Health and Family Welfare, Government of India.
Post: Junior Research Fellow, Senior Research Fellow

Thapar University (TU) was established on 8 October 1956 as an Engineering College named Thapar Institute of Engineering and Technology. It is a University established in 1985 vide Sec.3 of the UGC Act, 1956 under notification # F.9-12/84-U.3. Thapar University offers Post-graduate and undergraduate programs in Engineering, Science, Management and Social Sciences.
Post: Junior Research Fellow/ Senior Research Fellow/ Research Associate (One)

The CVSc was established in year 1948 at Nagaon as the erstwhile Assam Veterinary College. The Assam Veterinary College offered 3-year diploma course leading to Graduate in Veterinary Science (G.V.Sc). The number of students admitted in the first batch was 33. Soon after independence, with just 33 students admitted in the first batch of the three years Diploma course (G.V.Sc), the college poised for a long march to grow as a premier institute.
A walk-in-interview will be held on 26-12-2013, Thursday at 11.00 AM in the Department of Pharmacology & Toxicology, College of Veterinary Science, Khanapara, Guwahati-22 to fill up one (1) post of Junior Research Fellow (JRF) for an "Biotech intervention on selected medicinal plants (MAP) of NER for their effective utilisation." Department of Pharmacology and Toxicology, cvsc AAU, Khanapara.
Post: Junior Research Fellow (JRF)
The Bharathiar University was established at Coimbatore by the Government of Tamilnadu in February, 1982 under the provision of the Bharathiar University Act, 1981 (Act 1 of 1982). The Postgraduate Centre of the University of Madras, which was functioning in Coimbatore before 1982 formed the core of the Bharathiar University. In May, 1985 the University received the recognition from University Grants Commission (UGC) New Delhi for the purpose of grants.
Application on plain paper with complete bio-data along with attested photocopies are invited for the post of Junior Research Fellow (JRF) to work under the Research Project entitled "Combinatorial chemopreventive potential of Ficus species and natural non-nutritive compounds against Breast cancer - a novel approach" Sponsored by DST, Science & Engineering Research Board (SERB) New Delhi.

Post: Junior Research Fellow (One)
Defence Institute of High Altitude Research (erstwhile Field Research Laboratory) is only one of its kind situated in Leh at an altitude of 3500 m above MSL, having core competence in cold arid agro-animal technology in the world. The same has been examined and certified by LIMCA Book of Records under World Record category. This institute is brain child of the first Prime Minister of India, late Pandit Jawaharlal Nehru and was established in 1962 with the quest to become world class leader in the area of cold arid agro-animal technologies. The institute through its pioneering R&D efforts over the years has brought about perceptible qualitative and quantitative changes in agriculture, animal husbandry and cold desert flora of Ladakh.

Defence Institute of High Altitude Research (DIHAR) requires 01 Research Associate and 03 Junior Research Fellow in the following disciplines.

Post: Research Associate, Junior Research Fellow

National Institute for Research in Reproductive Health (NIRRH), formerly known as Institute for Research in Reproduction is a premier research institute of the Indian Council of Medical Research (ICMR). It is situated in the vicinity of a number of hospitals and research institutes in central Mumbai. Since its inception in 1970, it has been making vigorous efforts to improve the reproductive health of people through research, education and health care services.
Applications are invited for the following Non-Institutional post to be filled on purely temporary basis for ad-hoc projects
Post: Research Associate, Junior Research Fellow
Indian Institute of Chemical Technology (IICT), Hyderabad, a constituent of CSIR is a leading research Institute in the area of chemical sciences. The core strength of IICT lies in Organic Chemistry, and it continues to excel in this field for over six decades. The research efforts during these years have resulted in the development of several innovative processes for a variety of products necessary for human welfare such as drugs, agrochemicals, food, organic intermediates, adhesives etc. More than 150 technologies developed by IICT are now in commercial production.
The Centre for Cellular and Molecular Biology (CCMB) is one of the constituent national laboratories of the Council of Scientific & Industrial Research (CSIR) and a premier scientific institute that conducts high quality research in frontier and multi-disciplinary areas of modern biology.
Post: Project Junior Research Fellow / Project Fellow, Post Doctoral Fellow/Research Associate
Applications are invited for the following post purely time-bound research project undertaken in the University Institute of Pharmaceutical Science & Research, Sadiq Road, (old Medical College building), Faridkot
Post: Junior Research Fellow
Dibrugarh University, the easternmost University of India was set up in 1965 under the provisions of the Dibrugarh University Act, 1965 enacted by the Assam Legislative Assembly. It is a teaching-cum-affiliating University with limited residential facilities. The University is situated at Rajabheta at a distance of about five kilometres to the south of the premier town of Dibrugarh in the eastern part of Assam as well as India. The University is located in a campus of 203 hectares out of which 74.3 hectares are under tea plantation.
Post: Junior Research Fellow (JRF)/ Senior Research Fellow (SRF)