Projects
---
Perrigo is a leading global healthcare supplier that develops, manufactures, markets and distributes over-the- counter (OTC) products, prescription pharmaceuticals, nutritional products, active pharmaceutical ingredients (API) and consumer healthcare products.
Post: Junior Executive Projects
India's internationally renowned The Maharaja Sayajirao University of Baroda (1949) has blossomed from the Baroda College (1881) which is one of the oldest centres of learning in western India. MSU is the only state University with a residential, unitary character having English as sole medium of instruction with more than 1200 well-qualified faculty members and 1500 administrative staff to facilitate the learning of more than 35000 students having cosmopolitan life on campus. The rich legacy of the University is crowned by the names of stalwarts like Nobel Laureate Dr. Venkatraman Ramakrishnan, Shri Aurobindo, Bharat Ratna Acharya Vinobha Bhave, Gyanpith awardee Shri Rajendra Shah, Dr. I. G. Patel, Lord Bhikhu Parekh, Shri Sam Pitroda, Prof. K. G. Subramanyan and many more.
Applications are invited for the two positions of Junior Research Fellow to work under SERB, DST sponsored research project "Functional characterization of Metacaspase gene family in Solanum lycopersicum". Duration of project is for three years.

Post: Junior Research Fellow: 02
ECHS Invites applications to engage the under mentioned Medical/Para Medical & Non Medical Staff on contractual basis in ECHS Polyclinic, Ahmedabad for a period of 12 months and renewable yearly at following monthly contractual fees:
Post: Pharmacist

IICB Institute was established in 1935 as the first non official centre in India for biomedical research and was included within the aegis of CSIR in 1956.
IICB today is engaged in research on diseases of national importance and biological problems of global interest, employing sophisticated state-of-the-art technology in keeping with the rapid and unprecedented momentum that life science research has gained globally over the last 50 years.
Post: RA/SRF (Extended)
Madurai Kamaraj University, established in 1966, has 18 Schools comprising 73 Departments. The Directorate of Distance Education of the University has a student strength of about 1.30 lakhs. The University has 109 affiliated Colleges (9 Autonomous) including other approved institutions and 7 evening colleges. There are centres which promote research potential of teachers. Extension activities are carried out through Department of Youth Welfare, NSS, SC/ST cell and Adult Education programmes.
Applications are invited for Two Junior Research Fellow positions in Indo-UK Project entitled "RICEFUEL: Engineering enzymes, for advanced biofuels", at Dept, of Genetics, School of Biological sciences, Madurai Kamaraj University, Madurai.
Post: Junior Research Fellow
Applications are invited for one Research Fellow/Project Assistant position in a SERB, DST sponsored research project entitled 'Comparative evaluation of pharmacokinetic parameters & brain targeting efficiency of antipsychotic drug loaded nano-emulsion following intranasal and intravenous administration' (SR/FT/LS-135/2012 dated 11th January, 2013.)
Post: Research Fellow/Project Assistant
The Advanced Centre for Treatment, Research and Education in Cancer (ACTREC, Kharghar, Navi Mumbai is the new state-of-the-art R&D satellite of the Tata Memorial Centre (TMC), which also includes under its umbrella the Tata Memorial Hospital (TMH), the largest cancer hospital in Asia. ACTREC has the mandate to function as a national centre for treatment, research and education in cancer. TMC is an autonomous grant-in-aid institution of the Department of Atomic Energy (DAE), Government of India. It is registered under the Societies Registration Act (1860) and the Bombay Public Trust Act (1950). Its Governing Council is headed by the Chairman, Atomic Energy Commission, Government of India.

Post: Research Associate, Project Assistant
National Chemical Laboratory (CSIR-NCL), Pune, established in 1950, is a constituent laboratory of Council of Scientific and Industrial Research (CSIR). CSIR-NCL is a science and knowledge based research, development and consulting organization. It is internationally known for its excellence in scientific research in chemistry and chemical engineering as well as for its outstanding track record of industrial research involving partnerships with industry from concept to commercialization.
Applications are invited on plain paper for filling up temporary position(s) of Project Assistant (PA II) under 12th Five year plan project under 'Chemical Sciences Cluster' on contract basis, as per the following details: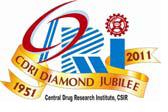 CSIR-Central Drug Research Institute, Lucknow is a premier R&D Institute under the aegis of Council of Scientific and Industrial Research (CSIR), New Delhi which is an autonomous body under Department of Scientific and Industrial Research, Government of India. The institute is engaged in the development of new drugs and diagnostics in various therapeutic areas like malaria, tuberculosis, filarial, leishmania, cancer, thrombosis, hypertension, dementia, diabetes, lipid disorders, gastric ulcer, osteoporosis, prostatic hyperplasia, etc.
Applications on the prescribed forms are invited from the eligible Indian Nationals for the following posts:-
Post: Project Junior Research Fellow, Project Fellow, Senior Project Fellow, Project Assistant

Indian Institute of Technology Guwahati, the sixth member of the IIT fraternity, was established in 1994. The academic programme of IIT Guwahati commenced in 1995. At present the Institute has eleven departments and three inter-disciplinary academic centres covering all the major engineering, science and humanities disciplines, offering BTech, BDes, MA, MDes, MTech, MSc and PhD programmes. Within a short period of time, IIT Guwahati has been able to build up world class infrastructure for carrying out advanced research and has been equipped with state-of-the-art scientific and engineering instruments.