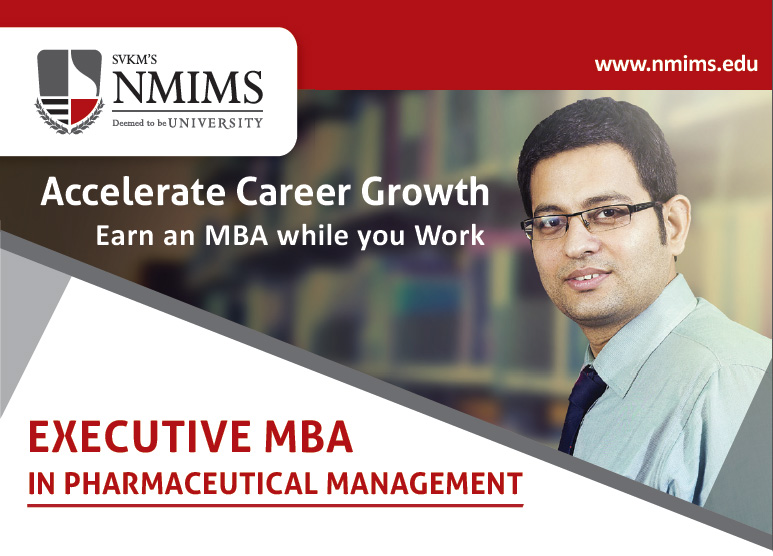 Dear Sir/Madam,
Indian pharma industry today is one of the fast growing industries. The employment opportunities in pharma space are fast increasing both in the domestic as well as global markets. Majority of top pharma companies in India are expanding their operations across countries and the source of talent is largely from India. To capture these ever expanding plethora of domestic and global opportunities, it's vital to build knowledge base beyond a specific function and have holistic perspective of pharma business whether one is currently in sales, marketing, supply chain, regulatory, finance, HR, legal or any other function. From the organisational end also, the senior pharma leaders (MDs/CEOs,HR Heads, Business Heads) have also realised and expressed distinct need to have holistic Pharma managers whom they can fast-track to middle/senior management positions.
Understanding this need, NMIMS, the pioneer in pharmaceutical Management education with its Full time MBA program rated highest in the country, has started Executive MBA in Pharmaceutical Management at its prestigious School of Business Management. The Key highlights of the Executive MBA in Pharmaceutical Management program (detailed brochure enclosed) are:
It is designed for working pharma managers who will gain holistic perspective of the pharma organisation/functions such as Marketing, Sales, Manufacturing, Regulatory, HR, Finance, Strategy, Pharma laws and also have a much cherished MBA degree from leading business school of the country.
It is designed picking up the best practices (curriculum, faculty, teaching methods (case studies/ projects/ expert sessions etc) of the current flagship Pharma MBA full time program of the School of Business Management, NMIMS, running successfully over a decade and ranks amongst the highest.
It has syllabus designed in consultation with the top industry professionals to cover breadth and depth of all the subjects including the contemporary ones.
The faculty is high profile with vast experience of the industry.
The course is a mix of a practical, job relevant content and actual practices.
It suits the convenience of the working managers: Duration 2 years; Weekend program held on Saturdays and Sundays conducted at the New state-of-art campus of School of Business Management, NMIMS in Mumbai.
It has limited seats to ensure quality discussions and education.
The process of admission is kicked off. Academic session will begin in August, 2016 :
Application to be made Online at NMIMS website. Online registration is open now.
Please feel free to reach out to me at Yugal.Sikri@nmims.edu, if you feel I could be of any help. If more information is required, Jaydev Vasu can be reached out (email : Jaydev.Vasu@nmims.edu; Landline: 022 42355718; mobile: 09619246356).
To my mind, this is a great opportunity for all working executives and managers in pharmaceutical companies with ambition to move in hierarchy to reap the benefit of this program.
Thanks and warm regards,
Yugal Sikri
Chairman, Pharmaceutical Management, School of Business Management
Director, Pharmaceutical Technology Management, School of Pharmacy and Technology Management