Opportunity for M.Pharm or B.Pharm as Assistant Manager at Syngene International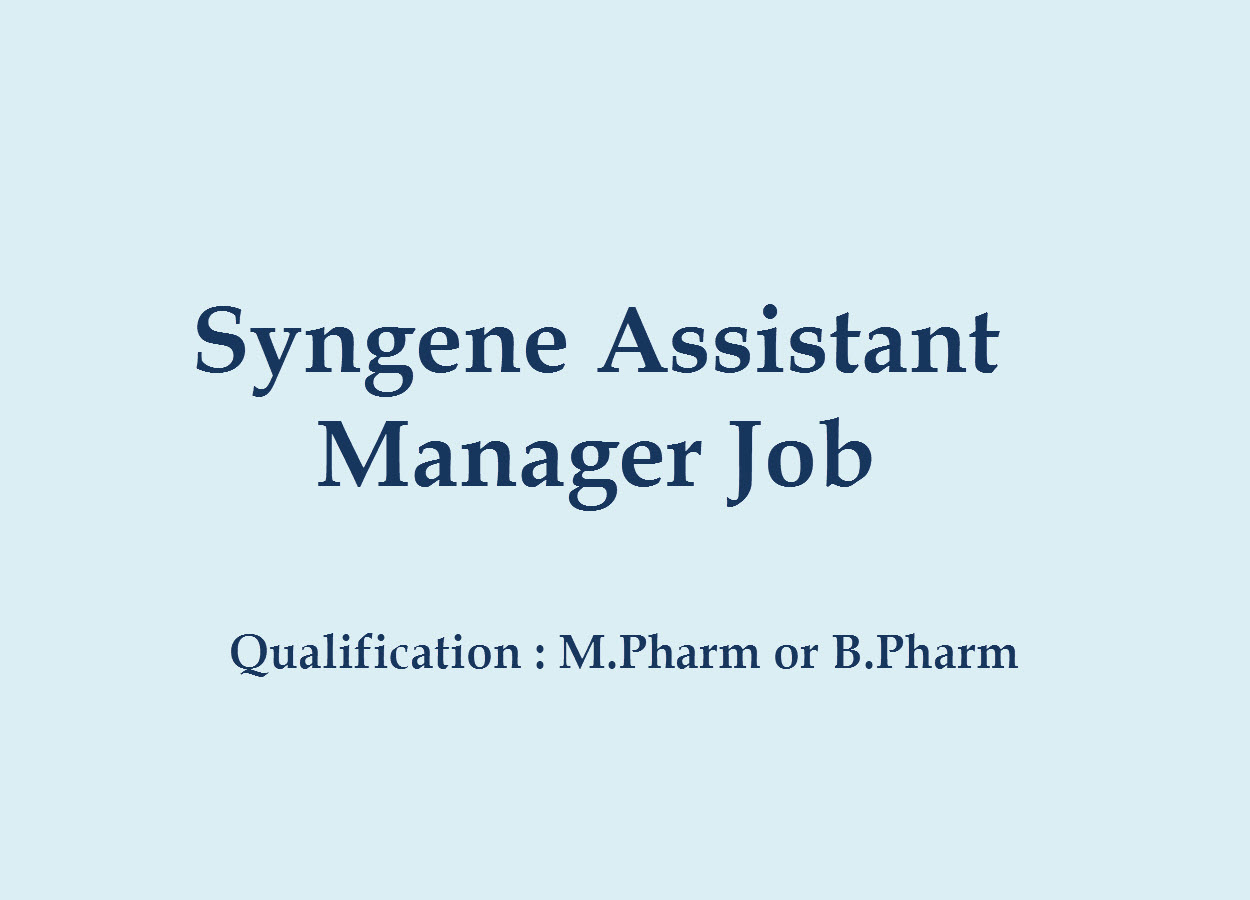 Syngene International is one of India's premier contract research and manufacturing organizations in providing customized service. Our services encompasses all across discovery chain: early stage discovery, process development, cGMP manufacturing and formulation development both in the small molecule and novel biologics area. Based in Bangalore, Karnataka, the Company is situated in a 90 acre Special Economic Zone with over 100000 sq. mt of built up facilities.
Post : Assistant Manager - Corporate Quality Assurance
Job Description
Primary Job Responsibilities
• Ensure organizational IT compliance with corporate policy, procedures, applicable laws and regulations by supporting audits and monitoring.
• Ensure 21 CFR Part 11, Annex 11 and DI compliance through internal policies and procedures.
• Ensure compliance in Computer System Validation (CSV).
• Drafting policies and procedures for Corporate quality/IT function.
• Develop a compliance Strategy for IT/CSV /Automated Process verification activities as part of Corporate Quality
• Integrate the IT policies and procedures in line with the corporate quality management plan.
• Face regulatory audits, Client audits and support internal audits.
• Participating in Functional Risk Assessment during execution of Computer System Validation projects to advice/develop on mitigation plans.
• Monitor implementation of action plans to ensure risk mitigation efforts are proceeding as required.
• Liaise with department and BU heads on the adequacy of proposed actions in management of risk areas highlighted in internal & external audits.
• Support investigations for potential compliance issues in Information security and data management.
• Implement the best practice of part 11 requirements as Corporate quality initiative of continual improvement.
• Understand the complexities of procedures and regulations in Pharmaceutical/Healthcare industries and advise on the needed changes in the compliance monitoring.
• Work within an interdisciplinary research and manufacturing team and support in resolving compliance issues.
• With effective communication Presentation, inter-personal Skills build network among the different vertical/BUs and coordinate with them from ITQA front.
• Training: Identify training needs from audit experience and participate in group discussions, seminars, workshops etc.
• Execute defined strategic plans.
• Any other tasks assigned by the manager time to time.
• Follow environment, health, and safety (EHS) requirements at all times in the workplace ensuring individual and lab/plant safety.
• Attend training on environment, health, and safety (EHS) measures imparted company.
Candidate Profile
• Diploma/ BE/ BCA/ B Sc / M.Sc (Computer Science)/ B. Pharm/ M. Pharm
• Functional and Administration exposure in Enterprise Applications (like SAP, Learning Management System, Trackwise, Document Management System) and Analytical & Manufacturing Process Applications like Chromatography Data Management system (CDMS), Lab Solutions, Particle Analyzer, Instrument calibration and maintenance system (ICMS), Distributed Control System (DCS,) Supervisory Control and Data acquisition system (SCADA).
• Exposure to Part 11, GAMP 5, Annexure 11 and CSV flow.
• Compliance experience on IT enabled services.
• Life Science QMS procedures.
• Computer System Validation (CSV) deliverable preparation / review.
• Establish good Interpersonal skills with cross functional teams.
• Should have good communication skill and should be a good team player.
• Ability to work successfully in a dynamic, ambiguous environment.
• Ability to meet tight deadlines and prioritize workloads.
• Ability to develop new ideas and creative solutions.
• Should be a focused employee.
Additional Information
Qualification : M.Pharm or B.Pharm, B.Sc, M.Sc
Experience : 8-10 years
Location : Bangalore
Industry Type : Pharma/ Healthcare/ Clinical research
Req Id : 11997
End Date : 30th July, 2020
See All  Syngene Jobs M.Pharm Alerts    Ph.D Alerts   Bangalore Alerts
See All   Other Jobs in our Database
Subscribe to Pharmatutor Job Alerts by Email