Career for Ph.D, M.Pharm, M.Sc as Medical Writer at Novo Nordisk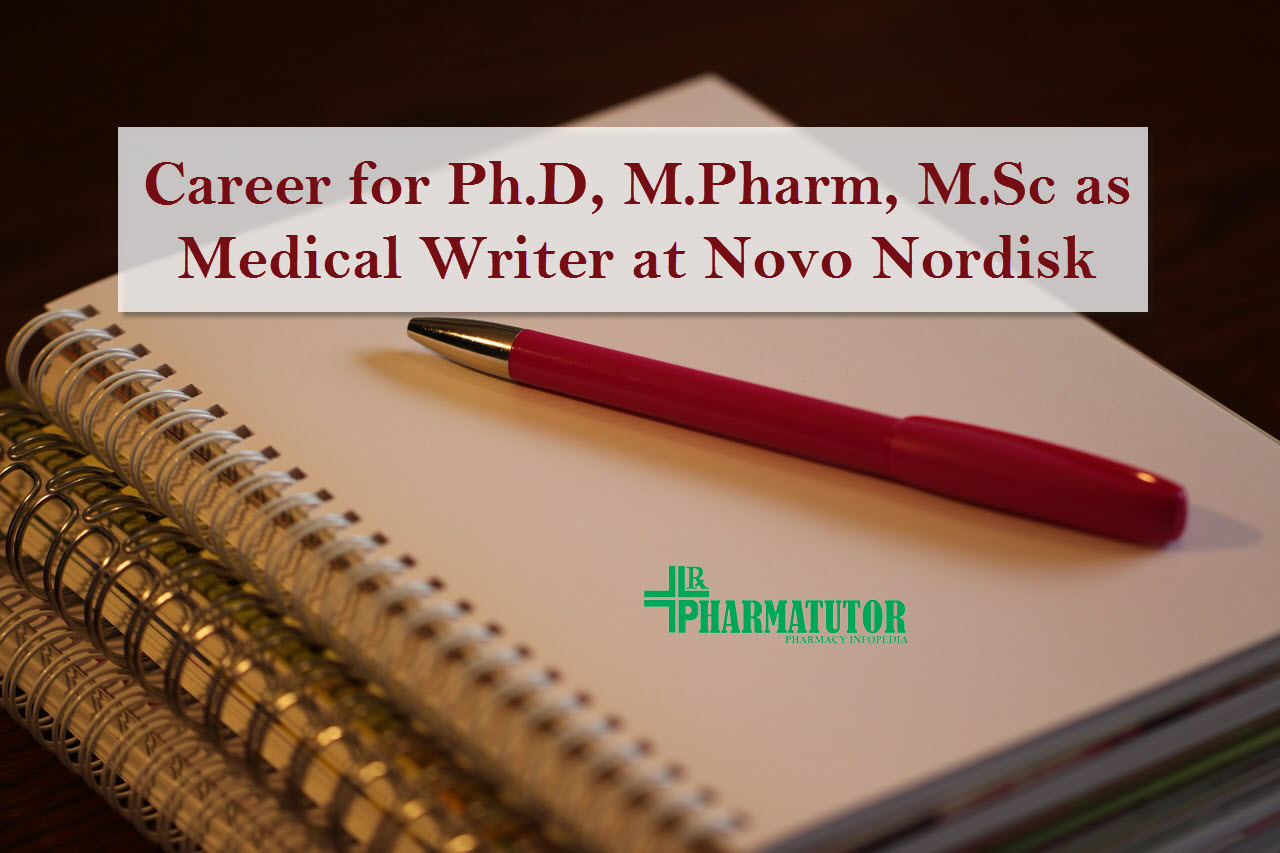 Novo Nordisk is a global healthcare company with 89 years of innovation and leadership in diabetes care. The company also has leading positions within Haemophilia care, growth hormone therapy and hormone replacement therapy.
Post : Medical Writer in Global Development
About the department
The Medical Writing unit has seen a tremendous growth curve and has become an integral part of the Global Clinical Reporting community in a short span of 6-7 years, since its inception in 2011. It is a dynamic mix of young, enthusiastic, qualified and skilled Medical Writers and Publishers who are full of commitment, passion, skills and talent. The team is a right blend of professionals with Masters/PhD in pharmacology, medicine, toxicology etc. with broad background knowledge on different therapeutic areas and medical basics. The team has an average experience of 7-8 years in writing and reviewing regulatory documents and publications.
The unit witnessed a steep learning curve with improved complexities of deliverables and now contributes largely to different project areas, with an extended expertise to non-clinical and public disclosure activities. The deliverables of Medical Writing Department currently include writing, reviewing, and publishing of clinical trial reports (CTR) for Phase 1 to 4 trials, non-interventional study reports (NSR), IMPDs, clinical overviews, expert overviews, IB updates, manuscripts for publications in peer reviewed journals, involvement in submission subtasks (Protocol deviations, narratives, CRF trackers) and involvement in Adcomm slides preparation/trial specific slide packages. This team is also involved in non-clinical document publishing and largely contributes to NN's regulatory commitments by being involved in Public disclosure activities including lay person summaries.
The position
As a Medical Writer, you will be responsible to Perform medical writing tasks like preparation or review of protocol registration and results disclosure of clinical trials to different registries. You will be responsible for Justifying the tables and anonymization reports for redacted document's by ensuring its timely submission.  Additionally, you must contribute ongoing process improvements in cross-functional team, global collaboration and sharing best practices and knowledge. And, you will require to maintain up-to-date knowledge on global regulatory requirements, competencies within relevant therapeutic and other policies related to clinical trial disclosure and transparency.  Finally, you will also be involved in relevant meetings, training sessions, internal or external marketing or medical activities like expert meetings, lectures and conferences and seminars in the department, competency anchor and relevant projects.
Candidate Profile
• PhD, MSc., M Pharm, MD, BDS, DVM or equivalent
• 2+ years of experience in Medical Writing with clinical trail disclosure which is Mandate
• Strong understanding of external requirements related to regulatory documents
• Works independently on smaller tasks
• Strong analytical skills
• Committed, persistent and accountable
• Able to manage variable workload
Additional Information
Qualification :  PhD, MSc., M Pharm, MD, BDS, DVM
Location : Bangalore, Karnataka
Industry Type : Pharma / Healthcare / Clinical research
Functional Area : Global Development
End Date : 30th July, 2020
See All   Novo Nordisk Jobs   M.Pharm Alerts    Ph.D Alerts   Bangalore Alerts
See All   Other Jobs in our Database
Subscribe to Pharmatutor Job Alerts by Email