HEALTH BENEFITS OF WHITE TEA: A CLINICAL REVIEW
About Authors:
Prof. Satyanand Tyagi*1, Patel Chirag J2, Pinkesh Patel2, Chaudhari Bharat2, Tarun Parashar3, Soniya3, Ankur Massey4
*1President & Founder, Tyagi Pharmacy Association (TPA) & Scientific Writer (Pharmacy), Chattarpur, New Delhi, India-110074.
2Department of Pharmaceutics, Maharishi Arvind Institute of Pharmacy, Mansarovar, Jaipur, Rajasthan, India-302020.
3Department of Pharmaceutics, Himalayan Institute of Pharmacy and Research, Rajawala, Dehradun, Uttarakhand, India-248007.
4Institute of Pharmacy, Bundelkhand University, Jhansi, Uttar Pradesh, India-284128.
*sntyagi9@yahoo.com,+91-9871111375/9582025220
ABSTRACT:
Tea has been used as medicine for centuries. Now modern science is discovering what people in China and throughout the world have long known: tea is good for us. While green and black teas are very healthy, white tea is the least processed tea and has the highest antioxidant levels.
It may be the supreme Drink of Health.By now we can see that white tea has a great range of effects on the body and a tremendous number of benefits to our health. Its supreme power is in preventing disease and disorder. White tea protects against cancer, heart disease, and stroke, the leading causes of death in the industrial world, as well as numerous other conditions. It eases the symptoms of illness and promotes recovery. White tea strengthens the circulatory and immune systems as well as bones and teeth, and builds healthy skin. It is a superb tonic and one of Nature's great gifts. White tea has many other benefits to offer. It may reduce blood sugar and help prevent and alleviate the symptoms of diabetes. It reduces stress and increases energy. White tea may or may not aid in weight-loss. Studies suggest tea may increase metabolism and encourage the body to burn more fat, but a balanced diet and regular exercise are more likely to produce results. Still, adding white tea to our weight-loss plan can't hurt. Generally two cups of white tea is recommended per day for heart health and gastro-intestinal health and to get other health benefits. The aim of present article is to enumerate various health benefits of white tea especially its role in prevention of cardio-vascular diseases. An attempt is also made to focus or highlights on history, contents, manufacturing, production, varieties as well as recent studies as related to clinical uses of white tea.
*Prof. Satyanand Tyagi is a life time member of various pharmacy professional bodies like IPA, APTI and IPGA. He has published various research papers, review articles and short communications. He is member of Editorial Advisory Board for some reputed Pharmacy Journals. He is appointed as an Author for International Pharmaceutical Writers Association (IPWA). (Appointed as an author for the chapters of book on Pharmaceutical Chemistry). His academic work includes 74 Publications (64 Review Articles, 08 Research Articles and 02 short Communications of Pharmaceutical, Medicinal and Clinical Importance, published in standard and reputed National and International Pharmacy journals; Out of 74 publications, 11 are International Publications). His research topics of interest are neurodegenerative disorders, diabetes mellitus, cancer, rare genetic disorders, psycho-pharmacological agents as well as epilepsy.
Reference Id: PHARMATUTOR-ART-1582

INTRODUCTION: HISTORY, CONTENTS AND MANUFACTURING
White tea (Fig. 1-5.) is a lightly oxidized tea grown and harvested primarily in China, mostly in the Fujian province. More recently it is grown in Taiwan, Northern Thailand and Eastern Nepal. White tea comes from the buds and leaves of the Chinese Camellia sinensis plant. White tea is made from the buds of the tea plant. It is steam dried quickly after the leaves are picked- there is no oxidation at all. Because there is no oxidation, it contains the most anti-oxidants and catechins, the least caffeine, and has a pale color with a delicate, sweet taste. This tea is pale yellow or green in color. The leaves and buds are allowed to wither in natural sunlight before they are lightly processed to prevent oxidation or further tea processing. The name "white tea" derives from the fine silvery-white hairs on the unopened buds of the tea plant, which gives the plant a whitish appearance. The beverage itself is not white or colorless but pale yellow. Scholars and tea merchants generally disagree as to when the first production of white tea (as it is understood in China today) began. What is today known as white tea may have come into creation in the last two centuries.
White tea requires great care and effort to produce. Special varieties of the tea bush are selected and tended for several years before yielding their first harvest. Early spring provides the best white tea. When the time is right, the workers carefully hand-pick the silver buds and select leaves. There is no picking on rainy days or when frost is on the ground. White tea can only be picked for a short time each year, making it rare and precious. The buds and leaves are then steamed and slowly dried. Unlike black or green tea, white tea is not rolled, and only slightly oxidized, making it the least processed tea. This may account for its powerful health benefits.

Figure 1. White Tea Leaves: White tea is made from the buds of the tea plant. It is steam dried quickly.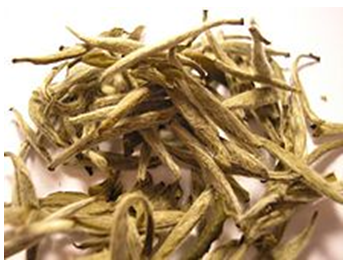 Figure 2.  White Bai Hao Yinzhen Tea Leaves: A Typical Chinese white Tea Leaves

Figure 3.  White Tea(Pai Mu Tan) Made-in-China

Figure 4.  A View of white Tea

NOW YOU CAN ALSO PUBLISH YOUR ARTICLE ONLINE.
SUBMIT YOUR ARTICLE/PROJECT AT articles@pharmatutor.org
Subscribe to Pharmatutor Alerts by Email
FIND OUT MORE ARTICLES AT OUR DATABASE
Pages