ALZHEIMER DISEASE AND CONTRIBUTION OF NANOTECHNOLOGY AND HERBALTRADITIONAL DRUGS IN THE TREATMENT OF ALZHEIMER DISEASE
4.3 Nanocarriers
·        Targeted drug delivery is an important application of nanomedicine . With regard to diseases of central nervous system (CNS) it is appreciably complicated due to the additional obstacle of the blood brain barrier (BBB) against the entry of a variety of molecules into the CNS tissue.
·        The use of biocompatible nanoparticles to facilitate the traverse of therapeutic agents across BBB has been extensively researched in the past decade.

TABLE.4.SUMMARY OF APPLICABLE NANOCARRIER SYSTEMS IN AD TREATMENT

THE SUMMARY OF APPLICATIONS OF NANOTECHNOLOGY IN THE TREATMENT OF ALZHEIMER DISEASE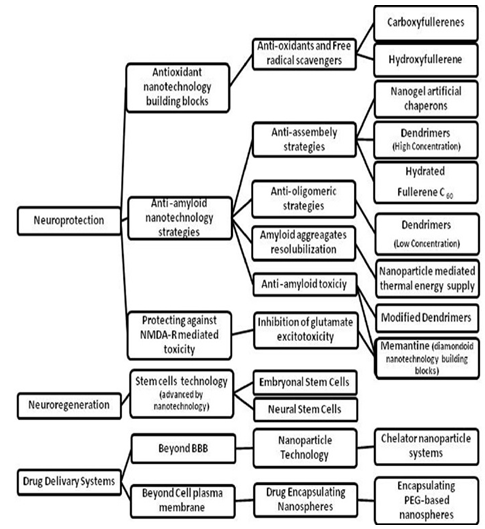 5. NATURAL MEDICINES IN THE CLINICAL MANAGEMENT OF ALZHEIMER'S DISEASE

There is no cure for Alzheimer's, but certain foods and herbs may help to support mental function and slow the progression of this disease. Herbs can be toxic in high doses and may interact with medications, so consult with your health care practitioner before taking them.
Commonly Used Conventional and Natural Medicines for Alzheimer's Disease*
Cholinergic Agents
Conventional Medicines

Acetylcholinesterase Inhibitors

Donepezil (Aricept)
Galantamine (Razadyne)
Rivastigmine (Exelon)
Tacrine (Cognex)

Cholinergic Receptor Agonists

Natural Medicines

Acetylcholinesterase Inhibitors

Acetylcholine Precursors

Acetyl-L-carnitine
Choline
DMAE(Dimethylaminoethanol)
Lecithin
Phosphatidylcholine
Phosphatidylserine
NMDA Inhibitors
Conventional Medicines
Natural Medicines
Antioxidants
Conventional Medicines
Natural Medicines

Beta-carotene
Ginkgo leaf(Ginkgo biloba)
Vitamin C
Vitamin E
Anti-inflammatory Agents
Conventional Medicines
Natural Medicines

Cat's claw(Uncaria tomentosa)
Ginkgo leaf(Ginkgo biloba)
Gotu kola(Centella asiatica)
Hormonal Agents
DHEA(Dehydroepiandrosterone)
Miscellaneous
Folic acid
Vinpocetine
Vitamin B6
Vitamin B12
Huperzine A
·        Is an alkaloid isolated from Huperzia serrata (Chinese club moss). It is now showing up on store shelves in brand name products with enticing names.
·        Cerebra, Memorall, MindPro,  Memory Mate. It works just like the prescription acetyl cholinesterase inhibitors. But there is some evidence that it might actually be more specific for acetylcholinesterase and have a longer duration of action than donepezil (Aricept) or tacrine (Cognex).
·        Huperzine A might also have another beneficial effect for Alzheimer's patients. It seems to have N-methyl-D-aspartate (NMDA) receptor antagonist properties in animal models. Theoretically, it might protect neurons against toxic levels of glutamate.
·        This is similar to the new Alzheimer's drug memantine (Namenda).
Even though huperzine A blocks NMDA receptors like memantine, it might not be as beneficial as memantine.
·        Huperzine A has low affinity for NMDA receptors. No clinical research has evaluated huperzine A in patients with moderate to severe AD.There is some clinical evidence that huperzine A can improve cognitive and behavioral function in Alzheimer's patients.

GINKGO BILOBA DRUG (HERBAL SUPPLEMENT)
Drug trade name- Ginkgo Biloba
Generic name- the Ginkgo and Maidenhair Tree
Group- Herbs
Introduction and Quick Information about Ginkgo Biloba: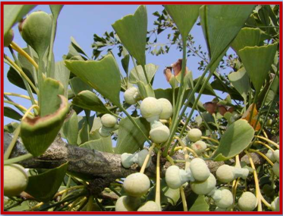 FIG.10 - GINKGO BILOBA
Ginkgo biloba (ginkgo) is the most famous prescribed supplement. All the supplements which are formulated from this tree are formulated from the leaves of the Ginkgo. It is a rare species of tree which is very effective and does not have any related species. This tree was usually introduced and cultivated during early periods in human history, and has lots of benefits like traditional medicines and numerous other uses. The supplement is said to be helpful for various medicinal uses, although mostly individuals have it to enhance their mental or memory functioning.
The supplement has been utilized for increasing memory power, improving blood circulation, boosting concentration ability because of certain brain disease like dementia & Alzheimer's disease. Ginkgo biloba has blood-thinning properties as well. The supplement can also help to stop damage of cells and also can be used for dizziness, eye problems, and premenstrual syndrome.
Is Ginkgo BilobaApproved by FDA?
There is no such information available whether Ginkgo Biloba has been approved by U.S. FDA (Food and Drug Administration). As this is totally natural it should be harmless but for safeguard purposes you must consult your health care provider before using it.

Usage and Benefits of Ginkgo Biloba:
Ginkgo Biloba is the recommended supplement for the treatment of Alzheimer's disease. This supplement is designed with the help of many effective herbs which is frequently utilized for boosting memory and thus overcoming to an extent the deadly diseases such as Alzheimer's disease, dementia.
Alzheimer's disease is a kind of brain disease which leads to the problems in behavior, thinking, and memory.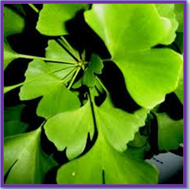 FIG.11 - GINKGO BILOBA
NOW YOU CAN ALSO PUBLISH YOUR ARTICLE ONLINE.
SUBMIT YOUR ARTICLE/PROJECT AT articles@pharmatutor.org
Subscribe to Pharmatutor Alerts by Email
FIND OUT MORE ARTICLES AT OUR DATABASE
Pages