You are hereBiotechnology
Biotechnology
---
CSIR - Institute of Microbial Technology, Sector-39/A, Chandigarh desires to engage Research Associate/Senior Project Fellows/ Project Fellows/ Project Assistant, Research Intern on purely temporary basis on contract under DBT/CSIR sponsored project at IMTECH. However, the number of positions may vary depending upon the requirement of the Institute. A General Panel will be operative for a maximum period of one year from the date of interview.
Post: Research Associate, Senior Project Fellow, Project Assistant, Project Fellow, Research Intern, Senior Research Fellow

Bihar Medical Services & Infrastructure Corporation has been established by Bihar Government with the objective to expedite creation and streamlining of existing infrastructure and services in the healthcare sector. The Corporation is the sole procurement and distribution agency for drugs and equipment for all healthcare institutions of Govt. of Bihar. In addition, t he Corporation is responsible for undertaking construction of healthcare facilities and related infrastructure/buildings in the State. The corporation is also working in areas of healthcare services management, public private partnership for he althcare service delivery and related areas.
BMSICL invites applications from bright, motivated, hardworking eligible candidates for the following positions:
Post: Assistant Manager, Executive
National Brain Research Centre is the only institute in India dedicated to neuroscience research and education. Scientists and students of NBRC come from diverse academic backgrounds, including biological, computational, mathematical, physical, engineering and medical sciences, and use multidisciplinary approaches to understand the brain. Located in the foothills of the Aravali range in Manesar, Haryana, NBRC is an autonomous institute funded by the Department of Biotechnology, Government of India, and is also a Deemed University.
NATIONAL BRAIN RESEARCH CENTRE (NBRC), Manesar-122 051, Gurgaon, requires one Research Associate in Prof. Neeraj Jain's Laboratory for a Project funded by Department of Biotechnology.
Post: Research Associate
Novozymes is a biotech company with a strong focus on enzyme production. We are committed to changing the very foundations of our industrial system for the better by using industrial biotechnology.
As the world leader in bioinnovation we believe that by using industrial biotechnology we can potentially re-engineer thousands of everyday products to deliver enhanced sustainability performance, introducing energy cost savings, and decreased raw material costs for our customers.
Post: Patent Analyst
The Indian Council of Medical Research (ICMR), New Delhi, the apex body in India for the formulation, coordination and promotion of biomedical research, is one of the oldest medical research bodies in the world.
As early as in 1911, the Government of India set up the Indian Research Fund Association (IRFA) with the specific objective of sponsoring and coordinating medical research in the country. After independence, several important changes were made in the organisation and the activities of the IRFA. It was redesignated in 1949 as the Indian Council of Medical Research (ICMR) with considerably expanded scope of functions.
Following positions are to be filled purely on temporary and contract basis for a period of one year or till completion of the projects:-
National Institute for Research in Reproductive Health (NIRRH), formerly known as Institute for Research in Reproduction is a premier research institute of the Indian Council of Medical Research (ICMR). It is situated in the vicinity of a number of hospitals and research institutes in central Mumbai. Since its inception in 1970, it has been making vigorous efforts to improve the reproductive health of people through research, education and health care services.
Applications are invited through Walk-in-Interview on 05-09-2014 between 09:00 hrs. and 12:00 hrs. for the following vacancy under Non-Institutional ad-hoc project.
National Institute of Pharmaceutical Education and Research (NIPER) is the first national level institute in pharmaceutical sciences with a proclaimed objective of becoming a centre of excellence for advanced studies and research in pharmaceutical sciences. The Government of India has declared NIPER as an 'Institute of National Importance'. It is an autonomous body set up under the aegis of Department of Pharmaceuticals, Ministry of Chemicals and Fertilizers, Government of India. The Institute is conceived to provide leadership in pharmaceutical sciences and related areas not only within the country, but also to the countries in South East Asia, South Asia and Africa. NIPER is a member of Association of Indian Universities and Association of Commonwealth Universities.
Applications are invited for three positions of Junior/Senior Research Fellow under the projects entitled: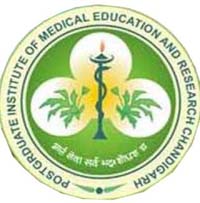 The PGIMER owes its inception to the vision of late Sardar Partap Singh Kairon, the then Chief Minister of Punjab and the distinguished medical educationists of the then combined state of Punjab, supported by the first Prime Minister of India Pt. Jawahar Lal Nehru who considered the institutions of scientific knowledge as temples of learning and the places of pilgrimage. The institute started in 1962 and Pt Jawahar Lal Nehru inaugurated the hospital now named "Nehru Hospital" on 7th July 1963. The Institute was originally under the Government of undivided Punjab. After the reorganization of the state, the administrative control of the institute passed on to the Union Territory of Chandigarh in November 1966. The Institute became an autonomous body under the Act of Parliament in 1967 functioning under the Ministry of Health and Family Welfare, Government of India.
Post: Senior Research Fellow
Applications are invited from eligible candidates for the temporary positions (Two Senior Research Fellows and one Research Associate) in the ongoing ICAR Niche Area of Excellence project entitled "Toxicodynamic studies on impact of environmental pollutants on bovine reproduction with particular reference to regulatory pathways". Application may be addressed to the Principal Investigator, Niche Area of Excellence, Department of Pharmacology and Toxicology, DUVSU, Mathura on the prescribed application form.
Post: Two Senior Research Fellows and one Research Associate
Eligible and interested candidates may attend the interview for purely temporary engagement as Research Associate, Project Fellow, Project Assistant Level-I & Level-II under CSIR/different externally funded Projects tenable at Indian Institute of Toxicology Research, Lucknow. Project wise vacancy position, Date of Interview and qualification details are as under:
Post: Project Fellow, Project Assistant, Research Associate