M.Sc
---
PharmaTutor is mainly intended to promote rapid publication (original research articles, review articles, and Short communication) in all fields of Pharmaceutical, Health and allied biosciences. PharmaTutor will primarily publish the manuscripts on original work; either experimental or theoretical that adheres to scientific excellence pertaining to Pharmaceutical, Health and allied biosciences.

Publication of Vol 2 Issue 03 is scheduled in March 2014. We call upon the authors, researchers and colleagues to contribute the articles for upcoming issues (March 2014 & next issues).

You can read past issues online at any point of time on:
http://www.pharmatutor.org/magazines/latest-issues
NOW YOU CAN ALSO PUBLISH YOUR ARTICLE ONLINE AND YOU WILL GET CERTIFICATE FOR SUBMISSION.

SUBMIT YOUR ARTICLE/PROJECT/SHORT COMMUNICATION ALONG WITH YOUR SCAN PHOTOGRAPH AND COPYRIGHT FORM AT editor-in-chief@pharmatutor.org

A global healthcare leader, Novartis has one of the most exciting product pipelines in the industry today. A pipeline of innovative medicines brought to life by diverse, talented and performance driven people. All of which makes them one of the most rewarding employers in their field.

Post: Senior Scientist
The Himalaya Drug Company was founded in 1930 by Mr. M. Manal with a clear vision to bring Ayurveda to society in a contemporary form and to unravel the mystery behind the 5,000 year old system of medicine. This included referring to ancient ayurvedic texts, selecting indigenous herbs and subjecting the formulations to modern pharmacological, toxicological and safety tests to create new drugs and therapies.

Post: Research Associate/Scientist
WHO is the directing and coordinating authority for health within the United Nations system. It is responsible for providing leadership on global health matters, shaping the health research agenda, setting norms and standards, articulating evidence-based policy options, providing technical support to countries and monitoring and assessing health trends.

Post: Coordinator, Health Programmes
The Laboratory of Experimental Radiotherapy has profiled itself as a translational research lab which is very strongly tied to the clinical Department of Radiation Oncology. This intense collaboration allows performing real from bench to bedside and back research including in vitro and in vivo work but also histological, molecular and imaging analyses of patient samples.
IDPL is the largest Central Pharma Public Sector Undertaking in India with plants at Rishikesh, Gurgaon & Hyderabad and two Subsidiary Units at Chennai and Muzaffarpur. IDPL played a major role in the strategic National Health Programmes like Family Welfare Programme & Population Control (Mala-D & Mala-N) anti-malarials (Chloroquine) and prevention of dehydration (ORS) by providing quality medicines. During the country's calamity of outbreak of Plague in 1994, IDPL was the only company which played the sheet anchor role in supplying Tetracycline for the entire Nation. Similarly, company had made uninterrupted supply of Chloroquine to combat Malaria epidemic in different parts of the country.
Applications are invited in IDPL Virbhadra, Rishikesh, Dehradun for posts of Senior Chemist, Chemist, Production Supervisor for one year of contract period. After satisfactory work, contact may extended.

Post: Senior Chemist, Chemist, Production Supervisor
RMRC in Belgaum in Karnataka was included in the 7th Plan and 20 acres of land were allotted to ICMR by the Karnataka Government in 1984 itself. The RMRC however could not become operational due to many constraints. This RMRC will address itself to studying not only well known local health problems like Kyasanur forest disease (KFD), Handigodu syndrome etc. specific to Karnataka, but also other common conditions like fluorosis, urolithiasis, pancreatic calcification, cardiomyopathies, etc.prevalent in Karnataka and the neighbouring states like Kerala. This RMRC will also focus on herbal remedies and traditional medicine. The health problems of the sizeable tribal population in the region will be studied.
The Institute of Chemical Technology (ICT) Mumbai was established as the Department of Chemical Technology on 1st October, 1933 by the University of Mumbai, through active support of industries and philanthropists. The Institute was most popularly known as UDCT, Mumbai. Research has been an integral part of ICT since its inception and it has created over 500 first generation entrepreneurs. The UDCT grew significantly in stature and was granted autonomy under UGC regulations by the University of Mumbai and further converted in to an Institute on 26th January, 2002. Under the World Bank TEQIP programme, the Maharashtra government granted it full autonomy in June 2004. Due to the recommendations of the Government of Maharashtra and University of Mumbai, the ICT was granted Deemed University Status by the MHRD on 12th September, 2008, with all provisions of the UGC for funding and support as the state owned deemed university.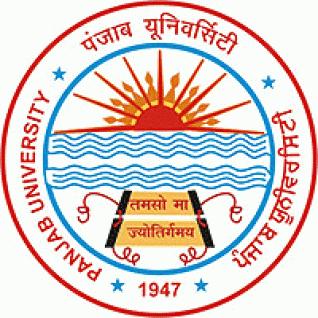 The University Institute of Pharmaceutical Sciences of the Panjab University is a premier institution of Pharmaceutical Education and Research in the country. The institute has covered a long and glorious journey of 76 years starting from Lahore in 1944 and finally settling to the present campus in Chandigarh at the foothills of Himachal. In its travelogue, the institute crossed multiple milestones and continue to head ahead towards the well-defined goals. The elevation of the status from department to the level of an institute i.e. University Institute of Pharmaceutical Sciences in 1994, and hosting of Indian Pharmaceutical Congress in the same year, two presidential honors of the Indian Pharmaceutical Congresses to its faculty members, a special recognition by the UGC by granting SAP in 1993 and COSIST in 1981 establishment of ICMR Advanced Centre for standardization of Drugs of Indian System of Medicine are some of the major hallmarks on the path treaded so far.
Applications are invited for the following positions in DST-Centre for Policy Research at Panjab University, Chandigarh. The positions are purely temporary for one year.
The history of Jamia Hamdard begins with the establishment of a small Unani clinic in the year 1906 by Hakeem Hafiz Abdul Majeed, one of the well-known practitioners of Unani System of Medicine of his time. Hakeem Hafiz Abdul Majeed had a vision of making the practice of Unani Medicine into a scientific discipline so that Unani medicines could be dispensed in a more efficacious manner to patients.