You are herePHARMACODYNAMIC INTERACTION OF FENUGREEK LEAVES EXTRACT WITH FLUVASTATIN IN DIABETES INDUCED VASCULAR DYSFUNCTION
PHARMACODYNAMIC INTERACTION OF FENUGREEK LEAVES EXTRACT WITH FLUVASTATIN IN DIABETES INDUCED VASCULAR DYSFUNCTION
---
FIGURE 1:GRAPHS OF TREATED GROUPS: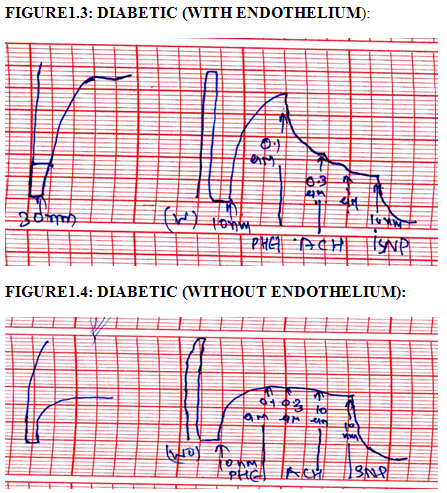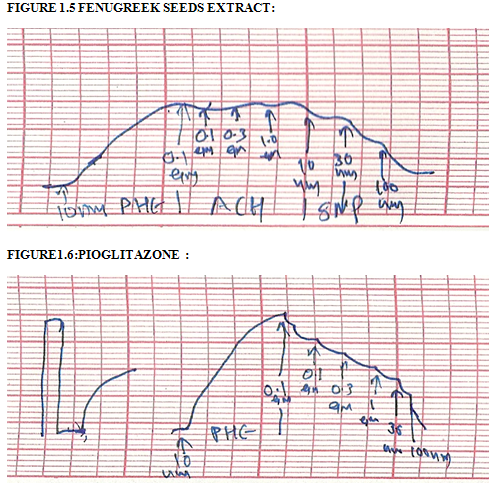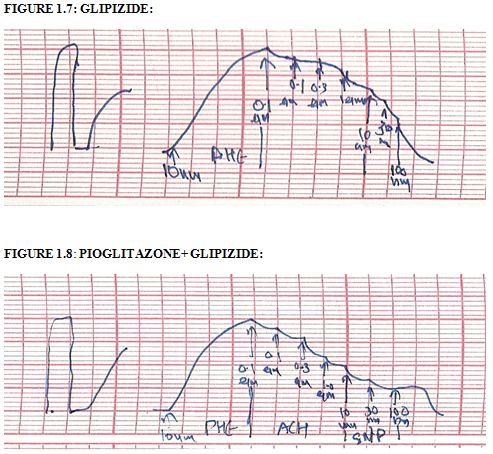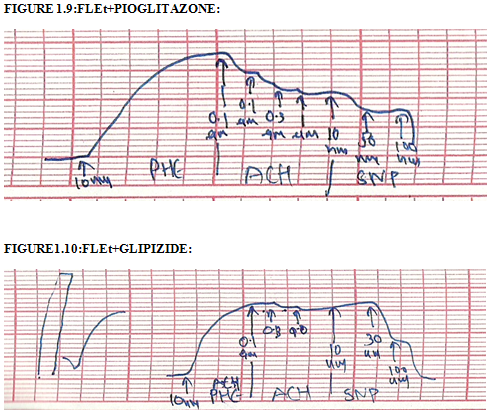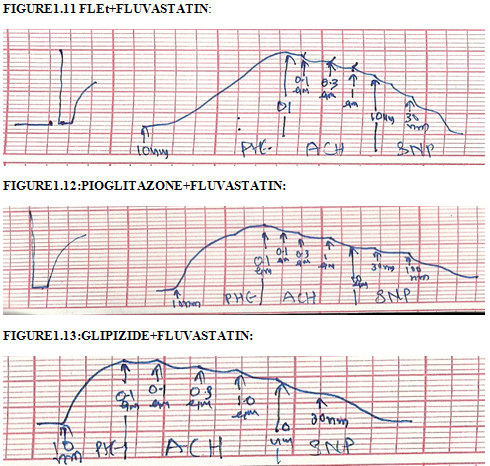 CONCLUSION:
Endothelial dysfunction associated with insulin resistance appears to precede the development of overt hyperglycemia in patients with type 2 diabetes mellitus. Therefore, endothelial dysfunction may be a critical early target for the prevention of atherosclerosis and CVD in patients with diabetes mellitus or insulin resistance. Therefore preventive therapy with combination of FLEt with OHA's (low dose) may prevent the endothelial dysfunction in diabetic patients (prediabetic state) due to free radical scavenging activity, metabolic control.

REFERENCES:
1.Pi-Sunyer FX. The obesity epidemic: pathophysiology and consequences of obesity. Obes Res 2002;10:97–104.
2.Thrower SL, Bingley PJ. What is type I diabetes? Medicine 2010;38:592-596.
3.Virally M, Blickle JF, Girard F, Halimi S, Simon D. Type 2 diabetes mellitus: epidemiology, pathophysiology, unmet needs and therapeutical perspectives. Diabetes Metab 2007;33:231–244.
4.Mark WS, Robert JC. Type 2 Diabetes, Cardiovascular Risk and the Link to Insulin Resistance. Clin Ter 2003;25:4-31.
5.Xia J, Allenbrand B, Sun GY. Dietary supplementation of grape polyphenols and chronic ethanol administration on LDL oxidation and platelet function in rats. Life Sci 1998;63:383–390.
6.Lee MY, Lee EY, Lee BJ, Won CS, Koh JH. Beneficial effect of thiazolidinediones on diabetic neuropathy in OLETE rats. Yom sei Med J 2007;48:301-307.
7.Hosszufausi N, Reinhers L, Takei S, Chan E, Charles MA. Glipizide induced prevention of diabetic and autoimmune events in BB rats. J A Autoimmun 1994; 9:753-761.
8.Lee TM, Lin MS, Chau TF, Chang NC. Additive effects of combined blockade of AT1 receptors and HMG-Co-A reductase on left ventricular remodeling in infracted rats. Am J Physiol Heart Cir Physiol 2006;291:128-129.
NOW YOU CAN ALSO PUBLISH YOUR ARTICLE ONLINE.
SUBMIT YOUR ARTICLE/PROJECT AT articles@pharmatutor.org
Subscribe to PharmaTutor Alerts by Email
FIND OUT MORE ARTICLES AT OUR DATABASE