You are hereFORMULATION AND EVALUTION OF MUCOADHESIVE THERMOSENSITIVE PLURONIC LECITHIN ORGANOGEL OF CLOTRIMAZOLE FOR VAGINAL CANDIDASIS
FORMULATION AND EVALUTION OF MUCOADHESIVE THERMOSENSITIVE PLURONIC LECITHIN ORGANOGEL OF CLOTRIMAZOLE FOR VAGINAL CANDIDASIS
---
TABLE 3: Percentage Drug Release from Organogel Formulations (F1-F6)
| | | | | | | |
| --- | --- | --- | --- | --- | --- | --- |
| Time (hr.) | F1 | F2 | F3 | F4 | F5 | F6 |
| 0 | 0 | 0 | 0 | 0 | 0 | 0 |
| 1 | 10±0.66 | 9±0.54 | 11±0.54 | 9.8±0.57 | 10.4±0.41 | 10.3±0.37 |
| 2 | 14±0.76 | 13±0.35 | 17±0.12 | 11.1±0.45 | 16.3±0.53 | 17.3±0.45 |
| 3 | 16±0.44 | 15±0.54 | 20±0.32 | 12.8±0.58 | 19.6±0.37 | 20±0.38 |
| 4 | 21±0.62 | 19±0.84 | 22±0.43 | 16.2±0.69 | 21.4±0.48 | 20.7±0.38 |
| 5 | 26±0.41 | 24±0.94 | 25±0.52 | 18.2±0.54 | 24±0.42 | 22.7±0.35 |
| 6 | 28.4±0.64 | 27±0.15 | 26±0.74 | 21.3±0.48 | 25.2±0.39 | 25.3±0.33 |
| 7 | 34.5±0.58 | 33±0.19 | 29±0.79 | 21.9±0.55 | 28.3±0.41 | 31.4±0.37 |
| 8 | 38±0.64 | 37±0.51 | 31±0.54 | 23.3±0.72 | 30.1±0.50 | 32.5±0.39 |
| 9 | 40±0.76 | 39±0.23 | 32±0.83 | 24.12±0.70 | 31.5±0.34 | 38.4±0.43 |
| 10 | 43±0.85 | 41±0.11 | 35±0.19 | 25.13±0.89 | 33.3±0.43 | 40.4±0.39 |
| 24 | 74±0.69 | 71±0.78 | 69±0.45 | 50.06±0.35 | 67.9±0.43 | 61.14±0.46 |
TABLE 4: Percentage Drug Release from Organogel Formulations (F6-F12)
| | | | | | | |
| --- | --- | --- | --- | --- | --- | --- |
| Time (hr.) | F7 | F8 | F9 | F10 | F11 | F12 |
| 0 | 0 | 0 | 0 | 0 | 0 | 0 |
| 1 | 9.83±0.29 | 8.76±0.37 | 9.5±0.34 | 10.3±0.31 | 25.6±0.42 | 15.5±0.73 |
| 2 | 10.71±0.45 | 10.88±0.38 | 16±0.51 | 17.3±0.39 | 31.4±0.49 | 19±0.38 |
| 3 | 13.1±0.31 | 12.21±0.38 | 17±0.59 | 20±0.18 | 36.4±0.51 | 24.8±0.34 |
| 4 | 14.1±0.40 | 15.09±0.34 | 23±0.73 | 25.4±0.89 | 37.1±0.59 | 29.7±0.25 |
| 5 | 15.4±0.46 | 20±0.35 | 26±0.83 | 28.4±0.82 | 38.2±0.29 | 32.2±0.12 |
| 6 | 16.4±0.42 | 22.74±0.45 | 29±0.61 | 31±0.64 | 40.7±0.74 | 34.3±0.67 |
| 7 | 17.72±0.29 | 25.9±0.44 | 32±0.90 | 35±0.53 | 41.7±0.78 | 37.9±0.64 |
| 8 | 19.03±0.38 | 31.5±0.49 | 35±0.41 | 38±0.42 | 43.5±0.81 | 40.3±0.59 |
| 9 | 21.52±0.47 | 34.22±0.34 | 43±0.71 | 44±0.17 | 51.68±0.89 | 46.6±0.49 |
| 10 | 23.65±0.39 | 36.48±0.35 | 45±0.42 | 47±0.83 | 54.51±0.39 | 49.6±0.43 |
| 24 | 41.06±0.36 | 60.7±0.41 | 77±0.49 | 81±0.19 | 93.8±0.29 | 86±0.11 |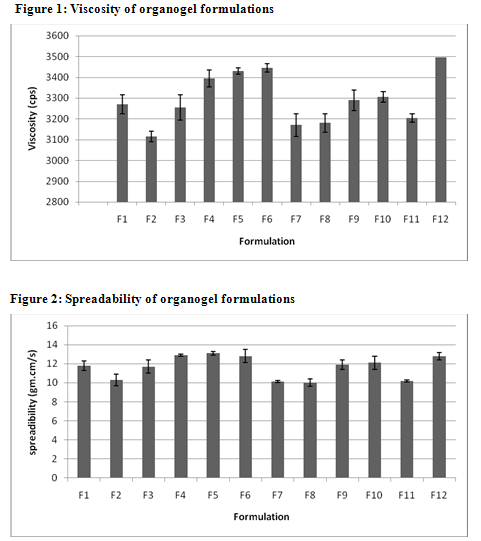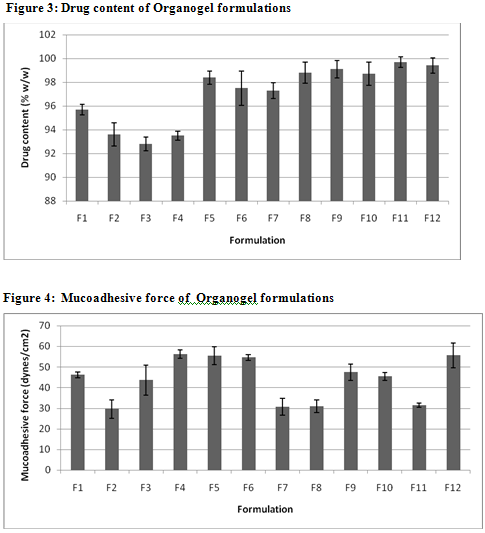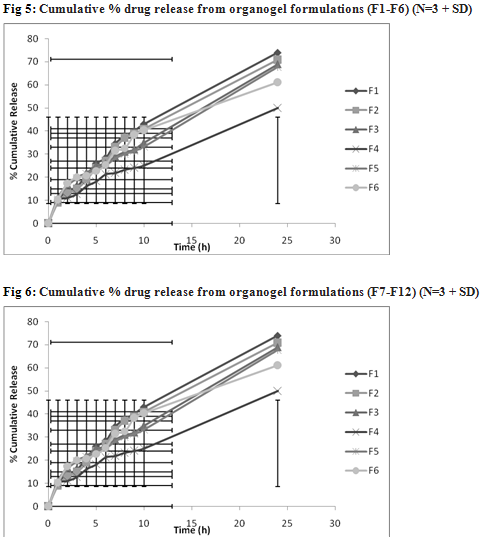 MIC ranges (mg/mL) was 0.5−16. No intrazonal growth was observed in the antifungal method. Inhibition zone diameters ranged from 5 to 35mm . Interclass correlation coefficients (ICCs) and 95% confidence intervals for comparing the methods were calculated using log2 transformed data.


Fig 7: Antifungal efficacy study against Candida albicansby agar diffusion method employing cup plate technique A: Front view B: Zoom section
CONCLUSION
The data in this study support the potential effectiveness of a vaginal gel with mucoadhesive properties to ensure longer residence time in the application site because of prolonged release properties Controlled release of the incorporated drug is achieved, suggesting better patient compliance and higher therapeutic efficacy.
ACKNOWLEDGEMENTS The authors are thankful to Smriti College of pharmaceutical Education, Indore for providing facilities to carry out this work.

REFERENCE:
1. J.Wang, Bacterial vaginosis, Prim. Care Update Ob/Gyns. 7 (2000) 181–185
2. R.A. Ross, M.T. Lee, A.B. Onderdonk, Effect of Candida albicans infection and clotrimazole treatment on vaginal microflora, in vitro, Obstet. Gynaecol. 86 (1995) 925–953
3. K. Edsman, J. Carlfors, R. Petersson, Rheological evaluation of poloxamer as an in situ gel for ophthalmic use, Eur. J. Pharm. Sci. 6 (1998) 105–112.
4. Ritter W, Patzschke K, Krause U, Stettendorf S. Pharmacokinetic fundamentals of vaginal treatment with clotrimazole. Chemotherapy (1982)28-43
5. Sawyer PR, Brogden RN, Pinder RM, Speight TM, Avery GS. Clotrimazole: a review of its antifungal activity and therapeutic efficacy. Drugs. (1975);9:424Y447.
6. Deshpande AA, Rhodes CT, Danish M. Intravaginal drug delivery.Drug Dev Ind Pharm. (1992);18:1225Y1279.
7. Wolfsson AD. Intravaginal drug delivery technologies. In: Rathbone M, ed. Modified-Release Drug Delivery Technology. New York, NY: Marcel Dekker;( 2002):759Y774.
8. Hardy E, Jimenes AL, de Padua KS, Zanewald LJD. Women's preferences for vaginal antimicrobial contraceptives, III: choice of a formulation, applicator and packaging. Contraception. (1998); 58:245Y249.
9. Scartazzini R, Luisi PL. Organogels from lecithins. J Phys Chem. (1988);92:829Y833.
10. Schurtenberger P, Scartazzini R, Magid LJ, Leser ME, Luisi PL. Structural and dynamic properties of polymer-like reverse micelles. J Phys Chem. (1990); 94:3695Y3701
11. Ceschel GC, Maffei P, Lombardi Borgia S, Ronchi C, Rossi S. Development of a mucoadhesive dosage form for vaginal administration. Drug Dev Ind Pharm. (2001);27:541Y547.
12. Chang JY, Oh YK, Choi H, Kim YB, Kim CK. Rheological evaluation of thermosensitive and mucoadhesive vaginal gels in physiological conditions. Int J Pharm. (2002);241:155Y163
13. Chang JY, Oh YK, Kong HS, et al. Prolonged antifungal effects of clotrimazole-containing mucoadhesive thermosensitive gels in vaginitis. J Control Release. (2002); 82:39Y50.
14. Chu JS, Amidon GL, Weiner ND, Goldberg AH. Mixture experimental design in the development of a mucoadhesive gel formulation. Pharm Res. (1991);8:1401Y1407.
15. Park H, Robinson JR. Physicochemical properties of water insoluble polymers important to mucin/epithelial adhesion. J Control Release.(1985); 2:47Y57.
16. Veyries ML, Couarrazze G, Geiger S, et al. Controlled release of vancomycin from poloxamer 407 gels. Int J Pharm. (1999);192:183Y193.
17. Desai SD, Blanchard J. Pluronic F127-based ocular delivery system containing biodegradable polyisobutylcyanoacrylate nanocapsules of pilocarpine. Drug Deliv. (2000);7:201Y207.
18. Bochot A, Fattal E, Grossiord JL, Puisieux F, Couvreur P. Characterization of a new ocular delivery system based on a dispersion of liposomes in a thermosensitive gel. Int J Pharm. (1998);162:119Y127.
19. Kim EY, Gao ZG, Park JS, Li H, Han K. rhEGF/HP-β-CD complex in poloxamer gel for ophthalmic delivery. Int J Pharm. (2002); 233:159Y167
20. Kim EY, Complexation in poloxamer gel for ophthalmic delivery. Int J Pharm. (2003); 33:150Y147.
21. H.G. Choi, J.H. Jung, J.M. Ryu, S.J. Yoon, Y.K. Oh, C.K. Kim, Development of in situ gelling and mucoadhesiveacetaminophen liquid suppository, Int. J. Pharm. 16 (1998) 533–544.
22. M. Morishita, J.M. Barichello, K. Takayama, Y. Chiba, S. Tokiwa, T. Nagai, Pluronic F-127 gels incorporating highly purified unsaturated fatty acids for buccal delivery of insulin, Int. J. Pharm. 212 (2001) 289–293.
23.Wu C, Qi H, Chen W, Huang C, Su C, Li W, et al. Preparation and evaluation of a Carbopol/HPMC-based in situ gelling ophthalmic system for puerarin. Yakugaku Zasshi (2007);127:183-91.
24. Ikanth PS, Mishra B. Floating in situ gelling system for stomach site- specific delivery of clarithromycin to eradicate H. pylori. J Control Release (2008);125:33-41.
25. El laithy HM, El-Shaboury KM. The development of cutina lipogels and gel microemulsion for topical administration of fluconazole. AAPS PharmSciTech (2002);3:77-85.
26. Mitra J, Mohammad RR, Hedayte S. Mucoadhesive and drug release properties of benzocaine gel. Iranian J Pharm Sci (2006);2:185-94.

NOW YOU CAN ALSO PUBLISH YOUR ARTICLE ONLINE.
SUBMIT YOUR ARTICLE/PROJECT AT articles@pharmatutor.org
Subscribe to PharmaTutor Alerts by Email
FIND OUT MORE ARTICLES AT OUR DATABASE