You are hereFORMULATION AND EVALUATION OF TASTE MASKED ORODISPERSIBLE TABLETS BY ION – EXCHANGE RESINS
FORMULATION AND EVALUATION OF TASTE MASKED ORODISPERSIBLE TABLETS BY ION – EXCHANGE RESINS
---
PHARMACEUTICAL GRADE IER- INDION-
| | | | | |
| --- | --- | --- | --- | --- |
| PRODUCT NAME | INDION 204 | INDION 214 | INDION 224 | INDION 234 |
| Applications | Taste masking of bitter drugs such as Norfloxacin, Ofloxacin | Taste masking of bitter drugs such as Azithromycin | Sustained release agent in drug formulations | Taste masking of bitter drugs such as Ciprofloxacin, Chloroquin phosphate |
| Matrix type | Cross linked polyacrylic | Cross linked polyacrylic | Styrene DVB | Cross linked polyacrylic |
| Functional Group | -coo- | -coo- | -SO3- | -coo- |
| Standard Ionic Form | H+ | H+ | H+ | K+ |
| Particle size range, mm | ≤ 0.15 | ≤0.15 | 0.2 – 1.2 | ≤0.15 |
| % Moisture | ≤ 5 | ≤ 5 | ≤ 3 | ≤ 10 |
| Total Exchange Capacity meq/g, dry | 10.0 | 10.0 | 4.8 | NA |
| | | | | |
| --- | --- | --- | --- | --- |
| PRODUCT NAME | INDION 234S | INDION 244 | INDION 254 | INDION 264 |
| Applications | Taste masking of bitter drugs as well as tablet disintegration | Sustained release agent in drug formulations | Sustained release agent in drug formulations. Product meets specs. Of Sodium Polystyrene sulfonate , USP | Stabilization of Vitamin B12 |
| Matrix type | Cross linked polyacrylic | Styrene/DVB | Styrene/DVB | Cross linked polyacrylic |
| Functional Group | -coo- | -SO3- | -SO3- | -coo- |
| Standard Ionic Form | K+ | H+ | Na+ | H+ |
| Particle size range, mm | ≤ 0.075 | ≤ 0.15 | ≤ 0.15 | ≤ 0.15 |
| % Moisture | ≤ 10 | ≤ 10 | ≤0.15 | ≤ 5 |
| Total Exchange Capacity meq/g, dry | NA | 4.5* | NA | 10.0* |
| | | | | |
| --- | --- | --- | --- | --- |
| PRODUCT NAME | INDION 284 | INDION 294 | INDION 404 | INDION 414 |
| Applications | Sustained release agent in drug formulations | Tablet disintegrant/ Taste masking. Product meets specs. Of Polacrilin Potassium, USP | Treatment of hyperkalaemia. Product meets specs. Of Calcium polystyrene sulfonate, BP | As superdisintegrant in mouth disperse tablets, iron & calcium pellets |
| Matrix type | Styrene/DVB | Cross linked polyacrylic | Styrene/DVB | Cross linked polyacrylic |
| Functional Group | -SO3- | -coo- | -SO3- | -coo- |
| Standard Ionic Form | Na+ | K+ | Ca++ | K+ |
| Particle size range, mm | 0.3 – 1.2 | ≤ 0.15 | ≤ 0.15 | ≤ 0.15 |
| % Moisture | ≤ 70 | ≤ 10 | ≤ 8 | ≤ 10 |
| Total Exchange Capacity meq/g, | 1.0 | NA | NA | NA |
| | | |
| --- | --- | --- |
| PRODUCT NAME | INDION 454 | INDION 464 |
| Applications | Cholesterol reduction and taste masking of bitter drug | Taste masking of bitter substances Ex. Nicotine |
| Matrix type | Cross linked Polystyrene | Cross linked Polymethacrylic |
| Functional Group | - N+R3 | - COO- |
| Standard Ionic Form | Chloride | H+ |
| Particle size range, mm | ≤0.15 | ≤ 0.15 |
| % Moisture | ≤12 | ≤ 5 |
| Total Exchange Capacity meq/g, | N.A. | 9.5 |
Desired properties of pharmaceutical grade IERs-
a) Fine, free flowing powders
b) Particle size of 25 - 150 microns
c) Contain functional group that capable of exchanging ions and/or ionic groups
d) Insoluble in all solvents, all pH's
e) Not absorbed by body
f) Do not have a defined molecular weight
Advantages of Ion Exchange Resin as a Taste Masking Agent in Orodispersible Tablet-
1. These method requires few and simple equipment.
2. The numbers of excipients required are less and are easily available.
3. The Bioavailability of drug is not altered.
4. The resins are easy to process and has high margin of safety.
5. The manufacturing can be carried out at room temperature and no other special experimental conditions are required
6. It has low cost of manufacturing. (23)
TASTE MASKED ORODISPERSIBLE TABLETS HAVING IERs AS A TASTE MASKING AGENT-
1. FORMULATION OF TASTE MASKED ORO-DISPERSIBLE TABLETS OF METFORMIN HYDROCHLORIDE-(27)
INTRODUCTION-
METFORMIN HYDROCHLORIDE is an oral biguinide agent, used in the management of non-insulin dependent (type-2) diabetes mellitus. The purpose of this article is to mask the taste of drug by complexation with indion-234 which is an IER & formulation of oro-dispersible tablet.
PREPARATION OF RESINATE-
Resinate was prepared using batch method. An accurately weighed amount of resin (100mg) was placed in a beaker containing 50 ml of demonized water. Accurately weighed100 mg of metformin hydrochloride was added to the resin solution and stirred for 180 min. The mixture was filtered through whatman filter paper and residue was washed with 50 ml of deionised water to remove any uncomplexed drug. Unbound drug in filtrate was estimated at 233.5 nm and drug-loading efficiency was calculated.
FORMULATION DESIGN-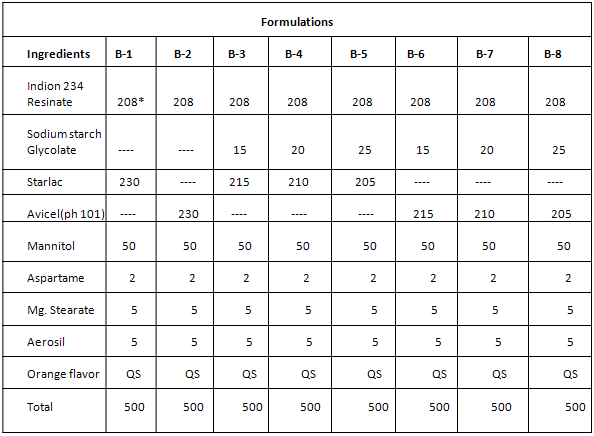 EVALUATION OF TABLETS-
EVALUATION OF PHYSICAL CHARACTERISTICS OF TABLETS (BATCH B-1-B-8)-

After evaluation Batch B-5 with 5% sodium starch glycolate and starlac and Batch B-8 with 5% sodium starch glycolate and avicel PH 101 was found to be optimum batch as it shows lowest disintegration time with desired friability values.
NOW YOU CAN ALSO PUBLISH YOUR ARTICLE ONLINE.
SUBMIT YOUR ARTICLE/PROJECT AT articles@pharmatutor.org
Subscribe to PharmaTutor Alerts by Email
FIND OUT MORE ARTICLES AT OUR DATABASE