You are hereFORMULATION DESIGN, MANUFACTURE CRITERIA AND REQUIREMENT OF VARIOUS TYPES OF TABLET
FORMULATION DESIGN, MANUFACTURE CRITERIA AND REQUIREMENT OF VARIOUS TYPES OF TABLET
---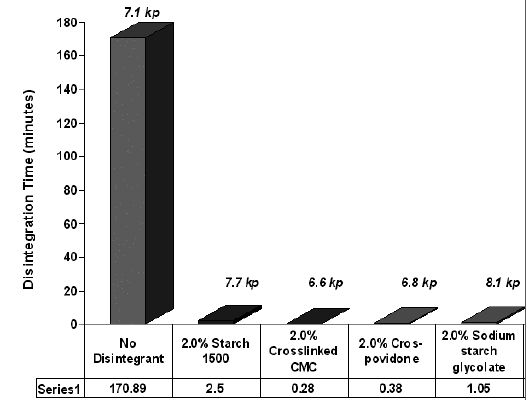 Figure 2: Effect of different disintegrants on the physical properties ofHydrochlorthiazide tablets

Lubricants, Antiadherants, & Glidants2,3,5,6:-
Lubricants:- They are intended to reduce the friction during tablet ejection between wall of the tablet & die cavity. E.g. Mineral oil,, Stearic Acid, Talc.

Classification of Lubricants:
Lubricant are classified according to their water solubility i.e. water insoluble and water soluble. Selection of lubricant is depends partly on mode of administration, type of tablet, desired disintegration and dissolution properties, physicochemical properties of granules or powder and cost.
a) Water Soluble lubricants
b) Water Insoluble lubricants

Table:-3 List of water Soluble and water insoluble Lubricants
| | |
| --- | --- |
| Water Soluble Lubricants | Concentration Range (%w/w) |
| Boric acid | 1 |
| Sodium benzoate | 5 |
| Sodium oleate | 5 |
| Sodium acetate | 5 |
| Sodium Lauryl sulfate | 1 – 5 |
| Magnesium lauryl sulfate | 1 – 2 |
| | |
| --- | --- |
| Water Insoluble Lubricants | Concentration Range (%w/w) |
| Metal(Mg.,cal.,Na.)Stearate | ¼-2% |
| Stearic acid | ¼-2% |
| Sterofex | ¼-2% |
| Talc | 1-5% |
| Waxes | 1 – 5% |
| Stearowet | 1 – 5% |
Anti-adherents5:- They reduce sticking or adhesion of any of tablet granulation or powder material by reducing friction between particles. They are:-
Talc, Starch & Starch derivatives, various colloidal silica such as Cab- o- Sil, Sylod, Aerosil. Some material have strong adhesive properties towards the metal of punches and dies or the tablet formulation containing excessive moisture which has tendency to result in picking and sticking problem. Therefore Anti-adherents are added, which prevent sticking to punches and die walls. Talc, magnesium stearate and corn starch have excellent Anti-adherents properties.

Table:- 4 List of Antiadherants
| | | |
| --- | --- | --- |
| Antiadherants | Range (%W/W) | Comment |
| Talc | 1 – 5 | Lubricant with excellent Antiadherants properties |
| Cornstarch | 3 – 10 | Lubricant with excellent Antiadherants properties |
| Colloidal silica | 0.1 – 0.5 | Does not give satisfactory results due to small surface area. Cab-O-Sil® and Syloid® |
| DL-Leucine | 3 – 10 | Water soluble lubricant; excellent Antiadherants properties |
| Sodium lauryl sulfate | < 1 | Antiadherants with water soluble lubricant |
| Stearates | < 1 | Antiadherants with water insoluble lubricant |
Glidant5:- It is a substance that is added to a powder to improve its flow ability. A glidant will only work at a certain range of concentrations. Above a certain concentration, the glidant will in fact function to inhibit flow ability (Which means that there's a critical concentration to be used if increasing powder's flow ability is intended with respect to the glidant and the powder properties). In tablet manufacture, Glidants are usually added just prior to compression.Examples of Glidants include magnesium stearate, Aerosil (colloidal silicon dioxide), starch and talc.

Mechanism of Action:-
A Glidants effect is due to a counter-action to factors resulting in poor flow ability of powders. For instance, correcting surface irregularity, reducing inter particular friction & decreasing surface charge. The result is a decrease in the angle of repose which is an indication of an enhanced powder's flow ability.

Colors, Flavors & Sweeteners6:-
Colors are used for
Ø Distinguishing of off color drug
Ø Product identification
Ø Production of more elegant product.

Colors used are
Ø Natural color:- unstable
Ø FD &C and D&C dyes:-applied as a solution form
Ø Lakes:- Employed as a dried powder.

Flavors are used in chewable tablets, in mouth dissolving tablets.

Flavors are water soluble flavors:-
Ø Little acceptable,
Ø Oil flavors,
Ø Dry flavors

Sweeteners are used inchewable tablets
Ø Fructose
Ø xylitol

Various sugars are
* Mannitol-72% sweet as sucrose
* Saccharin- 500 times sweeter than sucrose
* Artificial sweetener

Tablet Manufacturing5,6
Tablets are compressed powders and their manufacturing is a complex, multistep process. The ultimate aim of these compressed solids is to easily disperse in gastrointestinal fluid, aid in complete absorption of API and, at the same time, offer stability to the formulation. The tablet manufacturing process can be broadly classified as granulation (wet granulation or dry granulation) and direct compression. Granulation is an agglomeration process to improve the flow, density and compressibility of particulate material by size enlargement and densification. Granulation can be achieved by the use of binder solution (wet granulation) or dry binder (dry granulation).

Granulation Technology : 6-8
Table-:5 Different compression strategies of tablet

A. Direct Compression5,6,7:
Processing steps are:
Direct compression consists of compressing tablets directly from powdered materials without modifying physical nature of materials. This method is applicable for crystalline chemicals having good compressible characteristic and flow properties such as: Potassium salt (chlorate, chloride and bromide), Sodium chloride, Ammonium chloride, Methylamine etc. If necessary, direct compression vehicles can be used which are having good flow and compressible characteristics. Commonly used directly compression diluents are: MCC (Microcrystalline Cellulose), Spray dried lactose, Starch (Sta Rx 1500, Embdex, Celutab), Sugar (Sugar tab, Nutab), Dicalcium phosphate dehydrate (Di-Tab) and Mannitol.

Advantages:
Ø Low labour input
Ø A dry process
Ø Fewest processing steps and less time consuming

Disadvantages:
* Stratification may occur due to differences in particle size and bulk density which results poor content uniformity.
* A large dose drug may cause problem in direct compression. It requires diluents. The tablet becomes large in size which is difficult to swallow and also costly.
* During handling of dry materials static charge may form which may present uniform distribution of drug.
* Direct compression diluent may interact with the drug. For example, amine drug with lactose produce discoloration of tablet.

NOW YOU CAN ALSO PUBLISH YOUR ARTICLE ONLINE.
SUBMIT YOUR ARTICLE/PROJECT AT articles@pharmatutor.org
Subscribe to PharmaTutor Alerts by Email
FIND OUT MORE ARTICLES AT OUR DATABASE