You are hereAntimicrobial Activity of Plants Belong to Solanaceae Family
Antimicrobial Activity of Plants Belong to Solanaceae Family
---
Fungal and Bacterial infection in humans and plants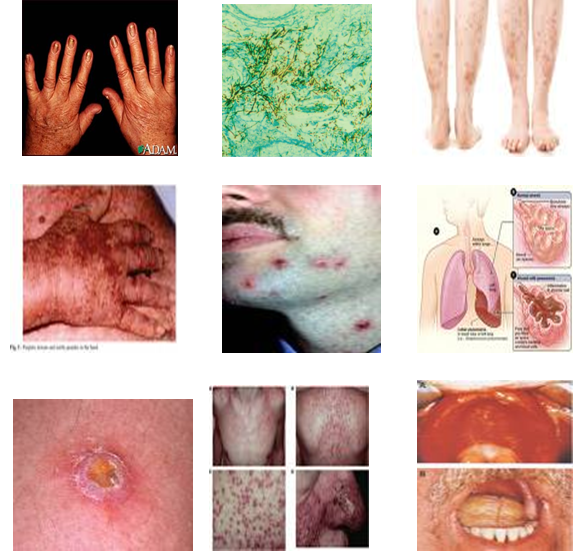 Diseases Caused by Bacteria and Fungi To Human[37]

| | | | | |
| --- | --- | --- | --- | --- |
| Disease | Casual Agent | Description of Agent | Organs Affected | Transmission |
| Strep Throat,Scarlet Fever | Streptococcus, Pyogenes | Gm(+) capsualted streptococcus | Upper respiratory tract | Air |
| Diphtheria | Corynebacterium diphtheriae | Gm(+) rod | blood,Skin, Upper Respiratory tract,Heart,Nerve Fibres | Air |
| Pertussis ( Whooping Cough) | bordetella pertussis | Gm (-) rod | Upper Respiratory Tract | Air |
| Meningococcal Meningitis | Neisseria meningitidis | Gm(-) diplococcus | Upper Respiratory Tract, Blood, Meninges | Air |
| Haemophilus meningitis | Haemophilus influenzae | Gm(-) capsulated rod | Upper Respiratory Tract, Meninges | Air |
| Flavobacterium meningitis | Flavobacterium meningospecticum | Gm(-) rod | Upper Respiratory Tract,Meninges | Air |
| Tuberculosis | Mycobacterium tuberculosis | Acid fast rod | Lungs, Bonesm Other Bones | Air |
| Pneumococcal pneumonia | Sterptococcus pneumoniae | Gm(+) capsualted diplococci in chains | Lungs | Air |
| Primary Atypical Pneumonia | Mycoplasma pneumoniae | Mycoplasma ( No Cell Wall ) | Lungs | Air |
| Klebsiella pneumonia | Klebsiella pneumoniae | Gm(- ) capsulated rod | Lungs | Air |
| Disease | Casual Agent | Description of Agent | Organs Affected | Transmission |
| Serratia pneumonia | Serratia marcescens | Gm(- ) rod, Red pigement at 25 degree C | Lungs | Air |
| Q Fever | coxiella burnetti | Rickettsia, 0.45 micron Diameter | Lungs | Air |
| Psittacosis | chlamydia psittaci | Chlamydia, 0.25 micron diameter | Lungs | Air |
| Botulism | Clostridium botulinum | Gm(+) spore forming rods | Neuromuscular Junction | Food, Water |
| Staphylococcal Food Poisoning | Stephylococcus aureus | Gm(+) Staphylococcus | Intestine | Food, Water |
| Clostridial Food Poisoning | clostridium perfringes | Gm(+) Spore forming Rods | Intestine | Food, Water |
| Typhoid Fever | Salmonella typhi | Gm(-) rod | intestine, Blood, Gall Bladder | Food, Water |
| Salmonellosis | Salmonella serotypes | Gm(-) rods | Intestine | Food, Water |
| Shigellosis | shigella serotypes | Gm(-) rods | Intestine | Food, Water |
| Cholera | vibrio cholerae | Gm(-) Curves rod | Intestine | Food, Water |
| Brucellosis | Brucella Spp. | Gm(-) rod | Spleen,Lymph Glands | Food, Water |
| Anthrax | Bacillus anthracis | Gm(+) Spore Forming Rod | Blood, Lungs,Skin | Soil |
| Tetanus | Clostridium tetani | Gm(+) spore forming rod | Nerves at synapse | Soil |
| Disease | Casual Agent | Description of Agent | Organs Affected | Transmission |
| Gas Gangrene | clostridium perfringes | Gm(+) spore forming anaerobic rod | Muscles,Nerves, Blood Cells | Soil |
| Bubonic Plague | yersinia pestis | Gm(-) bipolar rod | Lymph Nodes,Blood,Lungs | Rat flea (A) |
| Relapsing Fever | Borrelia recurrentis | Spirochete | Blood, Liver | Louse (A) |
| Rocky Mountain Spotted Fever | Rickettsia rickettsiae | Rickettsia | Blood, Skin | Tick (A) |
| Epidemic Typhus ( Typhus Fever) | Rickettsia prowazekii | Rickettsia | Blood, Skin | Louse (A) |
| Endemic Typhus ( Murine Typhus) | Rickettsia typhi | Rickettsia | Blood, Skin | Flea (A) |
| Scrub Typhus | Rickettsia tsutsugamushi | Rickettsia | Blood, Skin | Mite (A) |
| Rickettsialpox | Rickettsia akari | Rickettsia | Blood, Skin | Mite (A) |
| Tickborne Fevers | Rickettsia conorii | Rickettsia | Blood, Skin | Tick (A) |
| syphilis | Treponema pallidum | Spirochete | Skin, Cardiovascular Organs | Sexual |
| Gonorrhea | Neisseria gonorrhoeae | Gm(-) diplococcus | Urethra,Cervix,Fallopian Tubes, Epididymis, Eyes, Pharynx | Sexual |
| Chlamydial urethritis | chlamydia trachomatis | chlamydia | Urethra,Cervix,Fallopian Tubes, Epididymis, Eyes, Pharynx | Sexual |
| Ureaplasmal urethritis | Ureaplasma urealyticum | Mycoplasma | Urethra,Fallopian tubes,Epididymis | Sexual |
| Disease | Casual Agent | Description of Agent | Organs Affected | Transmission |
| Lymphogranuloma venereum | Chlamydia trachomatis | Chlamydia | Inguinal lymph nodes,Rectum | Sexual |
| Vaginitis | Gardnerella vaginalis | Gm(-) rod | Vagina | Sexual |
| Mycoplasmal urethritis | Mycoplasma hominis | Mycoplasma | Urethra, Fallopian tubes | Sexual |
| Leprosy ( hansen's Disease) | Mycobacterium leprae | Acid Fast Rod | Epididymis skin,bones,periphercal nerves | Contact |
| Staphylococcal skin diseases | Staphlococcus aureus | Gm(+) staphylococcus | skin | Contact |
| Trachoma | chlamydia trachomatis | Chlamydia | Eyes | Contact |
| Bacterial Conjuctivitis | Haemophilus influenze type III | Gm(-) rod | Eyes | Contact |
Diseases Caused by Fungi To Human

| | | | |
| --- | --- | --- | --- |
| Disease | Casual Agent | Description of Agent | Organs Affected |
| Cryptococcosis | Cryptococcus neoformans | Lungs, Spinal Cord | Air |
| Candidiasis, Vaginitis, Thrush, Onychia | Candida albicans | Intestine, Vagina,Skin, Mouth | Air,Sexual Contact |
| tinea Pedis | Trichophyton Spp. | Skin | Contact |
| Tinea Captis | Microsporum Spp. | Skin | Contact |
| Tinea Corporis,Tinea Barhae | Epidermophyton spp. | Skin | Contact |
| Histoplasmosis | Histoplasma capsulatum | Lungs, Other Organs | Air |
| Blastomycosis | Blastomyces dermatitidis | Lungs, Other Organs | Air |
| Coccidiodomycosis | Coccidiodes immitis | Lungs, Ears | Air |
| Aspergillosis Otomycosis | Aspergillus | Lungs, Ears | Air |
Natural Anti-fungal's
Saturated Fatty Acids
Undecylenic and caprylic acids are common medium chain saturated fatty acids used to treat yeast infections. Both are found naturally in the human body in small amounts. Common commercial sources of caprylic acid are palm and coconut oils, whereas undecylenic acid is extracted from castor bean oil. Caprylic acid products are far more common than those of undecylenic acid but don't assume this means it is better, undecylenic acid has far more research data available on it and was the treatment of choice for fungal skin infections for a long time before newer drugs arrived[1,2]. Both have been shown to be comparable to a number of common anti-fungal drugs. In fact undecylenic acid was the main agent used to treat fungal infections prior to the development of newer drugs and is still prescribed today for some infections. A typical dosage for caprylic acid would be up to 3600mg per day in divided doses with meals. Undecylenic acid is commonly taken in dosages of up to 1000mg per day, again in divided doses. A major advantage of using natural products over drugs is the cost. A months supply of either of these fatty acids will cost only about $20-30 for a quality product.

NOW YOU CAN ALSO PUBLISH YOUR ARTICLE ONLINE.
SUBMIT YOUR ARTICLE/PROJECT AT articles@pharmatutor.org
Subscribe to Pharmatutor Job Alerts by Email